Iowa could be Big Ten's sleeper team
September, 24, 2012
09/24/12
5:09
PM ET
Iowa looks like a sleeper team in the Big Ten, one that could be on the bubble -- if not more -- next March.
But third-year coach Fran McCaffery won't hype his squad without disclaimers. No one knows the Hawkeyes' personnel better than he does, and he isn't one to gloss over their deficiencies.
"We didn't defend," said McCaffery of last season's team, which went 18-17 and reached the second round of the NIT. The Hawkeyes gave up 108 points in that NIT loss at Oregon, the second time during the latter half of the season that they allowed opponents over the century mark (the other was a 103-89 loss to Indiana).
[+] Enlarge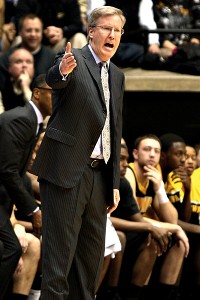 Khris Hale/Icon SMIEntering his third season in the league, Iowa coach Fran McCaffery understands the marathon of a Big Ten season and how to prepare his team for league play.
"We won 18 games -- that's a nice number. We made the NIT -- that's great. We won a [postseason] game. There are a lot of things to be positive about," McCaffery said. "But if you're analytical about our team -- and look at our losses -- you'll see that we gave up 52 percent on 3s, we got beat off the dribble. That all starts at the point of pressure."
Senior Bryce Cartwright, a junior-college transfer the year before, started at the point for the Hawkeyes last season.
"He was a nice player, running the fast break, and led the league in assists [averaging 5.9 per game] as a junior," McCaffery said. "But he wasn't applying the pressure at the point. In our league there are too many good players on whom you need to contain the dribble penetration."
So, three weeks from the start of practice, have the Hawkeyes solved their problem? McCaffery believes so.
He glows about freshman point guard Mike Gesell, who is "terrific at handling the ball, can make shots and is incredibly athletic." He loves the potential of 6-foot-11 freshman center Adam Woodbury, whom he predicts will be a force at both ends of the court.
McCaffery called returning guard Josh Oglesby one of the best shooters he has seen. Backcourt mate Roy Devyn Marble's scoring average more than doubled from 5.7 points as a freshman to 11.5 a game last year. McCaffery hopes Marble can make similar strides as a junior. "That's the key for us. [Marble] can go from [averaging] 13 points to scoring 18 or 19 points a game and be a legitimate first-team all-Big Ten player," McCaffery said. "We lost Matt Gatens, the best shotmaker I've been around."
But the Hawkeyes have size -- with Woodbury, whom McCaffery calls "a big-time player" -- that should help on the defensive end.
"[Forward] Aaron White was terrific but has to be a better defender," McCaffery said. "We've got players who can produce. Melsahn Basabe and Zach McCabe give us size and depth, too. We can now sub effectively. But we have to defend consistently. Tired teams rest on defense."
So far during individual workouts, one of the best frontcourt players on the floor has been London native Gabriel Olaseni. He didn't play much last season as a freshman, averaging five minutes a game.
"[Olaseni] has a chance to be special," McCaffery said. "He's 6-1 and 230 pounds, moves his feet, blocks shots, catches and finishes. He does everything that you want a player to do. But he hasn't done it in games under pressure."
Now that McCaffery has been through a couple of seasons at Iowa he understands the marathon of a Big Ten season. The league is deep enough to carry a team like the Hawkeyes on its coattails toward a bid.
But Iowa's nonconference slate may be a hindrance. No opponent on its schedule is a lock for the NCAA tournament this season. The Hawkeyes desperately need in-state foes Iowa State and Northern Iowa -- whom they will face in back-to-back games in early December -- to have NCAA-caliber seasons. If it splits those games -- or wins both -- Iowa should have enough quality wins.
The Hawkeyes open the season at the Cancun Challenge against Western Kentucky on Nov. 20. The top team outside of Iowa in the Cancun Challenge is probably Wichita State. DePaul will be improved but not projected to make the NCAAs.
Iowa also visits Virginia Tech as part of the ACC-Big Ten Challenge on Nov. 27, but the Hokies will likely be projected to finish in the bottom third of the ACC. A loss there would sting.
McCaffery doesn't expect his team to run the table and go 13-0 during its nonconference slate. "But we understand that we have to win those games we're supposed to win," he said.
Oh, and Iowa's Big Ten schedule opens with three of the league favorites -- Indiana (on Dec. 31), at Michigan (Jan. 6) and Michigan State (Jan. 10). The Hawkeyes will know within a week of conference play whether they're contenders or pretenders.
Will the nonconference slate be enough to prepare them for that gantlet? "I don't know," admitted McCaffery, who is playing it conservatively. The Hawkeyes will play in the Great Alaska Shootout in 2013, and then in 2014 McCaffrey said they'll head to New York for a nonconference tournament with Syracuse, Texas and Cal.
But first they have to get through this season. "In all likelihood, we'll start two freshmen, a sophomore and two juniors," McCaffery said. "We'll still be a relatively young team. I struggle with whether or not I should [add] one more big [game]. Last year we didn't take care of business in nonconference. We were 8-5.
"If the last shot of the season goes in, we're 9-9 in the Big Ten and sole possession of seventh place -- and a Big Ten team that has finished 9-9 hasn't been left out of the [NCAA] tournament. But we probably wouldn't have gone because we lost those five games."
Which brings him back to defense.
"I want to play fast, but we've got to be more consistent and hold teams in the low 40s [in shooting]," McCaffery said. "We have to contain the penetration at the point. If we do that we can score and come at you in waves. I've got 11 or 12 players this year. My first year I was lucky if I could get to six or seven."
So yes, Iowa is a Big Ten sleeper. How much the Hawkeyes awaken during conference play will depend on what they show in November and December -- and, most important, on how they're able to defend.