New-look BYU ready to make noise in WCC
September, 25, 2012
09/25/12
9:39
PM ET
BYU's decision to leave the Mountain West Conference, go independent in football, and join the West Coast Conference in all other sports for the 2011-12 season was supposed to hurt the Cougars' basketball program because it would effectively end BYU's rivalries with UNLV, San Diego State and New Mexico.
Well, San Diego State is leaving the Mountain West for the Big West. And BYU can still schedule nonconference games with UNLV and New Mexico.
[+] Enlarge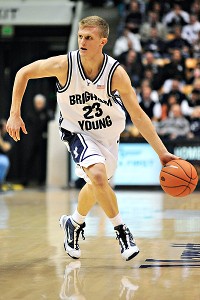 Boyd Ivey/Icon SMISophomore forward Tyler Haws, who missed two seasons while serving a Mormon mission, averaged 11.3 points and 4.2 rebounds in 2009-10 while playing alongside Jimmer Fredette.
Losing those matchups from the schedule didn't seem to hurt BYU much. The Cougars were still challenged plenty during their first season in the WCC, finishing third behind Saint Mary's and Gonzaga.
And BYU still built a profile that was respectable enough to secure an NCAA tournament at-large bid. The Cougars recovered from a 25-point hole against Iona to win 78-72 in the First Four before losing by 20 to No. 3 seed Marquette in the second round.
BYU lost to Baylor and Saint Mary's at home -- as well as to unranked Loyola Marymount 82-68 in a stunner that showed the depth of the conference -- but beat Gonzaga in Provo (the Cougars lost to the Zags in Spokane and again in the WCC tournament).
The Cougars' experience in the WCC should serve as an example for teams that are supposedly stepping down in conference, as San Diego State will do when it moves to the Big West. But the Aztecs, like the Cougars, will find the road won't be easy. And the conference the Cougars and Aztecs left -- the Mountain West -- is essentially now a glorified version of the old WAC.
So what did the Cougars and coach Dave Rose learn during their first season in the WCC?
"The most important thing is for our guys to have a sense of urgency,'' said Rose. "We need to improve and to get better talent. The bottom line is that there are more good teams at the top [in the WCC]. The fact that Gonzaga won this thing for 11 straight years is amazing [before Saint Mary's snapped the streak last season].''
The hierarchy in the WCC won't change heading into this season. Gonzaga will be picked first, followed in some order by BYU and Saint Mary's.
But change is a constant for the Cougars.
"Almost every year it's like a new team,'' said Rose. "We just figure it out. We've always got guys going and coming [because of Mormon missions]. Our guys aren't going [early] to the NBA, but when they leave on a mission they do come back.''
The latest high-profile player to return is sophomore Tyler Haws. Haws averaged 11.3 points and 4.2 rebounds two seasons ago in 2009-10 behind Jimmer Fredette and Jackson Emery.
Haws, a 6-6 forward, will be counted on to produce plenty of points and boards to complement guard Matt Carlino (12.2 ppg, 4.6 apg last season) and forward Brandon Davies (15.2 ppg, 7.7 rpg).
"[Haws] is in great shape and he looks good, feels good,'' said Rose. "What he really needs right now is to start and play every day, not a day here or a day there [during the few workouts allowed prior to Oct. 12]. He needs to get back into the grind.''
Rose said Carlino looks strong and has gained upper-body strength. He said Davies arrived for the fall semester in the best shape he's been in the past four years.
"Matt, Tyler and Brandon are the three guys who have stood out the most," said Rose.
And they should. Put that scoring threesome against any other team in the West Coast Conference and the Cougars should be competitive in every game they play.
Despite losing Fredette (and Emery) after the '10-11 season, Rose still led his team to the NCAAs after changing leagues -- yet another example of how underrated he is as a coach. He is also a medical marvel. Rose had a pancreatic tumor removed three years ago and has been declared free of cancer (he still has to go for checkups a few times a year). His teams continue to feed off his passion, too.
The Cougars will have plenty of chances to make statements during their nonconference slate this season, with games against Florida State on Nov. 16 and then either Notre Dame or Saint Joseph's on Nov. 17 (at the Barclays Center in Brooklyn) before playing potential NCAA tournament teams Iowa State in Ames, Utah State in Provo and Baylor in Waco. That's all before WCC play begins.
"I think we're going to be good," said Rose. "It's going to be interesting."