Former coaches not to blame for transfers
September, 27, 2012
09/27/12
9:49
AM ET
KINGSTON, R.I. -- DeShon Minnis and Jarelle Reischel are bucking a perceived trend.
Both players transferred to Rhode Island this offseason, but neither Minnis (who came from Texas Tech) nor Reischel (Rice) says he left his previous school because of issues with his coach or a decline in the program.
[+] Enlarge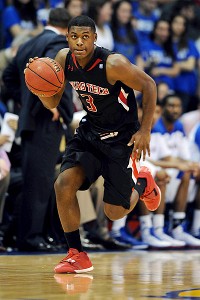 John Rieger/US PresswireDeShon Minnis, a 6-3 guard, averaged 3.1 points and 2.3 rebounds in close to 16 minutes per game as a freshman for Texas Tech last season.
Each player simply wanted to be closer to home.
Given the recent Billy Gillispie saga -- and allegations about his coaching tactics -- the knee-jerk reaction would be to assume that Minnis fled Texas Tech because of his former coach. But Minnis said that wasn't the case.
Minnis said he liked playing for Gillispie -- who resigned last week after spending most of September undergoing treatment and observation at a hospital in Lubbock, Texas, and at the Mayo Clinic in Minnesota -- last season. "We practiced hard, but he was good for us," Minnis said. "He wanted us to be grown men."
Minnis appeared in 26 games as a freshman last season with the Red Raiders, averaging 16.2 minutes and 3.1 points a game.
"I just wanted to come closer to home," said Minnis, who is from Philadelphia. "My grandma had a stroke toward the end of last season. She wasn't doing good at the time. I heard the Hurley brothers got the job here and thought [transferring to URI] would be the best idea."
Minnis -- who was one of six players to defect from the Texas Tech program since last season, when the Red Raiders won just one game during Big 12 play -- reiterated that he didn't leave because of Gillispie. "It was just [because of] family problems," he said. "There was nothing wrong. It was good. He encourages you to play hard. In order to win, you have to play hard. He prepares us to be grown men at a young age of 18 or 19."
He said he hadn't talked to his former coach since Gillispie was hospitalized but did send him a card.
[+] Enlarge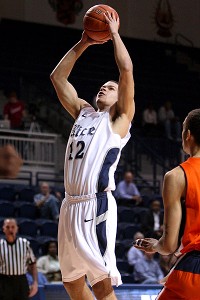 Thomas Campbell/US PresswireJarelle Reischel, a 6-6 forward, averaged 5.7 points and 2.7 rebounds in 14 minutes per game for Rice last season.
Reischel said his decision also had nothing to do with his former coach at Rice, Ben Braun.
"Rice was a great academic school, and I had a great basketball experience," said Reischel, who played for Point Pleasant Beach (N.J.) High. "Houston, Texas, is far, and I was getting home once a year, if that."
Reischel, a 6-foot-6 forward, played in 35 games for Rice last season, averaging 13.9 minutes, 5.7 points and 2.7 rebounds a game. He is one of six players to leave Rice since the end of last season but says he harbors no bitterness toward his former coach or program. "I don't know what's going on there, but I just wanted to be closer to home," Reischel said of the rash of transfers. "When there are so many transfers, it looks like something is going on. But everyone has their own personal reasons for leaving."
Rhode Island and new head coach Danny Hurley are the beneficiaries of the Minnis and Reischel decisions. Both players must sit out the 2012-13 season because of transfer rules, then will have three years of eligibility remaining.
But to blame their exoduses on their previous coaches wouldn't be correct. Of course, departures are often the result of coaches and program directions. And when there are multiple moves from the same program in an offseason, it's hard to ignore the trend. But at least in these two instances, they shouldn't be lumped together as leaving for the same reason.