Baron is the right man to rebuild at Canisius
September, 28, 2012
09/28/12
10:28
AM ET
The head coaching job at Canisius opened on March 4 when Tom Parrotta was fired after six seasons.
Jim Baron was let go that same day by Rhode Island after 11 seasons in Kingston.
On April 2, Canisius hired Baron to replace Parrotta.
[+] Enlarge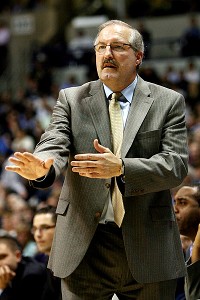 Jim Owens/Icon SMIJim Baron, who made his name playing and coaching at St. Bonaventure, returns to his old Western New York stomping grounds at Canisius.
I'm not sure there was a more perfect fit for the program.
Plenty of coaches get fired every season. A number of them have trouble getting back into the game. Some find a home in television. Others sit idle.
Baron doesn't do idle well. So when Canisius went searching for a coach who could rebuild its program -- which finished 5-25 last season and won only one MAAC conference game -- no one made more sense than Baron.
For one thing, Baron is no stranger to Western New York. He played at St. Bonaventure, then coached at his alma mater as an assistant. He also spent time as an assistant at Rochester, Loyola (Md.) and Notre Dame. His first head coaching job was at St. Francis (Pa.), where he led the Red Flash to the 1991 NCAA tournament.
But Baron is much more synonymous with his tenure as a head coach (1992-2001) at his alma mater, where he built a consistent winner and guided the Bonnies to their first NCAA tournament appearance in 22 years in 2000.
The Rhode Island years were hard -- he took over a program that was on probation and shepherded it through a facility transition period -- but he was passionate about ensuring that the Rams were competitive. He was never shy about pointing out that he led URI into a competitive state in the A-10, winning 20 games in five different seasons and leading his team to the NIT five times.
But he felt underappreciated in Kingston, and ultimately was fired last spring after his first losing season since 2005. He fought with URI over his final two years of salary. Baron claimed he was owed a buyout of more than $1 million. The university said in July that it had paid Baron $126,708.09 in regular salary payments.
Had the Canisius job not been open he might have struggled over where to go next. But -- lucky for him and for the Golden Griffins -- it was. He dove right into the opportunity with the same passion he has exhibited since he took his first coaching job in 1978.
"I was the type of player who had to overachieve by working hard," said Baron. "[As a coach] I want to do it the right way, get the right student-athletes and build it the right way. I want to graduate student-athletes and develop a program, not just a basketball team."
URI was the first -- and only -- state school Baron has worked for during his career. He has thrived at private schools, and most notably Catholic institutions.
He understands the mission of those schools. They get him. And the marriage has worked.
"I was concerned since it hadn't happened to me before," said Baron of being fired and having to seek out another job. "When people [at Canisius] asked me about getting back in I was excited."
Baron points out that St. Francis has struggled since he left in 1992, and that it took St. Bonaventure until last season to win another A-10 title and make an NCAA run.
And he admits he understands where he fits best.
"[At] smaller schools, Catholic schools like St. Bonaventure, I had a real good feel and an appreciation for that type of scenario," said Baron. "It wasn't that difficult to make that adjustment [at Canisius]."
Baron also has the luxury of coaching one of his sons again. He coached Jimmy Baron at Rhode Island. Son Billy transferred from Virginia to URI last season, and will follow his dad to Canisius.
"Billy is a little bit older [than Jimmy, who started for his dad as a freshman]," Baron said. "He's more physically ready. I'm excited to have another opportunity to do this."
A number of different MAAC teams have taken turns at the top of its standings -- most recently Loyola (Md.) and Iona -- so a quick turnaround in the league isn't out of the norm. And with Loyola leaving for the Patriot League in 2013, Canisius will have one fewer team to leapfrog.
"We know this environment, and with 3,500 students on campus we can get involved here and in the city of Buffalo and Western New York," said Baron. "This is an opportunity for the players to enjoy the experience. I'm looking forward to it."
Canisius returns only six players from last season. But that's probably not all bad based on last season's results. Recruiting for 2013-14 will be paramount to changing the fortunes of the program.
Having 6-foot-10 Kansas State transfer Freddy Asprilla in the post and Central Florida transfer guard Isaac Sosa on the roster helps create depth and gives the Golden Griffins some needed experience.
"After our first year we're going to have to replenish some of our scoring," said Baron. "But it helps to have guys with experience right away.
"I've always been a guy who looks at this as a journey more than a sprint," said Baron. "I'll continue to do that and maximize the effectiveness. I'm patient but I'm also realistic and understand that if you've got something there, take advantage of it. We do have some pieces, and we'll try to be in the mix by bringing those pieces together."