Bill Self's résumé speaks for itself
October, 1, 2012
10/01/12
3:56
PM ET
Bill Self didn't invent the game of basketball, so he's not going to pass James Naismith at Kansas.
The building is named after Phog Allen, so Self is behind him, too.
[+] Enlarge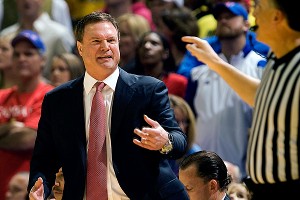 AP Photo/L.G. PattersonBill Self has enjoyed plenty of success at Kansas, and he's not done.
But if the next 10 years are anything like the previous nine for Self, it will be hard to place him any lower than No. 3 in the all-time list of Kansas coaches.
And that, ultimately, could put Self on the sport's high pedestal when he's eventually done with coaching.
Kansas made a proactive move last week and signed Self to a long-term deal through the 2021-22 season. He has the demeanor to succeed in the NBA, but he hasn't been lured by the temptation. I never believed that he would leave Kansas for another college job, even for his alma mater in the same league (Oklahoma State) when there were rumblings that the Cowboys would pay anything to get him.
Along with Kentucky, North Carolina, Indiana and Duke, Kansas should always be in the discussion of one of the top five jobs in college basketball.
Sure, Self's career could have had a much different trajectory had Kansas not held off Davidson in the final possession of the 2008 Elite Eight in Detroit that sent him to his first Final Four.
Of course, if Memphis had made free throws and Mario Chalmers hadn't hit a game-tying 3-pointer to send the game into overtime, Self's career might have been different, too. But Chalmers did make the shot, and Kansas did beat Memphis for the national title. Then again, his Elite Eight teams at Tulsa and Illinois could have had possessions go their way, too.
But it's silly to look back at what could have happened.
Look at what did occur. And the numbers don't lie.
• Self's 197 wins since 2006-07 are the most in a six-year span in NCAA Division I history.
• His 29.9 wins a year are more than Roy Williams (27.9), Larry Brown (27), Ted Owens (18.3) or Phog Allen (15.1).
• Self's winning percentage of 83.5 is the highest of any of the eight head coaches in Kansas history.
• Kansas has won eight straight Big 12 regular-season titles -- a school record -- under Self.
• Kansas won the Big 12 tournament five times under Self.
• At Kansas, he has been to five Elite Eights and two Final Fours (one national championship, one national runner-up) and produced nine NBA first-round picks, all of which drowned out those early "B" losses (to Bucknell and Bradley).
Look, there have been eligibility issues with some key recruits. Not everything has always gone smoothly off the court for his players, either. But that's the nature of coaching at a top-five program.
The results on the court, barring an NCAA or personal scandal, are what coaches are ultimately judged by.
I asked Self's mentor and former Kansas coach Larry Brown to put in perspective what he has done during his nine years.
Brown, now the head coach at SMU, couldn't hold back the effusive praise for how Self has handled the job.
"He's respected everything that's been done there,'' said Brown, who coached the Jayhawks to their previous national title when Danny Manning helped the Jayhawks win it all in 1988. Manning later joined Self's staff and is now the head coach at Tulsa.
"He has embraced the tradition of the school,'' said Brown. "He's made everybody that's been a part of KU basketball, a part of the program. The guy is a great coach and just an unbelievable human being.''
Brown said he's not just one of the greatest coaches at Kansas, "but one of the greatest in our sport. That's the way I feel. He worked for me, and we remained real close. I'm so proud of what he's done. What he's meant to that school. That school means a lot to me. He made us all feel so special, and he didn't need to do that. He has won a national championship and played for another and owns eight straight conference titles in a row. Nobody could have done better than that.''
This isn't meant to put down Williams. But it's a projection of what Self may accomplish if the trend continues. We love ranking coaches, players and teams. And if you're going to look at where Self ranks at Kansas, it's hard to argue that he shouldn't be in the top three.
Oh, and this Jayhawks team will be picked to win the Big 12 yet again and has a legitimate chance to get back to the Final Four, only adding to Self's KU legacy.