It's a season of change at Missouri
October, 2, 2012
10/02/12
10:22
AM ET
After falling victim to the ultimate Cinderella (Norfolk State) in the NCAA tournament, it's time to turn the page at Missouri.
A new conference. Basically a new roster.
Outside Kentucky, no national contender from 2011-12 had as much of an offseason makeover as Mizzou. The Tigers are now relying on five transfers, four of whom come directly from four-year colleges and one via junior college after a stint at a four-year school.
All five are expected to play major roles, complementing star returnees Michael Dixon Jr. and Phil Pressey in the backcourt and the return of forward Laurence Bowers, who missed all of Frank Haith's first season at Missouri with a torn ACL suffered in the preseason.
Haith had to be creative with a senior-laden roster a season ago. He wanted to be competitive from the moment the Tigers stepped foot in the new league. And they will be.
[+] Enlarge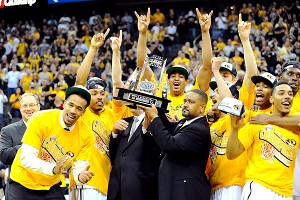 Denny Medley/US PRESSWIREThis Missouri team will look a lot different than the one that won the Big 12 tournament title in March.
An August trip to France was the jumping-off point for a program that should hit the ground running in the SEC, even after one of the toughest nonconference slates for any team in the conference (Stanford, Illinois, at UCLA, sneaky-good Bucknell and a loaded field in the Bahamas that could have all eight of its participants end up in the NCAAs).
"We had a productive summer," said Haith. "Everything is going well. These guys worked so hard and have been pounding it and putting in the work together."
Haith said hasn't had as much anticipation for a season since he's been a head coach. He also gets a chance to coach his son Corey Haith, a 5-foot-10 walk-on. Haith admits he missed plenty of Corey's athletic events during the past year of transitioning from Miami to Missouri.
"I did miss games, and now that he's around, I'm so excited about it," said Haith. "I want to have that four-year impact with him that you normally don't get. I've always been out recruiting. I'm so looking forward to it."
Corey Haith is one of a host of newcomers. Jordan Clarkson will likely join Corey on the scout team since he has to sit out this season after transferring from Tulsa.
But the other five transfers are all going to have a footprint on this team as potential game-changing players. Here's Haith's assessmen of each:
Alex Oriakhi, 6-9, Sr. (Connecticut): "He's really worked his tail off. He's got 8 percent body fat. He came in a bit heavy but got his body right. He's become more athletic and driven to have a great year. We've asked him to be even more of an offensive threat for us, and he has bought into that. We'll use him in the pick-and-roll. We want him to be assertive. He's a guy we can throw the ball to and he'll have success. He'll defend and rebound and block shots. He's also been a quiet kid, but we want him to be more assertive. Those credentials are impressive. He's won a Big East championship and a national title. He has to get that vocal side of him out once he's more acquainted with everyone."
Jabari Brown, 6-5, So. (Oregon): "He's not eligible until December. But he can really score the ball. We lost Marcus [Denmon] and Kim [English] and he can have the kind of 20-point nights those guys had. He shoots the ball extremely well. The key will be how do we mainstream him into the lineup midyear. We've got tough early games in the Bahamas, and he won't be there, but he will be back for UCLA [Dec. 28] and maybe Illinois [Dec. 22]."
Earnest Ross, 6-5, Jr. (Auburn): "He's doing great. He's got to figure out the best way to be successful. Is he starting or coming off the bench? We don't know yet. He's tough and can rebound and score. He's a good shooter, and we're hoping that he's a better defender. He has the size and ability to be physical. He's got to be a lockdown defender for us. He can score in a variety of ways, and he has a tremendous instinct for rebounding."
Keion Bell, 6-4, Sr. (Pepperdine): "He's a guy who is going to have to make the biggest adjustment to his game. He scored almost 1,400 points in three years at Pepperdine. I'm not sure if he'll be more than a 10-point guy with Dixon and Bowers. He's not going to be the focal point. He scored a lot with the ball in his hands, but we don't play like that. He played well in Europe and had to score off the ball. He has to be a lockdown defender, too, something that he's never done in his career. He has to buy into his role, and he's done it so far."
Tony Criswell, 6-9, Jr. (Independence CC/UAB): "He's been incredible. He's probably the biggest surprise with how well he's played and performed. He will see substantial minutes. I didn't realize how skilled he was and how much he can score. He's very quick and has great feet. He may be our best runner of our bigs. He has a chance to help us big-time."
The Tigers will need Criswell as much as anyone with Bowers coming back from injury and not quite 100 percent yet and the departure of Ricardo Ratliffe, who was one of the only traditional forwards on last season's 30-win team.
The schedule is arduous and the SEC slate isn't kind (Florida twice and the only game against Kentucky is on the road), but the pieces are in place for another special season.
"This year's team is talented on paper," said Haith. "But can we get them to all play together? That's the question."