Texas Tech nearing coaching choice
October, 3, 2012
10/03/12
9:20
PM ET
Texas Tech is expected to decide in the coming days what to do with its head-coaching position this season.
The official start of practice is Oct. 12. Red Raiders officials say a decision on the interim coach is imminent.
[+] Enlarge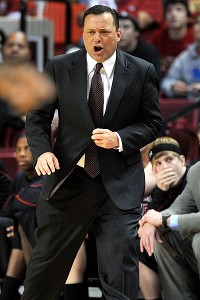 US PresswireThe Texas Tech coaching situation has been up in the air since Billy Gillispie resigned in September.
At this point, there doesn't appear to be a real decision. Of the natural candidates outside Texas Tech -- former Nebraska and UTEP coach and current Kansas director of basketball operations Doc Sadler and current North Texas assistant, former Arizona State and Ole Miss coach and onetime Tech assistant Rob Evans -- neither has been contacted about the job.
That doesn't mean there aren't others out there for athletic director Kirby Hocutt. But if he were going to go with an interim head coach other than Sadler or Evans, he had to ensure it was someone who had a strong connection to the school.
The only choice appears to be Chris Walker, who has been low-key since he was named the day-to-day interim coach after Billy Gillispie resigned on Sept. 20.
The Red Raiders players have toned down the rhetoric and are locked in on the season, enjoying themselves as evidenced by this video of Trency Jackson dunking.
Jackson is one of nine new players on the roster, and Walker should get credit for keeping the players together at a time when they could have asked to leave.
Walker's résumé is loaded with stops from 1992 to 2011 at Loyola Marymount, Vanderbilt, Pepperdine, UMass, New Mexico and Villanova, his alma mater. Walker worked for Steve Lappas and Jay Wright at 'Nova and Steve Alford at UNM.
"He has coached in a number of conferences and under a number of head coaches," Wright said Wednesday. "He has been taking notes from everyone he works for and creating his own philosophy.
"He's preparing and been planning for this opportunity someday. He is very astute X-and-O-wise, and his rep as a recruiter is there, because that's what people see. But in coaches' meetings, he is very savvy basketball-wise. His biggest challenge will be the same challenge Billy would face coaching an inexperienced team in a tough conference."
Walker has no guarantee he would get the full-time gig. If Walker lands the interim job, Hocutt has to make it clear what the parameters are of the contract so there is no confusion.
Steve Lavin was tabbed as the full-time coach during his interim season at UCLA after replacing a fired Jim Harrick in November 1996. This season, UConn alumnus Kevin Ollie has a seven-month contract at UConn to replace Jim Calhoun. He has a legitimate chance to replace Calhoun for the long term, and everyone around the program is rooting for him.
Walker is in a much different situation. He just got to Texas Tech in 2011, so there isn't a strong attachment to the program. Neither side has invested much time yet.
If the job were to open up, there will be a number of candidates in the spring, such as Scott Sutton (Oral Roberts coach), Bob Marlin (Louisiana Lafayette coach) and Craig Neal (New Mexico associate head coach).
But that's six months from now. The Red Raiders can't disrupt the team yet again with a fresh face now that they have waited weeks since Gillispie's resignation and a month-plus since he first took a medical leave of absence.
"He's a Texas guy," said Alford of Walker, who is from Houston. "He knows how to recruit and has a very good basketball IQ. He has good knowledge of the game and how to develop a program. The challenges are, if given the interim position, you must win quickly, and that's going to be a huge challenge this year."
He's right. Walker can't just audition for the job based on wins and losses. If that were the case, he doesn't have a chance. He would earn more points in Lubbock and with other athletic directors around the country if he stabilizes the team and runs a quality program that competes and shows improvement.
The Red Raiders should produce more than one Big 12 win this season, but don't expect them to move above ninth or 10th in the standings in a league that should have as many as eight teams vying for postseason berths.
Texas Tech has to make a decision on Walker sooner than later so the season can begin again for the Red Raiders. The window has passed to bring in someone from the outside. They need to tab Walker as the interim and decide in 2013 what to do next.