Crews ready to fill in for Majerus
October, 5, 2012
10/05/12
12:35
PM ET
BROOKLYN, N.Y. -- Jim Crews took a walk with his wife, Kim, earlier this week and started to reflect on the past three years.
They talked about his exit from Army's coaching job in 2009. He mentioned how much he enjoyed working on the basketball court in Carmel, Ind., when a friend asked him to help with elementary school kids. He said how much he enjoyed a brief stint doing some broadcast work for the Big Ten Network.
[+] Enlarge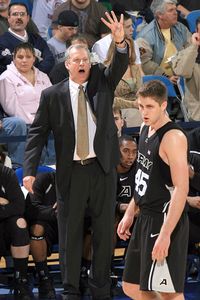 Matt Cashore/US PresswireJim Crews' coaching experience includes seven seasons at Army.
Then he pointed out how much fun he had last season when Rick Majerus called him in a pinch to join his Saint Louis staff after assistant Alex Jensen left for the Cleveland Cavaliers' Development League team right before the start of practice in October 2011.
"It wasn't the best-laid plans, but I've liked it all," said Crews.
Now he is facing his most unique situation by far.
Crews is the interim head coach for Saint Louis, named Aug. 24 after Majerus had to take an indefinite leave of absence to undergo evaluation and treatment for a heart condition.
The Billikens return the core of a team that went to the NCAA tournament last season and beat Memphis before losing to Michigan State. Saint Louis was picked second to Saint Joseph's by one first-place and two overall votes during Thursday's Atlantic 10 media day poll.
A number of A-10 coaches said they assumed the Billikens might have been selected No. 1 had Majerus been coaching the team. Saint Joseph's coach Phil Martelli said he picked the Billikens.
Crews said SLU athletic director Chris May told him it's his job for the season and to run with it.
"Everything they've told me has been the truth," said Crews. "Anything we need to make this program and this team a success they've done. They've been 100 percent behind us."
Majerus has been in California -- the last report was he had been in Santa Barbara -- dealing with his heart situation. He has had a history of heart problems, dating back to a seven-bypass surgery when he first got to Utah in 1989.
Crews said he has not talked to Majerus since he left to deal with his situation.
"To my knowledge, no one has here," said Crews. "In terms of communication, his family has shut it down. If they opened up a little bit, there would be 5,000 people calling and texting and doing all that."
While everyone associated with the Billiken program has Majerus in their thoughts and prayers, the team has moved on.
Crews isn't as detailed as Majerus, but they share the same philosophy. Crews said he won't change anything, not the defensive principles or even their offensive differences, where Majerus likes to screen on the ball and Crews off it.
He said the players are too invested in what they've learned to change any approach.
"My job and our job for the past 25 years as a coach is to serve the players and put them in position to be successful," Crews said.
Saint Louis has a core group that should be as tough to defend as any in the league, with experienced players returning at every position, even with the departure of Brian Conklin. Kwamain Mitchell, Jordair Jett and Mike McCall Jr. will run their sets efficiently. The Billikens have depth with Austin McBroom and Keith Carter. The inside crew of Cody Ellis, Rob Loe and Dwayne Evans gives Saint Louis productive post players who won't make too many mistakes.
"Everything here has been positive so far," said Crews. "These guys have put in a lot of time and energy in what we do. There's been positive leadership here. Rick always said it's their team, and it is. It's a very loose team. It's been a neat environment to be around."
Saint Louis will be challenged early with a potential game against Kansas in Kansas City, Mo., if the teams beat Texas A&M and Washington State, respectively. Going to Washington and hosting Valparaiso, North Texas and New Mexico will be challenging games and pluses in power ratings.
Crews made three NCAA tournaments at Evansville during a 17-year tenure but none in seven years at Army. He didn't plan this and has no visions that he is trying to prove himself to get the full-time job. But he has a chance to coach his best team during his head-coaching career. (He was an assistant on Indiana's NCAA title team in 1981.)
He said he is just the "keeper of the keys" for this season. Crews is going day by day, and his demeanor has been perfect for this opportunity. Majerus pulled him back into college coaching a year ago, but Crews had no idea that he would stay. Now that he's here again, he's enjoying every day.