Atlantic 10 race will run through Philly
October, 15, 2012
10/15/12
1:50
PM ET
BROOKLYN, N.Y. -- There are storylines aplenty in the Atlantic 10 this season, led by Saint Louis trying to recover from Rick Majerus' absence and the arrival of mid-major darlings Butler and VCU to create the greatest depth in the league's history.
But what I learned at A-10 media day earlier this month is that the overriding theme this season is all about Philadelphia.
The conference office fled the heart of the league for southern Virginia awhile back, but this season, the league center will be back in Philly.
Saint Joseph's is the preseason pick to win the title, with five starters returning, potentially completing Phil Martelli's long, arduous climb back to the top after his glorious run to the Elite Eight in 2004.
Elsewhere in the City of Brotherly Love, La Salle was the overwhelming selection by the league's coaches when asked by ESPN.com which team will be a legitimate sleeper to be in the hunt deep into February.
Oh, and no one wants Temple to leave.
The Owls, who have been at the heart of the conference since its inception, are off to the Big East next season. Charlotte is leaving, too, as the 49ers head to Conference USA. But Charlotte is no Temple.
[+] Enlarge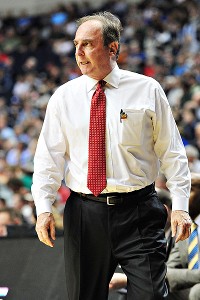 Don McPeak/US Presswire Fran Dunphy's Owls prepare for one final season in the Atlantic 10.
The Owls' departure is sort of like when a close childhood friend had to move to a new school. The good friends, like St. Joe's and La Salle, know they'll still see Temple around, but it won't be the same.
"On a personal level, my best friend in coaching is Fran Dunphy,'' Martelli said of the Temple coach. "To not interact with him here, on the phone talking about various league issues, that will be very different. Temple has served this league with such a positive fashion from top to bottom.''
Martelli said replacing Dunphy with Butler's Brad Stevens and VCU's Shaka Smart, as well as a newcomer at Rhode Island (Dan Hurley), will soften the blow of losing a league power.
"But it's a difficult blow,'' Martelli said.
And it has been for Dunphy, too.
The veteran coach knows the university had to be concerned about football first. And no one is going to suggest Temple won't be better off by going to the Big East and being on equal footing with its longtime rival Villanova. The exposure will increase and the strength of schedule will kick up a notch. And requiring the Temple basketball team to play nonconference games against MAC schools just never felt quite right.
"We've always been concerned about where the football program was going to be,'' Dunphy said. "This will be great for the university. But the A-10 has been a great home for us in Philadelphia.''
Dunphy said he hopes the Owls will be in the heart of the race at the end of the season, despite being picked fourth.
The Owls still have a preseason first-team all-conference player, Khalif Wyatt; a preseason third-team member, Scootie Randall; and two key transfers, Dalton Pepper (from West Virginia) and Jake O'Brien (from Boston University).
"We're as deep as we've ever been since I've been here,'' said Dunphy, who moved over from Penn six years ago. "We lost some key veteran players [Ramone Moore and Juan Fernandez], but we think we can be there at the end.''
La Salle was projected to finish seventh, with the return of preseason second-team guard Ramon Galloway and backcourt mate Tyreek Duren. The Explorers return 71 percent of their scoring and 73 percent of rebounding from a team that finished 21-13 (9-7 in A-10) and reached the NIT.
"They're a team with a lot of firepower that can spread you out with a four-guard look,'' Xavier coach Chris Mack said. "They came out in the first conference game last season and handed it to us. They're building a program that there's no question in my mind that they could be one of the teams that fights for the championship.''
Dayton coach Archie Miller thinks the Explorers could be this season's St. Bonaventure, which tied for fourth in the league in 2012 and advanced to the NCAAs after winning the A-10 tournament.
"[La Salle] didn't get enough credit last year," Miller said. "They've got the personnel to be really good. Their guards are really good. They play a difficult style to play against.''
But to win the title, they'll have to beat fellow Big 5 school Saint Joseph's.
Truthfully, the Hawks may not have been picked to win the conference if Saint Louis' Majerus had been healthy enough to coach. Martelli said he picked the Billikens to win it, and he agreed Saint Louis would have been the choice if it weren't for the coaching situation (although the A-10 coaches are all huge fans of SLU interim coach Jim Crews).
"We have an opportunity in front of us,'' Martelli said. "Our execution has to meet a proper championship level in order for us to expect it to be met. We might get the most [NCAA tourney] teams we've ever had in our league's history.''
The Hawks didn't have a preseason first-team all-conference player, but they dominated the second and third teams with guards Langston Galloway and Carl Jones and forwards C.J. Aiken and Halil Kanacevic.
St. Joe's has had patience with Martelli and the program as it went through hiccups in recent years.
"It has gone similar to the way we built our program in the past,'' said Martelli, who is the dean of the A-10 coaches after 17 years with the Hawks. "We can't overreact to a great day or a bad day. I really believe administratively I've always been comfortable and always said this was the place for me. It fits who I was. I'm about building a program, not a team. I've always felt appreciated here.''
So, too, have the Philadelphia schools in the A-10. And they should dominate the discussion in March if the projections hold true.