The transformation of SDSU basketball
October, 16, 2012
10/16/12
5:44
PM ET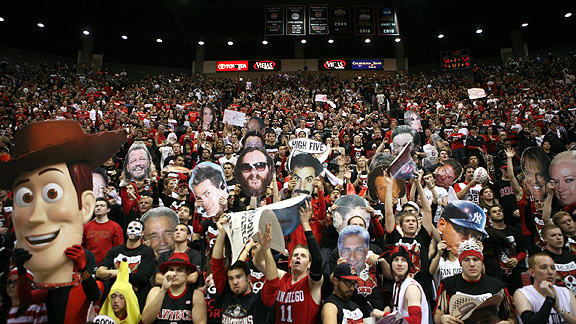 San Diego State University Media Relations -- Stan LiuSan Diego State's student section has turned into one of the wildest in the country.
So, Syracuse needed to play San Diego State to help the Orange's nonconference rating?
And Ole Miss coach Andy Kennedy is building up his otherwise weak nonconference schedule because the Rebels might get a shot at SDSU at the Diamond Head Classic?
How did this happen?
I covered the old WAC in the 1990s and I can tell you that San Diego State was a dead-end program. There was little life coming from the Aztecs at Peterson Gym or at the antiquated 1976 Bicentennial-themed San Diego Sports Arena.
Now? Now the Aztecs are chic. They're suddenly the cool kids at school. Viejas Arena is one of my favorite places in the country to see a game, mainly because of the raw enthusiasm of The Show, the school's raucous student section.
"We've become a marquee game for other people's RPI," said San Diego State coach Steve Fisher, who is now the dean of Mountain West coaches. "Ten years ago, and certainly 13 years ago, when we first got here, that wasn't the case. We want to keep it right where it is now and add to it."
Two seasons ago, the Aztecs were a No. 2 seed and reached the Sweet 16 with a first-round draft pick in Kawhi Leonard. Last season, in what was supposed to be a rebuilding year, San Diego State still made the NCAA tournament and finished tied for first with New Mexico.
Now SDSU returns the league player of the year in Jamaal Franklin, a legit first-team all-American candidate. Chase Tapley and James Rahon, who is nursing a foot injury in the preseason, are as experienced as any players in the MWC. Deshawn Stephens is a star in the making, according to Fisher. The transfers -- J.J. O'Brien (Utah) and Dwayne Polee II (St. John's) -- will have a significant impact and freshmen Winston Shepard, Skylar Spencer and Matt Shrigley give the Aztecs more depth inside than they've had under Fisher.
[+] Enlarge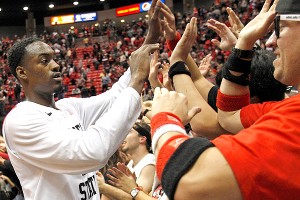 AP Photo/Lenny IgnelziAre Jamaal Franklin and San Diego State in line for another special season?
"The perception of who we are and what we might be and what we could be is because of what we did two years ago," Fisher said. "The expectations weren't as high last season and we won 26 games. We have six newcomers and now they're through the roof again. We know we've got lots of work to do. But we've got the experience. We've got a lot of depth. We can only play five, but we have to figure out which pieces fit best together.
"We'll be hard to guard. We can go small, we can go big-small. We have to make sure we can hit open shots because at times [last season] we struggled to make perimeter shots."
The Nov. 9 opener with Syracuse on the USS Midway in San Diego should be one of the best nonconference games in the country. Scheduling the game meant Fisher had to put in a zone offense much earlier than anticipated. He said if the Aztecs were playing a lesser-known zone team, he might not have bothered.
But Syracuse? The king of all zone teams? That requires special attention.
"This game comes up quickly," Fisher said. "I'm nervous. We've got to be ready to play. Most of the teams we play are primarily man-to-man. We have to know what we're going to do with a zone against Syracuse or we'll look like fools."
But make no mistake: No one thinks playing the Aztecs is a joke anymore.
Trust me, USC and UCLA didn't think much of the Aztecs prior to Fisher's arrival. Yet the Bruins didn't hesitate to play SDSU in this year's Wooden Classic in Anaheim. It's as tough a challenge as any they could've found.
As for Fisher, he said he has no plans to step down and hand over the team to his coach-in-waiting Brian Dutcher. He's got more work to do with the Aztecs, who will move to the Big West next season as the football team joins the Big East.
Even then, though, playing SDSU should be a quality game, regardless of conference affiliation. Why? Because the Aztecs are now a high-level team with pro-level talent that wins quality games, gets to March and has a legit chance to advance.
"I feel good and I'm having fun right now," Fisher said. "I'll know when it's time."
It's certainly not now.