ACC open to moving conference tourney
October, 18, 2012
10/18/12
12:43
AM ET
CHARLOTTE, N.C. -- A few quick hits from Tuesday night and Wednesday access with the ACC:
• The ACC is open to moving its conference tournament out of the state of North Carolina.
[+] Enlarge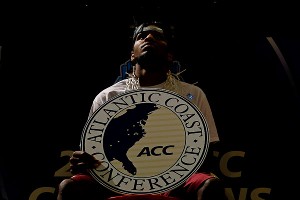 Kevin C. Cox/Getty ImagesThe ACC basketball tournament was in Atlanta in 2012 but is heading back to North Carolina.
ACC commissioner John Swofford told ESPN.com that the reason the ACC and Madison Square Garden didn't get a deal was that MSG wanted a regular tenant every March and the ACC wasn't willing to commit to a set location. The Big East Conference and Madison Square Garden announced on Wednesday a multiyear extension to keep the Big East conference tournament in New York.
Swofford said he was open to taking the tournament to Brooklyn at the Barclays Center. He also discussed how successful the tournament has been at other locations such as Washington, D.C.
Boston College coach Steve Donahue said he would love for the tournament to move to the Northeast at some point, even for one season.
Swofford also discussed expansion, saying that the only way the ACC could go to 16 schools was if Notre Dame came as a full member. And that doesn't seem to be happening anytime soon. The ACC is more than happy to stay at 15 with one division.
• I love the confidence Florida State coach Leonard Hamilton has in his team -- every season.
He doesn't hold back. The Seminoles were picked fifth, surprisingly for him behind Miami.
"It's understandable with what we lost,'' said Hamilton. "But we won the ACC [tournament]. We graduated six seniors and two with a master's degree. But our recruiting has been under the radar. People aren't familiar with our new kids and I think we went six-for-six.
"I'm excited about the youngsters we have,'' said Hamilton. "We've improved the talent pool. We are the defending ACC champions and we intend to defend the ACC championship. We were picked fifth but we'll let our playing do our talking for us.''
Hamilton was even more direct about the Seminoles' predicted finish.
"We won't be fifth,'' said Hamilton. "We are a lot better than people realize and historically we finish higher than what we've been. We're excited about defending and we'll do it with a lot of focus.''
• Duke coach Mike Krzyzewski said Quinn Cook will be his starting point guard and Tyler Thornton will be the backup. Meanwhile, he said Marshall Plumlee's broken foot will hurt the team's depth. The Blue Devils are also managing a leg injury to senior Seth Curry.
"He's limited in practice, not going every day,'' said Coach K. "He's our best shooter and one of the best in the country.''
Krzyzewski said there is no update on the investigation into whether former Blue Devil Lance Thomas received an extra benefit with the purchase of nearly $100,000 worth of jewelry in December of 2009. Thomas has settled a legal dispute for the remaining $67,000 with a Manhattan jeweler.
"We continue to work with the NCAA,'' said Krzyzewski. "I'm not going to comment more and hurt the integrity of the process. When we found out about it in early September, we're the ones who contacted the NCAA. Duke is trying to find out what we can do to clarify the situation. We're going to proceed and let that process continue.''
When asked if Thomas would cooperate with the NCAA, Krzyzewski said, "Once a youngster leaves your program they become what they call adults and adults have the right to make decisions. That's up to Lance.''
If Thomas doesn't talk to the NCAA then it's hard to see if this investigation will go anywhere.
• North Carolina coach Roy Williams, who is still recovering from a surgery to remove a benign tumor on his kidney a month ago, said he has been involved a little bit with the inquiry into the academic scandal at the school.
"We made mistakes and we're moving on,'' said Williams. "We made changes. We've always tried to stay on top of it. I'm proud that at North Carolina every senior has graduated.''