Ollie has Calhoun's support at UConn
October, 19, 2012
10/19/12
10:39
PM ET
STORRS, Conn. -- Kevin Ollie's voice is hoarse. He hasn't stopped talking throughout the entire Connecticut practice.
It is his voice that reverberates over the clapping, the cheering and the enthusiastic responses from the players.
The energy at the practice didn't stop from the first minute to the last on Friday.
This is clearly Ollie's team -- for now.
[+] Enlarge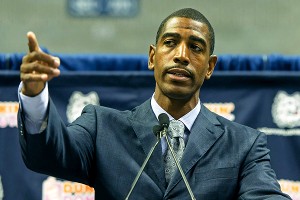 Bill Shettle/Icon SMIKevin Ollie was named UConn coach for this season with a seven-month contract.
Seated courtside was retired Hall of Fame coach Jim Calhoun, nestled next to a recruit, Brandon Austin out of Philadelphia, who was at UConn for his visit. Ollie has no better representative selling him and this program than Calhoun.
Calhoun said he has been at four of the first six practices. He keeps his distance and offers encouragement when needed. But he has been a constant mentor and source of information -- mostly for administrative issues -- since he retired last month. Ollie was named coach for this season and given a seven-month contract.
"I was involved in recruiting every single one of them and put this team together," said Calhoun, who is still walking with a cane after having surgery to repair a fractured hip suffered during a bike accident in August. Calhoun said he's a month ahead of schedule in his recovery and goes through intensive rehab six days a week.
"I just think it's good to be here and talk to Kevin afterwards and more importantly to support Kevin," Calhoun said. "This is his ship and his program."
Calhoun said his commentary to Ollie might involve observations about who isn't closing out for a rebound or setting the right screen. But they tend to be more technical observations.
"We're talking about a lot more than X and O," Calhoun said.
He said he will be doing the UConn radio analysis for the Huskies' first game of the season, Nov. 9 against Michigan State in the Armed Forces Classic at Ramstein Air Base outside Frankfurt, Germany,
Calhoun and longtime assistant coach George Blaney don't believe athletic director Warde Manuel should hesitate to give Ollie a long-term contract. But Manuel has made it clear he will observe Ollie before making a decision.
Calhoun said it would be a mistake to wait until after the season, when the chaos of a coaching search would occur and the opportunity to lock in recruits would be lost. The Huskies have two commitments from New York -- wing Kentan Facey and point guard Terrence Samuel. Those two players and any others need to know who will be coaching UConn if they're going to honor or make a commitment.
But how can Manuel or UConn president Susan Herbst make an informed decision on Ollie so soon?
"Kevin is doing a terrific job," Calhoun said. "Last year's team should have been a 25-, 26-win team, and we won 20. The year before, we maxed it to the national championship. If Kevin maxes it, then he should definitely get the job. He represents what UConn wants -- character and strength of staying in the NBA for 13 years, living in Connecticut for 21 years. He's one of us and one of our family. He's taken ahold of the reins and grabbed ahold of them."
Ollie has former UConn players Kevin Freeman and Ricky Moore on the staff. Assistants Karl Hobbs and Glen Miller have ties to the program, and Blaney has been here for more than a decade. Don't hire Ollie, and Manuel and Herbst would be wiping out all of them and making a clean break from the past.
UConn has raised $24 million out of a needed $32 million for a new practice facility. Don't hire Ollie, and an attempt to get potential financial commitments from UConn NBA alumni could be in jeopardy.
If Ollie does handle this job in the first few months of the season, then he should get it without a problem. UCLA made a decision to hire Steve Lavin in the mid-'90s before the end of the season when he took over for the fired Jim Harrick in November. If Ollie is going to get this job, there is no reason to wait until April, when his contract runs out.
Manuel also would have a hard time luring an elite or high-level non-BCS coach to UConn if there is bitterness with the alumni and resentment from Calhoun. That's not Calhoun saying it, but rather a consensus opinion among those who have seen this program, including me, in the past decade. Few want to be the coach who replaces the legend; they'd rather wait until the situation is settled. There are countless examples here, with Indiana being one of them.
Calhoun does want a decision sooner than later.
"I would love for this decision to be made quite a bit before the last game in March," Calhoun of the Huskies' season, which ends with the regular-season finale March 9 against Providence because they are banned from the Big East and NCAA tournaments due to poor APR scores.
"We've got commitments from a couple of tremendous players, and they want to know who they're playing for," Calhoun said. "I think it will be Kevin, but it's not my decision. He's done an incredible job since he took over. We don't want to lose our brand. It's difficult to come back in this day and age with all this conference movement."
The Huskies have a perimeter that will hang with any team in the Big East with Shabazz Napier, Ryan Boatright, Omar Calhoun and Holy Cross transfer R.J. Evans. The question will be up front, where rebounding will be a chore because Alex Oriakhi and Roscoe Smith transferred to Missouri and UNLV, respectively.
The onus will be on Tyler Olander, DeAndre Daniels and Phillip Nolan, as well as the guards, to rebound. The Huskies will play four out and one in to combat the deficiencies. Expectations are low for the Huskies -- outside of UConn.
"I love our backcourt," Calhoun said. "We do need more help up front, but if we continue to play together, the one thing I know is that we can shoot. We can be a better shooting team, but obviously we don't have the size."
Calhoun has no second thoughts about his decision to retire.
"The time was right," said Calhoun, who is getting paid his full salary for the final two years of his contract. "There are a whole bunch of things that I can do now. Basketball will always be a part of my life. I still think I can have an impact on kids' lives, the kids who I've coached. I'm happy with my decision. Will I get antsy when it comes time for a game? I don't know. But there are so many things I'm doing with basketball , the UConn health center and research centers."
And throughout practice, Calhoun kept talking to Austin as Ollie was coaching, forcefully, encouraging and taking over the program as if it had always been his own.