USC aims to recover from horrific season
October, 22, 2012
10/22/12
10:29
AM ET
The fragile state of USC basketball was on full display this past weekend.
On Saturday, Jio Fontan was taking a charge in the middle of a cluttered, tough play and took a shot to the face.
A cut opened up and he needed 10 or 11 stitches and now will take it easy for a few days, according to USC coach Kevin O'Neill.
The Trojans can't afford to have Fontan miss any time after losing him for the entire season a year ago when he suffered a torn ACL during the team's preseason trip to Brazil. After enduring several more injuries and just plain bad basketball, USC finished 1-17 in the Pac-12, 6-26 overall.
"No matter what the cause it was difficult," O'Neill said. "It was hard for everybody, hard for the fans, the players, the coaches and the staff. We had two great recruiting classes and then we had injuries and we were devastated."
[+] Enlarge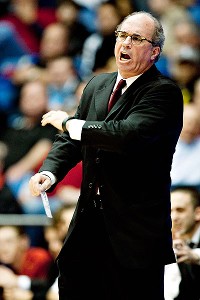 Greg Bartram/US PresswireKevin O'Neill wants his players to embrace a physical mentality.
Fontan's minor injury aside, O'Neill said all the makings are there for a major Trojans turnaround, from the basement to league contention. To accomplish that, O'Neill wants this team to be gritty, nasty, physical and downright difficult to play.
And that's the way they will practice in the preseason, regardless of any setbacks.
"If anything, we'll be more physical, hitting harder," O'Neill said. "That's what we need to do, how we need to play."
"We have talked [all preseason] about a hit-first mentality. That's how we're going to play. That's the way we played two years ago when we had players. We've got to rebound, play defense and be the aggressor offensively and in everything we do."
USC has a legitimate shot to be markedly improved if Fontan is once again a scoring guard, if highly touted big man Dewayne Dedmon is healthy and effective (as he has been in practice so far), and if the Trojans get two of five players to stand out among a cluster competing for starting positions: J.T. Terrell, Byron Wesley, Chass Bryan, Ari Stewart and Renaldo Woolridge. Terrell, Stewart and Woolridge are all transfers (the first two from Wake Forest and the latter from Tennessee) hoping to end their college careers on a high note in L.A.
The other potential X-factor for the Trojans is whether Rice transfer Omar Oraby, a 7-foot-2 center, gets a waiver to play immediately. Like former Rice player Arsalan Kazemi at Oregon, Oraby is pleading a hardship case to play immediately instead of sitting out.
O'Neill said he feels comfortable starting any of the aforementioned five players competing for the starting shooting guard and small forward spots. But if he gets Oraby, he'll feel even better because he's "really good, a legit 7-2. We've filed it with the NCAA and now we're waiting on the NCAA to rule on it."
The Trojans play a rugged slate of games, hosting San Diego State, Long Beach State and Minnesota, competing in the Maui Invitational, making an odd two-game road swing to Nebraska and New Mexico and also traveling East for a dangerous road game at Georgia three days before Christmas.
What will SC look like by the time conference play rolls around? Remember, the Trojans also have to deal with the loss of leading scorer Maurice Jones, who had academic issues and elected to transfer. And the Pac-12 will almost certainly be improved this season.
"There's a lot of good teams in the Pac-12," O'Neill said, "and we'll have five or six in the NCAA and three or four in the NIT."
Will the Trojans be one of them?