Bruesewitz thankful things weren't worse
October, 23, 2012
10/23/12
3:38
PM ET
Mike Bruesewitz
stole the ball and went in for a dunk. Then, just like that -- within a matter of maybe two seconds -- his life and career nearly changed.
Inches. Maybe centimeters. He was close, dangerously close, to a plethora of problems facing him -- from nerve to muscle damage to even more.
All he did was try to avoid Wisconsin teammate Josh Gasser, who had caught him from behind. But then Gasser stumbled below him.
"He went right [to avoid Gasser] instead of going forward and unfortunately right was the wrong decision,'' UW trainer Henry Perez-Guerra said.
Bruesewitz, Wisconsin's senior forward and unquestioned team leader, fell on the back side of the basket standard, his right front leg sliced open by metal that was a part of the base.
It was a fluke. Perez-Guerra said he's not sure an injury like this could or would ever happen again.
But there on the floor, in the midst of a team workout on Oct. 9, just three days before practice officially started, Bruesewitz thought immediately his career might be over -- or worse, he may never walk normally again.
[+] Enlarge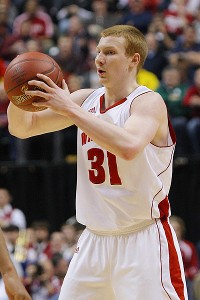 Cal Sport Media/AP ImagesMike Bruesewitz will miss some time at the start of the season, but it could've been so much worse.
"I saw my bone,'' said Bruesewitz of the wound that ran from the top of his shin bone down. "I didn't go into shock. But in my mind, I immediately thought 'Will I ever play basketball again? Will I walk normal again?' A bunch of things went through my head.''
Perez-Guerra ran to Bruesewitz's aid immediately. He applied pressure with anything he could from gauze pads to practice wraps to towels until an ambulance could arrive. Teammates went to the other end of the court; Gasser never even saw the wound. Meanwhile, Badgers coach Bo Ryan rushed out with Guerra and immediately helped keep Bruesewitz's chest and shoulders down.
"I didn't want him to look at his leg,'' Ryan said. "I was worried he would go into shock.
"If our trainer isn't the best, I don't know who is. Mike was asking would he ever be able to play again, would the skin grow back."
Given the visual aspect of the injury, the player's concern was justified.
"It was sliced open,'' Bruesewitz said. "It looked like a chunk was missing.''
Bruesewitz didn't know how fortunate he was in that brief moment. He didn't cut a tendon or a nerve, something Perez-Guerra said could have caused him to have a drop foot.
"I'll be 65 in December," Ryan added, "and other than a car accident and seeing on the football field a guy breaking his leg with the bone sticking out, I haven't seen quite a cut like this, a wound like this. I hadn't seen it.''
Perez-Guerra said Bruesewitz had very little tissue damage. He said the cut was clean, almost as if it had been an incision made by a scalpel.
Bruesewitz went in the ambulance with Perez-Guerra and Ryan. When he got there, he sat, waiting while a few nurses and doctors assumed he had been stitched up since he had a previous cut above his eye from a few days earlier. Then he was seen and told his injury had to be repaired surgically. Bruesewitz was told the cut was too deep and too severe for him to be stitched without anesthesia. He said it took 40-plus stitches to piece together the long scar that is now going down his right leg.
Bruesewitz was told he could be back on the court in a month to six weeks, time needed to ensure there is no infection or swelling in the area. Late Monday night, Bruesewitz went for a checkup and received the good news that he's on track to return in the middle of November -- assuming the wound continues to heal. Within the last few days, Bruesewitz has been able to ditch the crutches and gets by with just a walking boot.
He said his calf is smaller and weaker due to the inactivity, but he's been doing some upper-body lifting and hasn't missed witnessing a team practice since Oct. 12. Bruesewitz is showering gingerly with a garbage bag over the lower right leg to keep the wound dry and clean.
"We're so careful here and we will err on the side of caution,'' Ryan said.
But the Badgers clearly need Bruesewitz to be a Big Ten contender. Gasser, Ryan Evans, Jared Berggren, Zach Bohannon and Ben Brust make this one of Ryan's more experienced teams. With highly touted freshman Sam Dekker, Ryan loves the potential of this squad. But they need Bruesewitz.
"He's our leader,'' Gasser said. "He does all the little things for us. He completes our team. He gets every loose ball, is a great defender and a great rebounder and can score a little bit. Without him, we're different. Hopefully we'll come back a little stronger.''
Bruesewitz probably won't be available for the game at Florida on Nov. 14. But it's not unrealistic to think he could return for the next big game, against Creighton in Las Vegas on Nov. 23.
"I keep being asked when we're getting him back,'' Ryan said. "We're thankful we can get him back. This was real close to going the other way. I've seen the stitches, I've seen the dressings, and it looks good for as wide as it was. It's amazing what they can do.''
Bruesewitz was told Monday night that he may only miss the first few games. He'll take playing at any time this season rather than the alternative.
"Everybody says everything can change in a second,'' he said. "All of a sudden I'm playing basketball and then there is a big hole in my leg and I'm wondering if I'll walk normal again. I've had incredible support. I found out I have picked some good friends. I'm really lucky. I'll be able to come back and even play this year. I will still be able to play basketball. I feel really fortunate.''