Marshall's Kane honors his father's memory
October, 24, 2012
10/24/12
11:30
AM ET
DeAndre Kane
was done with basketball. His mind was mush. His heart crushed. He just wanted to go home.
At least once every other day Kane would talk to his father, Calvin, about basketball, his shot, his game and how he had to lead Marshall.
And then, without notice, he was gone.
[+] Enlarge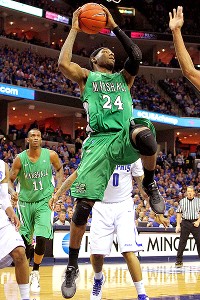 Spruce Derden/US PresswireDeAndre Kane displayed class to Marshall supporters after transferring from the program.
The cruelty of a brain aneurysm for those who have lost a loved one to this sudden death is that there's no chance to say goodbye, to reflect, to simply prepare for the grieving process.
Calvin died a week before he would have turned 50 years old in February.
"I didn't want to play basketball no more," Kane said. "I was done. I wanted to stay home, try to get a job. I was close to my dad. It hurt me a lot, still hurts me. I've got a tattoo on my arm now. I think about him every day."
Kane still managed to go with the Herd to a game at Central Florida. He said he went because he needed to be with his friends on the team. He then headed home to Pittsburgh for the funeral and missed the East Carolina game. He thought about not returning. But his uncle and mother convinced him to return, saying that his father would want him to play.
"I had just talked to him two days before he passed," Kane said. "He was supposed to come here during the summer and work with me on my jump shot. I was shooting so bad from the 3-point line that we were going to work on it all summer.
"We talked every day; if not every day, then every other day on the phone," said Kane, who has five siblings. "They say he's in a better place. But it still hurts and it's hard to get over it. It's only been five months. He's still right there with me every day. I'm still fighting it."
Kane approached Marshall coach Tom Herrion about a number change. He wanted 50 instead of the 24 that was on his jersey as an all-Conference USA guard last season as a sophomore, averaging 16.5 points, 5.4 rebounds and 3.4 assists.
He chose 50 because that's how old his father would have been a week later.
"It was so tragic," Herrion said. "They were really, really close. He's trying to be motivated by it, trying to turn the page."
Kane came out of a hard-working Pittsburgh neighborhood and played with former Panthers star and NBA forward DeJuan Blair. Herrion was an assistant on the Panthers when Blair was coming out of high school. But Kane had to go to Patterson Prep in Lenoir, N.C., and even then wasn't eligible out of high school. He sat out as a freshman but then as a redshirt sophomore -- but a first-year player -- was the CUSA Freshman of the Year. He was a first-team All-CUSA player last season in leading the Herd to their first NIT appearance since 1988. He enters the season with the most points of any junior in college basketball except for Creighton's Doug McDermott.
Kane can be a star this season amid a plethora of players outside the power six conferences who could make up a legitimate first- or second-team all-American list.
But he has to somehow focus on his tasks. He has had anger issues on the court, leading the country in technical fouls the past two seasons with seven each, according to statsheet.com.
"I don't think I'll do that this year," Kane said.
Could he be like Damian Lillard of Weber State, leading a team to a conference regular-season title, even over a high-profile team like Memphis and then getting drafted?
"I think I can fall into that category," Kane said. "I'm coachable and I play hard."
Herrion said to take that next step Kane has to become a great leader.
"The game comes easy to him," Herrion said. "He's such a physical player. He's a big guard at 6-4, 205-210 pounds. He's got really good instincts and feel for the game. As much as he scored for us, he's a willing passer and he can defend very well. He's one of the best defenders."
But even Lillard didn't reach the NCAA tournament, losing in the Big Sky tournament. Kane has help with the return of Dennis Tinnon. And the Herd have chances like playing West Virginia and Cincinnati in Charleston, W.Va., and at Kentucky. But this still a team that finished 9-7 in CUSA last season and, as Herrion said, that simply wasn't good enough.
The Herd haven't been to the NCAA tournament since 1987.
"There were a lot of things that went on in the locker room with different players that hurt us last year, and going 9-7 was unacceptable," Kane said. "We lost games we shouldn't have lost like East Carolina, UAB and losing three times to Memphis. Guys were satisfied with losing and losing didn't hurt as much."
Kane said Marshall is more athletic and the team's length should equate to a more productive defensive effort.
"We definitely want to beat Memphis after they beat us bad in the conference championship game," Kane said. "We were tired and banged up and had played two games and they blew us out in their gym. To beat them before they leave [for the Big East] would be great for our fans."
Can Marshall pull a Southern Miss from last season and get a second bid out of CUSA , assuming Memphis gets the other?
"I want us to be us," Herrion said. "We took big steps last year, had a low RPI in the 40s and a top-five nonconference schedule. But 9-7 didn't get it done in the regular season. We've got to continue to schedule aggressively. To go this long without an NCAA tournament is a long time with all the great coaches and players who have come through here."
Kane says he wants to end the streak. He wasn't so sure last winter if he should even be thinking of such things after his father's death. But he did return and averaged 22 points in the CUSA tournament.
"I came back and dedicated it to him," Kane said. "I focused to get this done. This was his dream. He wanted me to get to the NBA more than I did. I want to succeed his dream and wear number 50 for him."