Hey, don't forget about Michigan State
October, 25, 2012
10/25/12
5:27
PM ET
EAST LANSING, Mich. -- Tom Izzo didn't let up one bit in practice -- encouraging, yelling, constructively criticizing and pushing his players to be fundamentally sound and efficient on every possession.
He can't let up. Not with this team. Not with Draymond Green in the NBA.
Izzo is igniting a fire underneath Michigan State because he knows he could have something special again. And this tends to be when he's at his best. No coach has been as consistent the last 14 years with six Final Four appearances, including one national title.
And the beauty of Izzo is that he can rip his players, break them down and within seconds after practice they are laughing, seeking his counsel and advice. Tuesday's practice wasn't as sharp as the previous few days, according to associate head coach Dwayne Stephens. But there was no denying the talent.
The Spartans weren't picked to finish in the Big Ten's top three in the preseason media poll released Thursday at the league's media day. Indiana is the favorite behind consensus player of the year candidate Cody Zeller. Arguments can be made for Ohio State and Michigan as well. But MSU has to be considered a real threat to win the conference and challenge for a top seed yet again.
Remember, the Spartans started last season much like they will have to begin this one. They were 0-2 after playing North Carolina on the deck of the USS Carl Vinson across the waterway from San Diego. They followed that up with a stop in East Lansing before being fodder for a record-breaking win for Duke coach Mike Krzyzewski at Madison Square Garden.
But the Spartans ended the season by tying for the regular-season title, winning the Big Ten tournament and earning a No. 1 seed before being upset by Louisville in the Sweet 16.
Izzo is taking the same approach this season by agreeing without hesitation to play in the first-ever regular-season game in Europe (although he did ask Keith Appling and Russell Byrd for input). MSU will play Connecticut at Ramstein Air Base in Germany on Nov. 9 in the Armed Forces Classic, followed by a matchup with Kansas four days later in Atlanta in Year 2 of the Champions Classic.
"I just think it gives me a little better perception of the different conference foes I might play because I think every conference plays a little different,'' Izzo said. "That's why I think it helps me. Other than that, it's kind of insane.''
The players love the idea, though. Each one I talked to this week in East Lansing said they can't wait to play the games in Germany and Atlanta. A number of them have never been out of the country.
Izzo knows the trip (with a pit stop in East Lansing for a day) will require a mentally strong group. And it's clear he's trying to establish this team's identity.
Green dominated the speaking roles in practice, the locker room and in the huddles during games the last couple of years. Now, Izzo's voice reigns supreme even more, with the need for a collection of others to speak up.
[+] Enlarge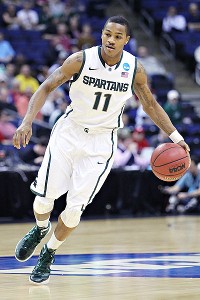 Greg Bartram/US PresswireKeith Appling will look to replace some of the verbal leadership lost with the graduation of Draymond Green.
Appling is hoping to take on a Mateen Cleaves-Charlie Bell approach. He needs to be as outspoken as Cleaves but his game mirrors the more speedy, disciplined and defensive-minded Bell.
"I'll have the ball in my hands and as the quarterback of this team I'll have to do the majority of communicating,'' Appling said. "Draymond is gone so now it's a collection of guys willing to help each other. That's what we have to do.''
Appling has a new backcourt mate in highly touted Gary Harris. Harris is more introverted with his voice, but not his game. He can dominate the ball, create his own shot and already has sold Izzo on his knowledge of the game.
"He's one of the best defensive guards I've had since Charlie Bell,'' Izzo said. "He is one of the smartest players I've ever coached. He's an unbelievable kid, a fun kid to coach and a guy that I see big things out of this year.''
Izzo is pushing Harris in practice. He knows he can excel and be a star in the Big Ten. And having Byrd and Travis Trice as backups gives the Spartans a legitimate four-guard rotation with each one having a different role.
The frontcourt might be one of the deepest Izzo has had with a finally healthy Branden Dawson (he should have his left knee brace off soon) able to score inside and out; the possibility of Adreian Payne as a possible stretch 4 (Izzo loves his ability to make shots now); and the foot movement of Derrick Nix making him a formidable post scorer. Add in a tweener like freshman Denzel Valentine and MSU has one of its most versatile teams under Izzo, who said he doesn't have a slew of all-stars but "a lot of guys that are interchangeable that can play together."
"I think we can play with that type of team that's been successful for us -- versatile teams," Izzo said. "If we go against someone that's real big, we can go big. If we are against someone that's real small, we can go small. This is one of the more athletic teams we've had and those teams have always been good for me.''
In terms of roster makeup, the comparison being tossed around by some around here is to the 2000 club that won it all. But that team had a leader in Cleaves and an NBA lock in Morris Peterson. No one is quite ready to make that prediction. But there is a genuine affection that each player has for each other and Izzo -- that much is obvious.
It's no secret that Izzo had some locker room duds for a recent stretch -- one that resulted in some transfer attrition. Just like a year ago, that doesn't appear to be an issue this season.
The identity of this group will be its ability to get along.
"I don't think I have a great leader,'' Izzo said. "I think we are working towards it. We are working at it. But I've had teams that have had no leadership and no chemistry. I've had some teams that have great leadership and average chemistry. Last year, I had a team with great leadership and great chemistry. Right now I think the chemistry of this team is as good as it's been in a while. Why? I don't know, but I like it.''