Calipari not buying Kentucky hype
October, 26, 2012
10/26/12
9:58
AM ET
HOOVER, Ala. -- John Calipari isn't buying the Kentucky hype of being an SEC title preseason favorite.
And neither are his colleagues.
Calipari said Thursday that if he were making the selections instead of the media, he would pick Kentucky sixth or maybe even seventh. Of course, he was kidding -- sort of.
The Wildcats won't finish sixth or seventh. But a Kentucky finish as low as third, perhaps, isn't out of the question based on a few key things: The Wildcats have zero experience, a new point guard and aren't as far along as they were a year ago two weeks prior to the season opener.
[+] Enlarge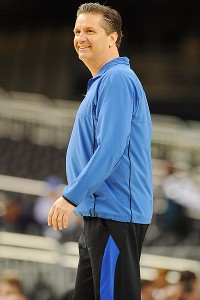 Bob Donnan/US PresswireJohn Calipari has downplayed the potential of his young team.
"We're not very good,'' Calipari said of the Wildcats. "We don't individually guard, and we're not collectively defending. We're not real tough, and we don't sprint the floor. Other than that we're not bad.''
The Wildcats have 10 days of practice prior to the season opener against upstart Maryland on Nov. 9 at the Barclays Center in Brooklyn. Duke is next on the schedule in the Champions Classic in Atlanta on Nov. 13.
Calipari said the Wildcats have a lot to work on, from pick-and-roll defense to post defense. He said he has the team's attention.
And while the Wildcats have oodles of talent -- from the front line of freshmen Nerlens Noel, Willie Cauley-Stein and Alex Poythress to a high-motor scorer in Archie Goodwin to a stretch-four shooter in Kyle Wiltjer -- the ability to intimidate their league opponents isn't a factor this season.
You didn't have to sense it during Thursday's media day in suburban Birmingham. It wasn't being disguised.
"Who predicted [Kentucky first]? The media, and you guys know a lot but don't know everything,'' said Georgia coach Mark Fox. "John has a very talented team. What he doesn't have this year that he had a year ago are returning players and key pieces. He's got a lot of new faces. He's obviously done a remarkable job, and when league play comes around he'll be a contender. It will be about who stays healthy and how much they grow.''
Calipari inherited Patrick Patterson in his first season at Kentucky. He had DeAndre Liggins, Josh Harrellson and Darius Miller in his second. If you want to count them as veterans, add sophomores Doron Lamb and Terrence Jones to Miller on last season's title team.
Relying on only one player who was a contributor last season -- Wiltjer -- is new ground for Calipari.
"It's a good question because he's never had to go through it,'' said Auburn coach Tony Barbee, a former assistant under Calipari at Memphis and a one-time player under Calipari at UMass. "He'll be as talented as any team in the league, but every team he's ever had from Memphis to the UMass teams had young talent with a core veteran presence to help mentor them. He doesn't have that this year, and I'm not sure how he does it since this is the first time.''
There are alternatives to Kentucky. Florida coach Billy Donovan, Tennessee's Cuonzo Martin and Missouri's Frank Haith all are confident they have teams that can compete for the SEC title.
"For us there is more of a known,'' said Donovan. "They're unknown on how good is Nerlens going to be? How good is Poythress going to be?''
Haith, coaching in his first season in the SEC, said there are a lot of outstanding teams in the league and he added Arkansas in that mix, too.
"Every team in the league can be beat,'' said Martin. "They have great talent and a great coaching staff and they're the national champs, so everybody is attacking them. Last year they were young and very talented, hit a stride and never looked back.''
Last March, Vanderbilt beat Kentucky for the SEC tournament title.
"I haven't seen them, so I can't really say if it feels different,'' said Vandy coach Kevin Stallings. "I was shocked they were able to take that team with so many freshmen and win the national championship. But they had a couple of experienced guys on that team and that helped. I don't know if this team has a different feel yet. I'll have to see it. Obviously they're talented.
"But I could see Florida for sure, for sure, for sure. I think Billy's team is really good. I don't know much about Missouri. I haven't eyeballed them yet. But it wouldn't surprise me at all to see Florida win the league.''
Florida has a trio of experienced players in Kenny Boynton, Patric Young and Erik Murphy. Missouri has the preseason player of the year in Phil Pressey and another all-star candidate in Michael Dixon Jr., as well as high-profile transfers. The Vols have one of the strongest big men in Jarnell Stokes and a rising stud in Trae Golden.
"I was surprised that [Kentucky] became unbeatable,'' Stallings said of last season's UK team that rolled through the SEC with a 16-0 record in the regular season. "I shouldn't count them out because [Calipari] has done it with freshmen before. He might be able to do it again. But Florida will have something to say about it.''