Weather is latest complication for Hofstra
October, 30, 2012
10/30/12
2:05
PM ET
Hofstra has had no sense of normalcy to start this season.
The Pride desperately needed to have a productive preseason after finishing 3-15 in the CAA, 10-22 overall last season. The team also has six new faces this season.
But the second presidential debate pushed the team out of its arena and practice facility for two weeks before the Oct. 16 event. Cleanup kept the Pride out of the building for one more week. The team and staff weren't even allowed on that part of the campus. The Pride used a nearby gym every day for individual workouts and eventually team practices.
[+] Enlarge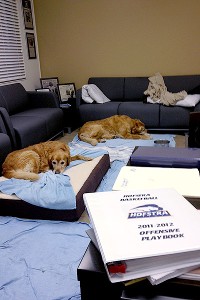 Courtesy of Mo CassaraThis is what Mo Cassara's office looks like this week.
Nearly two weeks later, the Pride were disrupted again -- this time by a force of nature.
On Monday, post-tropical storm Sandy unleashed its wind, rain and storm surge on Long Island and Hofstra, like countless other schools and structures that were in its path.
"It's been a real challenge for us," Hofstra coach Mo Cassara said Tuesday morning. "But I give the kids a lot of credit for their resiliency. Hopefully we won't see any more challenges coming our way."
Cassara lives on the beach and had to evacuate. So he took his two dogs and hunkered down in his office Monday night after the team practiced. The players were sent to the dorms, where it was deemed safe to ride out the storm.
The power went out at 11 p.m., and the scoreboard horn was triggered. It lasted for more than 30 minutes.
"I was walking around with my two golden retrievers and a flashlight to find a breaker," Cassara said. "My dogs were howling. It was really bad outside."
Cassara called facility managers Jay Artinian and Colm Kennedy. They braved the elements, came in and helped turn off the buzzer.
The Pride had just scrimmaged Hartford over the weekend, and the Hawks left right before Sandy. A year ago, Hofstra scrimmaged Hartford and got out right before a snowstorm that left the West Hartford area without power for a week.
"I texted [Hartford coach] John Gallagher and said, We're never scrimmaging you again," Cassara said. "It's been bad luck."
Cassara said the team was scheduled to be off Tuesday, and he hopes practice can be held Wednesday.
"I'm hoping we can get back to work Wednesday, but I'm not sure if we'll have electricity," Cassara said. "We probably won't have classes. It's a big commuter school.
"If we had a veteran team, I'd feel a lot better. It's been hard to spend time together, watch film and build the team with such a young group."
The Pride open the season at Monmouth on Nov. 9 before playing at Purdue in the 2K Sports Classic benefiting the Wounded Warrior Project. Hofstra is then scheduled to host other teams in the tournament from Nov. 16-18, with games against South Dakota State, Division II University of District of Columbia and Marshall. South Dakota State and Marshall are possible NCAA tournament teams as a favorite in the Summit and likely a second-place finisher in Conference USA, respectively.