College season prepared Davis for NBA
November, 1, 2012
11/01/12
7:01
PM ET
Anthony Davis had a dominating performance for the New Orleans Hornets in a season-opening loss to the San Antonio Spurs on Wednesday night.
Davis scored 21 points, grabbed seven boards, made all nine free throw attempts and converted 6 of 12 field goals in the 99-95 loss.
[+] Enlarge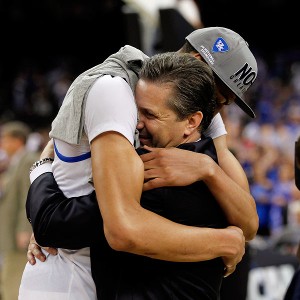 Charles Bertram/Lexington Herald-Leader/MCTAnthony Davis and John Calipari won a national title in their only season together at Kentucky.
None of this would have occurred had Davis not gone to college for a year.
Davis will go down as one of the best examples to keep rules allowing one-and-dones at a bare minimum for the NBA and the NCAA. Having players stay two years in college would be the optimum for both organizations, but that might be a reach. The National Basketball Players Association held firm on not yielding ground on that subject during the last negotiations and will likely do so going forward.
Davis was a guard three years ago in high school. He was a center last season at Kentucky and played power forward against the Spurs.
The one year in college is a must -- at the very least -- for players to develop and make a contribution when they arrive in the pros. ESPN's new NBA analyst Flip Saunders said Thursday during our ESPNU college basketball podcast that only a few players could make the jump immediately from high school. He coached one of them: Kevin Garnett.
"We gave Anthony a confined environment where he was loved and looked after before he moves on,'' Kentucky coach John Calipari said Thursday. "If you don't perform, you can be thrown out. There isn't someone holding your hand as a professional. I know, I've been there.''
Calipari said he wishes the players' association would get together with the NBA and encourage players to stay at least a few years in college.
"It helps them and it helps basketball in general,'' said Calipari. "It's what's in the best interest for everybody.''
Calipari said the baseball rule of three years in college once the player matriculates won't ever be plausible in the NBA.
"Now it's one year versus two years,'' said Calipari. "It won't go beyond that, and we're not going back. So how do we encourage them to stay? How about taking care of their insurance for that one year? We're only talking about 20 kids, not 500. Ask Anthony Davis if he was better off going to Kentucky for a year. Would he have been better off going straight? Every once in a while, there is a kid that goes straight out of high school that can make it work, like Garnett, Kobe, LeBron.''
The Davis example is by far the best of a player who maximized his one year and became a star in college and a productive player on Day 1 of the NBA season. Marquis Teague stayed one year at Kentucky and didn't play for Chicago in the Bulls' opener (they are without starting guard Derrick Rose).
Teague clearly would have benefited from another year at Kentucky. It's possible he wouldn't have even been an NBA draft pick out of high school.
Davis would have been selected high based on his height and potential but would have been lost had he been allowed to bypass college. He said many times before the draft that he wasn't even ready for Kentucky when practice started a year ago.
"When you're a year older, you're more physically and mentally mature,'' said Calipari. "You're pushing your mind to be better and you're more prepared for another year. Coming to Kentucky didn't do that. I don't have a magic wand.''
Kentucky has been the poster program for one-and-done players of late due to its success in March and April, as well as the first-round numbers in June.
But it's clear the NBA and the players' association can't go back to allowing players to go straight out of high school. Well, they can -- but they won't get nearly the product, the professionalism, the maturity and the development they are getting with at least one year in college. Davis is a freak of nature. But he was too raw and underdeveloped as a basketball player to leave out of high school even if the option were available.
He knows it. The Hornets know it. He would have been lost, lacked confidence and probably been pushed around in his first year. He wouldn't know the pressure of performing on a large stage, dealing with a crush of media and handling stressful late-game situations.
He was 9-for-9 at the free throw line in his first NBA game. That's because he has been in these pressure situations -- even for just one season.