Spartans, Huskies to tip off in Germany
November, 7, 2012
11/07/12
12:43
PM ET
Ramstein Air Base, Rheinland-Pfalz, Germany -- From the moment he stepped onto the USS Carl Vinson last season to the second he stepped off, Michigan State coach Tom Izzo was in awe.
He wanted to experience that feeling again.
So when the call came from ESPN to gauge his interest in another game on a military facility -- this time in Germany at the United States Air Forces headquarters in Europe, a NATO installation facility -- he didn't blink.
He just needed to know when and who he would be playing.
[+] Enlarge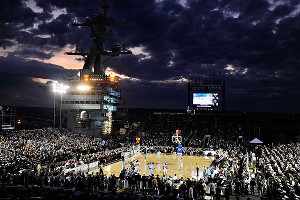 Christopher Hanewinckel/US PresswireThe Spartans, who played on the USS Carl Vinson to open the 2011 season, will face UConn at the Ramstein Air Base on Friday.
Connecticut had already been secured as the first team well before it was known that the Huskies would not be able to play in the 2013 postseason due to a poor APR score.
"It was a no-brainer,'' said former UConn coach Jim Calhoun, who retired in September but will be on the trip as a special radio analyst. "In my era as a college student, Vietnam vets were coming home and no one really truly appreciated when the guys were thrown into the war. They didn't believe in it. It was unpopular. Obviously, we're going after people in Afghanistan, and we're trying to get Iraq to be self-sufficient. But we need those kids home.
"Those men and women are doing incredible things by putting their life on the line every single day for us, and to be able to go to a base with so many different military personnel there and put a game on, to do a clinic with all the people is the least we can do,'' said Calhoun.
Calhoun was on board, and so too was his replacement Kevin Ollie, who had no choice, but has embraced it just as much.
"What an honor this is,'' said Ollie. "We want to go out there and play competitive basketball, but we understand there is more than basketball. They're fighting and battling for us so we can have freedoms and liberties in the States. We want to thank them, and that's why we're going to Germany to play for them.''
The chore for ESPN's programming department, led by Nick Dawson, the network's director of programming and acquisitions, was to find a suitable opponent that would resonate nationally, especially if it was ranked.
The easy call was Michigan State -- again.
The Spartans had been the creators of the Carrier Classic, as innovative athletic director Mark Hollis hatched the idea years earlier and saw it come to fruition against top-ranked North Carolina on 11-11-11. The event became even more memorable since the ship -- the USS Carl Vinson -- was used to dump the body of Osama Bin Laden. President Barack Obama, who was en route to a conference in the South Pacific, watched the game from courtside, making it even more palatable.
"The game starts, and I look across and there is the president with his wife, there are all these military people that have done so much for us, and you look up and there is a sky,'' said Izzo. "I felt like I was back in Iron Mountain [Mich.], in a way. Then they stopped the game to play 'Taps' and that was like, wow, that was something special.''
The event moved Izzo so much that he's ecstatic to get another chance to experience it all.
"When they called, I said, 'God, I've got to play Kansas four days later [in the Champions Classic in Atlanta] -- can we move the game back a couple of days?' But then I thought to myself, I always want my guys to get to do things that are memory-makers,'' said Izzo. "To open up college basketball two years in a row, I think these are the unique things that Michigan State has to do, does do, to keep ourselves up there where we need to be.''
Izzo said his affection for the troops was brought to the forefront when he went to Kuwait nearly eight years ago as part of a coaching outreach to live, eat and sleep with the troops as they played in a tournament on the edge of a war zone.
"We shared something, and it was a life-changing experience,'' said Izzo. "When I got back at 2 a.m. from that trip, I'm driving back from Detroit and I called my assistant and said have every player at my office. It was August, and it was 2 o'clock in the morning. I showed them food bags and talked to them about it. … I got up with [the troops] at 5:30 a.m., slept in the barracks, and that changed my perception of everything. I can only apologize to those troops that I didn't have respect for them [before then] because I didn't know.
"They give up their life for us,'' said Izzo. "We think sports is life or death. We found out that's not the case.''
Izzo doesn't know how he'll feel once he walks into the hanger at Ramstein. But he can only guess.
"I'm going to be coaching my own team in front of the troops,'' said Izzo. "It's going to be awesome.''
The Spartans and Huskies will visit wounded troops in a military hospital, visit with military families, and take a C-130 flight over the area to get the full experience. Three players from Germany, coincidentally, are on UConn's roster this season -- Niels Giffey, Enosch Wolf and Leon Tolksdorf. They've gobbled up countless tickets for their families, who will make the drive across the country to the game.
The goal is to keep the players on East Coast time by practicing late in the night and eating dinner at an odd hour, as well. There won't be much time, if any at all, for sightseeing. This is about the military and the game.
Giffey summed up what this game would mean to the troops stationed at Ramstein.
"It's going to be big for them because they don't have a chance to go back, either,'' Giffey said of the troops who are far away from home, much like the three Germans in the States. "I know exactly how they feel [about being homesick]. They don't see their family a lot, they don't get a chance to see a game like this. Sure, it's going to be a great time for us, but it is a chance for us to give something back to them. You get so much on a college campus every day. You experience so much, but this is something that can settle you down. It can bring you to the point where you say, 'OK, these people give so much to their country, and it's a great time to give something back to them.'''