Ollie starts audition to keep UConn job
November, 9, 2012
11/09/12
8:09
AM ET
RAMSTEIN AIR BASE, Germany -- Kevin Ollie's voice was hoarse.
But his energy was unchanged.
Sitting in the stands was UConn athletic director Warde Manuel, getting a strong look at his new "head" coach, in whom he was so confident that he gave Ollie a seven-month contract.
Seated courtside was Jim Calhoun, Ollie's mentor, former head coach and the three-time national champion Hall of Famer.
That was Wednesday night.
Manuel didn't attend UConn's Thursday night practice at the Ramstein Fitness Center.
What he missed was seeing Ollie as an equal clinician to Michigan State's Tom Izzo, a likely Hall of Famer in due time, in front of 100 military children who live on or off the base.
Manuel would have seen Ollie jump right into action during half-court defensive work. Sophomore Ryan Boatright couldn't match Ollie step for step. Calhoun was quick to point out from his courtside seat that he would never be able to do that during practice.
Ollie's seven-month contract is the story for UConn to start this season.
The Huskies cannot go to the postseason because of poor academic scores. They cannot be in the Big East tournament. Their numbers are limited and the frontcourt is devoid of depth, let alone reliable low-post scoring. UConn will be pesky defensively, pushing the ball and relying heavily on its guard play from Boatright, Shabazz Napier and Omar Calhoun.
But the decision on Ollie will drive the news cycle around the program.
And it starts here in Germany against Michigan State on Friday night.
"I'm as ready as I can be," Ollie said about coaching his first game. "It's all about our team and our will to prepare."
[+] Enlarge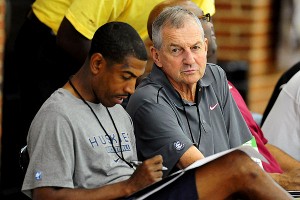 Evan Habeeb/US PRESSWIREJim Calhoun is still around the program, but it's Kevin Ollie runs the show now.
Ollie said having Calhoun being on this trip and working courtside as a radio analyst (he'll also be in the Virgin Islands next week for the Paradise Jam) is welcomed considering "he's a second father to me. He taught me a lot of things, supported me off the court. I love having him as a resource."
Calhoun wants Ollie to get the full-time job with a longer-term contract (say, three to four years) sooner than later. He's hoping Manuel sees the need to make this move to ensure recruiting is locked up in the coming years.
But as Calhoun sits courtside, he remarks about his "family" that is on the court and sideline. The entire staff -- Ollie, George Blaney, Karl Hobbs, Glen Miller and now Kevin Freeman and Ricky Moore -- has a UConn or Northeastern tie from Calhoun.
If Ollie isn't hired, the bond would be broken. If Ollie gets the job -- even for three years -- then at least he had a real shot instead of this season being a waste, especially in recruiting.
"I'm very pleased with what he has done as a coach and leader on and off the court," said Manuel, was at Friday afternoon's shootaround at Hanger 5.
"I'm an open person and once I make a decision to move we will. I'm not going to go behind his back and look at other people. If in the end Kevin is the choice I will be very happy and if he is not, we will find the best person to keep UConn moving in the right direction."
Manuel said he won't and doesn't have to wait until the end of the season to make a decision. He said it could come at any point.
"I'm always being evaluated," Ollie said of Manuel being on the trip. "I'm going to coach the way I coach and [if] they don't like it, they don't like it. It's all I can do. I can't reinvent myself. I can't be Coach Calhoun. I can't be Tom Izzo. At the end of the day, they'll either like me or not. Hopefully I'll be good enough. If not I'll move on. [Manuel] knows I want to be here.
"I'm coming in guns blazing," Ollie said. "I got an opportunity and I'm going to keep going. I'm not worried. I care, but I'm not worried."
Meanwhile, the only concern Izzo has is whether his star freshman guard, Gary Harris, is ready for the prime time of a unique season opener and whether Branden Dawson, coming back from a knee injury suffered last season, can handle the rigors of a long season.
If those two players answer quickly, then the Spartans could be a Big Ten title team and Final Four-bound.
Izzo coached the Spartans in consecutive Final Fours in 2009 and 2010 and had a locker-room leader and inspirational player in Draymond Green last season. The Spartans started 0-2 last season but, behind Green, still won a share of the Big Ten and earned a No. 1 seed.
Izzo said this is one of his more versatile and deepest teams. He has a leading voice in Keith Appling at guard, Harris and a plethora of big men led by Dawson and joined by Adreian Payne and Derrick Nix.
"I think we're ready," Izzo said. "I can't continue to worry about [Dawson] but he was out seven months. We're ready to play hard. But it will be unique for the first time in this environment. We'll be a work in progress for a while."
Izzo said he'll probably go big with Dawson, Payne and Nix for 10-12 minutes a game. He said he could go small with Appling, Harris, move Dawson to power forward and add in Travis Trice or Denzel Valentine.
The Armed Forces Classic is a USO-style game brought here for the troops. But Izzo and Ollie have plenty to focus on as well. Izzo has a title team to build. Ollie has a job to earn.