UConn pulls off upset in Ollie's debut
November, 9, 2012
11/09/12
10:44
PM ET
RAMSTEIN AIR BASE, Germany -- The Connecticut players circled around Kevin Ollie and hugged him.
Then, one by one, they ran over to congratulate their former coach, Jim Calhoun, who had watched his successor's debut, as a fill-in radio analyst.
Then, finally, Ollie and Calhoun embraced. The exchange was genuine. The emotion raw.
[+] Enlarge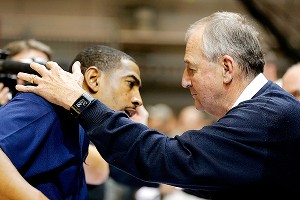 AP Photo/Michael ProbstMentor and mentee shared an emotional embrace after Connecticut's victory Friday night.
Ollie, who was given just a seven-month contract on Sept. 13, beat legendary coach Tom Izzo and No. 14 Michigan State 66-62 Friday night in a season-opening game that tipped off at midnight local time and ended well after 2 a.m., the first college basketball game on European soil.
And if that wasn't enough, despite the late hour, Ollie and the rest of the UConn players, along with the entire Michigan State staff and players, spent quality time taking pictures and signing autographs with hundreds of the 3,100 troops in attendance at Hangar 5 at Ramstein Air Base.
What a night for Connecticut and Ollie.
What an event for the men and women serving here.
What a moving few days for everyone who made the trip to Germany -- to be immersed here on the base, educated about the mission and then inspired and moved by the wounded warriors at the game and those visited in the Landstuhl hospital.
Forget about the moisture on the aircraft carrier courts that canceled the Ohio State-Marquette and Florida-Georgetown games. The decision to move games to the military bases is a home run.
And it made for the perfect opening for Ollie to prove himself to the decision-makers -- UConn president Susan Herbst and athletic director Warde Manuel -- who were sitting behind his bench.
"I was very impressed," said Manuel, who couldn't stop smiling after the game. "It was an unbelievable debut as a head coach."
"It was fabulous," said Herbst. "Kevin has so much heart and integrity. He's so connected to these guys. They overcame a highly ranked team with big guys. It's going to be a great season."
Herbst has been a fan of Ollie for the past two years, singing his praises when the Huskies went to the White House after the 2011 national title. She has listened intently to Calhoun's praise of Ollie. But she has empowered Manuel to make the call.
He might not wait long.
Manuel was at multiple practices here and saw the intensity with which Ollie coaches, pushing the depleted Huskies to defend and stay in the passing lanes and pressure the ball. And that's exactly how UConn beat the Spartans, by dictating tempo and forcing turnovers. Michigan State had 15 and had to play catch-up all game.
"I'm happy for him," said Izzo. "I thought he did a helluva job in the first 10 minutes. They played their butt off. It dropped down to normal, but give him credit, that was what he was as a player. He did a helluva job as a coach. He deserves way more than a one-year contract."
Calhoun certainly agrees. He wants Manuel to make a decision now so recruiting doesn't suffer.
"Kevin got them so jacked up," said Calhoun. "They ran out of gas, but as they made a rush, we found a little something. I've seen it before in Connecticut, and Kevin brought it out of them. It was special."
Calhoun couldn't stop grinning about the Huskies' performance.
"My hands were shaking," he said. "I'm so darn proud of them."
Calhoun credited Ollie for his substitutions, putting four guards on the floor and forcing Michigan State to shoot quickly and make poor decisions late.
[+] Enlarge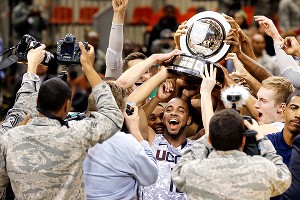 AP Photo/Michael ProbstThe Huskies were all smiles after a surprising win over No. 14 Michigan State.
"They just put in the work and executed the game plan," said Ollie. "It got tough in the second half, but they pursued the basketball and made plays. It was a collective effort."
Ollie isn't about to take any credit. When I was interviewing him for ESPN after the game, he made a point of getting his whole team in the shot. He said it's not about him.
But until Manuel and Herbst make the decision, it is all about Ollie.
"Kevin really inspires them," said Herbst. "The soldiers were so inspiring for our players. The whole atmosphere really made them step up during the game."
As for MSU, Izzo said he wasn't upset about his team's preparation. The focus wasn't there at the beginning, and he said as much as he loves playing in these military-themed games, he would like to win one, too.
He said his team can't turn the ball over like it did, Adreian Payne has to be more focused (three turnovers), and the freshmen need to tighten up their games (Gary Harris was 1-of-7 and Denzel Valentine had a pair of turnovers). But the Spartans have time to fix their issues, even before Tuesday's game in Atlanta against Kansas in the Champions Classic. Keith Appling, who like the rest of the players followed Draymond Green's lead of a year ago and donated his camo jersey to the troops, said that despite the loss, the experience at Ramstein was worth every second.
That feeling was felt by everyone here. The troops couldn't stop thanking the two teams enough for coming to Germany.
UConn won a competitive, intense game in Ollie's debut. The Huskies can't play in the postseason, or even the Big East tournament, due to a poor academic report card. So what are they playing for?
"Pride," said UConn guard Ryan Boatright, who played on a sprained left ankle and said he wasn't about to quit with real warriors in the crowd. "We want to prove everybody wrong. Nobody expected nothing from us. Everybody thought we didn't have enough talent. But we came out and grinded."
Boatright and Shabazz Napier combined for 38 points, with DeAndre Daniels adding a dozen. That's probably the ratio the Huskies will need to be successful. Forcing 15 turnovers and converting them helped, too.
But nothing topped the emotion of playing this game and being here for three days. The players and coaches -- all of them -- leave Germany humbled by the experience.
"It's a blessing to be here," said Boatright. "We see what they all do for us to have a free country. I'm calling this a blessing. I've learned a lot on this trip."
So, too, did the UConn decision-makers. One game doesn't give a coach a job. But the preparation, the adversity and the final product might help push a resolution sooner.
"God is in control," said Ollie. "I feel pressure inside, but they played hard like UConn always plays. I know there are going to be ups and downs and it won't be easy. But we showed resilience. We played tremendously hard. It means the world for [Calhoun] to be here. He just told me he's proud of me and said we played the right way. He told me to build on the success and don't lay on it."