Villanova passes rough test against Purdue
November, 16, 2012
11/16/12
1:17
AM ET
NEW YORK -- Officials Brian O'Connell and Bo Boroski huddled around the monitor. They asked for more replays of a trap on Purdue's
D.J. Byrd
and the subsequent raised elbow that sent Villanova's
Darrun Hilliard
flailing back onto the court.
The two officials stepped back again, conferred and after another moment or two, called Bert Smith, the third official, to have a look. There was another conference before O'Connell finally made the call.
[+] Enlarge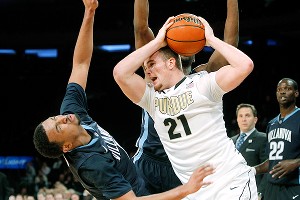 AP Photo/Jason DeCrowThis play involving Purdue's D.J. Byrd and Villanova's Darrun Hilliard turned the game around.
He signaled for a flagrant 1 on Byrd. It was his fifth foul. The Boilermakers were ahead 75-71 at the time. Villanova got two shots and the ball.
The Wildcats ended up making four free throws after another foul on Terone Johnson away from the ball.
The end result was an overtime game, which ended with Villanova pulling away and winning 89-81.
It was one semifinal on a Thursday night in mid-November. But it signified plenty for a rebuilding Purdue, a suddenly surging Villanova, and for the way in which a point of emphasis could be called in the future.
"I don't like the rule,'' said Villanova coach Jay Wright. "I don't think the refs like the rule.''
Officials have ruled that if an elbow strikes a player from the shoulders and above as he attempts to clear space then it's likely going to be called. Hilliard and Achraf Yacoubou were trapping Byrd in front of Villanova's bench. Byrd, who had played a terrific game with 16 points, was being swallowed up and had to clear an area to get a sightline to make a pass.
"It's obviously the worst thing that could happen,'' said a despondent Byrd. "The rule is if the elbow comes above where it's not supposed to then it's a flagrant 1. They got it right. It obviously wasn't intentional but that's the way the game goes.''
Byrd said he simply caught Hilliard in the wrong spot. He said he could only see Yacoubou but not Hilliard when he turned.
"I put myself in a difficult situation and it feels like that was the game,'' said Byrd. "I feel terrible.''
"I got hit,'' said Hilliard. "In the heat of the moment it didn't hurt but he caught me in the chin. Coach told me to keep my hands off him but he flung his elbow and he hit me and I fell back. It was a great call.''
The problem may not be with the call itself but more so by how long it took the officials to come up with a consensus. It wasn't conclusive on the multitude of replays and the officials spent an inordinate amount of time deciding. Purdue coach Matt Painter challenged it during the game, but didn't in the postgame. Byrd accepted responsibility.
"I didn't think it was a flagrant,'' said Johnson. "There was a lot of emotion there and we were waiting to see as they were reviewing it whether we got the call or not. We had to keep our composure.''
Purdue wasn't able to hold its ground late in the game and ultimately the physicality, which Purdue defined, turned against the Boilermakers. Purdue mirrors its coach and Painter has turned the Boilers into a gritty bunch. But losing to Bucknell at home and now to 'Nova in the 2K Sports Classic semifinals at Madison Square Garden may indicate a longer season. Purdue will fight this season, but if the Boilers can't be composed and finish games then they can't reach the top half of a loaded Big Ten.
Villanova was a complete afterthought in the Big East this season and in large part because Wright had no idea what he had. He knew freshman guard Ryan Arcidiacono was a stud if he made shots. He knew he had a strong guard who could excite the Main Line. But he had no clue if his squad -- without a preseason star -- had any toughness whatsoever.
Now he knows.
And the rest of the Big East will find out soon enough.
This was as physical a game as has been played in this brief season and the Wildcats won the fight.
"I see great potential in this group,'' said Wright. "I see a lot of work, too.''
Wright said the physicality of the Purdue game can't be duplicated in practice because 'Nova's eighth, ninth and 10th players can't come close to a team like the Boilermakers.
"No matter how much you say in practice, they don't understand it,'' said Wright. "This will be a great lesson for us. We learned you've got to be strong with every play.''
Who knows if any of the four teams at the 2K Classic will be NCAA-worthy -- Alabama outlasted Oregon State earlier. But this snapshot a week before Thanksgiving gave us a strong indicator.
Villanova grew up Thursday night. And if the Wildcats can translate that into consistent play in January and February then it might be due to the physical style they had to play to beat Purdue. There are season-changing games for teams, even this early.
We may have witnessed one for Villanova.