For hard-luck Drexel, it's CAA title or bust
November, 21, 2012
11/21/12
8:16
AM ET
Drexel coach Bruiser Flint never had false hope about an at-large berth.
He said he had been burned twice before in 2007 and 2012.
The '07 Dragons won at Syracuse, Villanova and Temple. But five CAA losses was a red flag for the selection committee and a ticket to the NIT after losing in the conference tournament.
The '12 Dragons were picked to win the CAA. They won 27 games prior to Selection Sunday and had a gaudy 16-2 conference record. But it wasn't enough -- again after losing to VCU in the conference tournament for the second time in five years when a possible automatic berth could be had for the Dragons.
So, when the Dragons were picked to win the CAA again this season, they were in position to contend for a bid. The odds were in their favor to win the league with VCU leaving for the A-10 a year early while Old Dominion, Georgia State, UNC Wilmington and Towson were all ineligible for the conference tournament because of either the bylaws forbidding teams leaving to participate in the conference tournament or poor APR scores banning them from the postseason.
Drexel is now 1-2 heading to the Anaheim Classic, where in the preseason the Dragons appeared to be a favorite to win the event, even with a first-round game against Saint Mary's and a supposedly rebuilding Xavier in their half of the bracket. Cal is the team to beat on the other side.
But the Dragons lost multiple overtime games to start the season to Kent State and Illinois State before beating Penn. And now their best player, leading scorer and lead guard Chris Fouch, is done for the season with an ankle injury.
The Dragons' hope isn't lost. But reality has settled in yet again for Flint. It's win the CAA tournament or bust -- nothing more and nothing less.
[+] Enlarge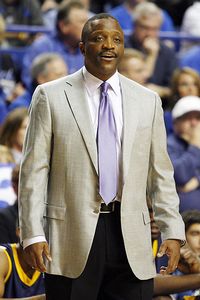 Mark Zerof/US PresswireBruiser Flint knows Drexel's March hopes may hinge on the CAA tourney.
"Over the last two times that we thought we might get a bid, it's still been about the Colonial tournament,'' Flint said prior to embarking on the trip west from Philadelphia. "We had a great schedule and we didn't get in. Last year we won a lot of games and didn't get in. It hasn't worked out for us to get an at-large bid. I'm not sure what the issue is but it's always been about the Colonial.''
Fouch was averaging 16.7 points a game. He will now try for a sixth season of eligibility. The Dragons didn't have guard Damion Lee for the win over Penn because of whiplash that occurred in the previous game. Flint is hopeful that Lee can play in Anaheim. He also is banking on Tavon Allen, who missed the first two games but scored 15 in the win over Penn, taking over for Fouch. He'd like/needs Frantz Massenat to be a major factor as well.
The Dragons have always been a guard-heavy team with forwards who are undersized that crash the boards and make plays by earning second shots. But turnovers have crushed the Dragons early this season and without Fouch, taking care of the ball will be even more important.
Drexel is an example of a team that knows it has a small window to get in the tournament. We can all dance around how important this game or that game is to the bigger picture for a team, but unless a team notches enough wins and avoids dropping games it shouldn't, then it still comes down to the conference tournament. Even mighty Gonzaga and Butler have been there before, where average nonconference records put immense pressure on them to win the conference tournaments and earn a bid rather than leaving the at-large bid to chance.
Look, at 1-2, the Dragons are hardly out of contention. Win three games in Anaheim, suddenly the at-large conversation can take on a new life. But not having Fouch has dashed cold water on the dream of finally getting the Dragons into the NCAA tournament without having to claim a conference title.
"The only thing we're talking about is winning the [conference] tournament and getting in the NCAA tournament that way,'' said Flint. "We understand we won a lot of games last year. But it's about winning the tournament. It always has been our focus.
"It hurts without Chris, but we knew we had a tougher schedule,'' said Flint of the Anaheim tournament and two other possible NCAA-like games against Saint Joseph's and Davidson, a pair of teams that should be in contention for bids out of the A-10 and Southern Conference. "We know we need to win the CAA tournament to get into the NCAA tournament. We know how hard it is to get in without it.''
Delaware, which suddenly must be taken seriously as a CAA contender, is in the NIT semifinals after winning at Virginia. Hofstra took out Marshall and South Dakota State at home. George Mason may be the team to beat after winning at UVa and nearly taking down New Mexico in the Virgin Islands. Overall, though, this is as weak as the CAA has been since George Mason made the Final Four in 2006.
Flint isn't giving up hope. He said if Lee can play up to his potential then the Dragons can sustain the loss of Fouch. Fouch made the big baskets, so someone has to be willing to take and make those shots.
"We don't ha ve the experience,'' Flint said. "But we can be fine. It is what it is now.''
Flint has been at Drexel for 12 years. He coached at UMass the previous five. He hasn't been to the NCAA tournament since his first two years with the Minutemen in '97 and '98.
"I'm a wise old vet now,'' said Flint. "We were picked to win the league last year and we did. The only thing we didn't do was win the conference tournament.''
Nothing has changed despite the Fouch injury. The Dragons can still win the league and must win the conference tournament to get a bid.
"We can still do what we're predicted to do,'' said Flint.
And all that anyone would remember is an NCAA bid, even if it's as an automatic qualifier, because there are no illusions of an at-large berth as a path.