He's ready to play again for Sean Woods
November, 23, 2012
11/23/12
8:00
PM ET
Luka Pajkovic played three minutes against Ole Miss in a 24-point loss for Mississippi Valley State last December.
Then-Delta Devils coach Sean Woods got in Pajkovic's grill, according to the player and a MVSU athletic department official, and grabbed his shirt. There was nothing egregious about this situation -- Woods was continuing to show his intensity and demand for quality of play and effort.
Woods was coaching Pajkovic, just like every other player on his team last season when he took the Delta Devils to the NCAA tournament. He was intense, passionate and committed to making the team better on every possession.
[+] Enlarge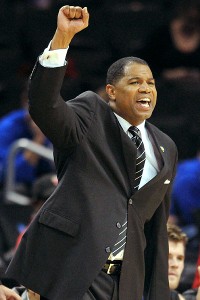 Jason Szenes/Getty ImagesSean Woods was suspended for Monday's game against Norfolk State.
Pajkovic loved every second of it.
And that's why he said he left Mississippi Valley State for Brevard Community College in Florida and why he will return to play for Woods next season at Morehead State.
Woods was suspended for Monday's game against Norfolk State for his actions in a loss at his alma mater, Kentucky, on Wednesday night. He got in the face of guard Devon Atkinson three times and shoved Atkinson back toward the bench. It was likely that physical contact, and the coverage of Wednesday's game, that forced the university to make a decision.
"I had a strong connection with him," Pajkovic said Friday. "What happened the other night, that's nothing. That's the way he coaches. I don't see how that's wrong. I know there are different opinions. I talked to him on Thanksgiving. He didn't want to talk about it. Everyone is making a crazy deal out of it.
"He was on me the whole year and it was worse with me," Pajkovic said. "He expected a lot from me and that's why he does that, to get you motivated. I'm going to Morehead State. I'm used to that type of coaching. He gets the best out of you. He pushes you and that's the way he coaches."
Morehead State athletic director Brian Hutchinson said in a statement Friday that the school stands by the hiring of Woods after Donnie Tyndall went to Southern Miss. Hutchinson said that coaches should be teachers who "reflect the core values of the university, which include valuing the individual and treating people with respect. Near the end of the game, Coach Woods' interaction with one of our student-athletes fell short of that value and was unacceptable."
Hutchinson said Woods needed time to contemplate his actions and what should be his appropriate conduct.
Woods wrote via text late Wednesday night that he was just coaching his guys. But on Friday he wrote that he apologetic and acknowledge his behavior "was inappropriate and unacceptable."
It took too long for Woods to apologize and that contributed to the story gaining attention. He could have said he was emotional about playing Kentucky and when the game got away from Morehead (it was tight for some time) he made mistakes in how he dealt with Atkinson. He should have said he was sorry right then and made the point that it wouldn't happen again.
We live in a public forum in which everything is discussed. Whether physical contact with a player was acceptable or not 25-plus years ago is irrelevant. It is no longer respectable behavior now.
Coaches have been fired for physical contact. You can argue that is ultimately what led to Bob Knight's dismissal at Indiana.
A Mississippi Valley State official said what Woods did in getting in the faces of players during a game at Maryland and then again against Kentucky paled in comparison to his coaching style with the Delta Devils, but that no one paid attention to him in the SWAC. The official wasn't saying this was wrong, but just the way Woods coached.
"Coaches get in your face and you should be able to take it," Pajkovic said. "If you can't take it, you're not going to get the best out of you.
"People don't see him in practices, they only see him in games. What he did with me wasn't physical contact," he said. "My coach back home [Belgrade] used to push me too. I've always had crazy coaches, but in a good way. That's the coaching I love. After what he did last year, he's going to do it this year. He's a good coach.''