What now for Cincinnati and UConn?
November, 29, 2012
11/29/12
3:07
PM ET
Connecticut athletic director Warde Manuel said late Wednesday night that his charge is to continue to make the Huskies better.
He could have added more attractive too. The same applies at Cincinnati.
There is a perception at Cincinnati and, to some extent, UConn that the ACC will at some point lose at least two more programs to the SEC (Florida State and Clemson?) and two to the Big Ten (some combination of North Carolina, Virginia and Georgia Tech?). The idea is that UC and UConn will get into the ACC -- not a question of if but when.
ACC commissioner John Swofford made it clear -- yet again -- that he likes the number 14 for football (15 for hoops with Notre Dame) and that there is no fear the league will lose any other members. North Carolina and Virginia have publicly stated their commitment to the ACC. Remember, though, no one had visions of Maryland leaving a few months ago either.
All this spin from Cincinnati and Connecticut is in reaction to Louisville being chosen to go to the ACC over the two Big East rivals. Now the question is what to do next.
[+] Enlarge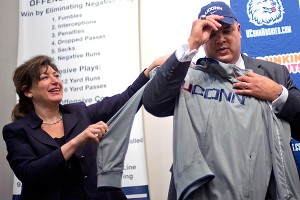 AP Photo/Jessica HillUConn AD Warde Manuel has to make his school as attractive as possible in case there's future realignment.
The issue for both schools is that they have no other option. As Manuel acknowledges, they have to keep doing well and prove that their athletic programs are worth the ACC's investment. North Carolina's outgoing chancellor, Holden Thorp, didn't mince words on Wednesday's teleconference. The choice of Louisville had nothing to do with academics and everything to do with deliverables on the field and court and in financial support and facilities.
Forget about newcomers Tulane, Houston, Central Florida, SMU or even Providence, Seton Hall, South Florida and DePaul. If the Big East is going to survive in the short term, the marquee programs with rich history and sustained success -- UConn, Cincinnati, Marquette, Georgetown, St. John's, Villanova, Memphis and Temple -- must become or stay elite in the Big East.
The assumption that the Big East is done or fading away doesn't sit well with Hall of Fame coach Jim Calhoun, who retired from UConn in September.
Calhoun is clearly frustrated by his school's ACC snub. He said he isn't sure what more UConn has to do since it has won three national championships in men's basketball and seven in women's basketball, played in a BCS bowl game two years ago and consistently competed for the national title in men's soccer.
"We have to make the best of the Big East as much as we possibly can and yet have the ability to listen to anything else," Calhoun said. "We've got to keep being the best that we can be. I still think we can win a Big East championship and a national championship down the line. We can still play teams like Syracuse and national games like North Carolina."
He said if you were to match the core hoop teams of UConn, Cincy, Marquette, Georgetown, St. John's, Villanova, Memphis and Temple against any other league, the Big East would more than hold its own. Calhoun would like to see the Big East add one more basketball (non-football) program and mentioned Dayton as a possibility. As of now, there is no public stand toward adding non-football schools.
"We're still in the cities you want to be in," said Calhoun of the major hoop hotbeds in the Northeast and upper Midwest. "I still believe if you look from a purely basketball perspective, we still have three of the four Final Four teams that were here when I came into the league [in 1985] in St. John's, Villanova and Georgetown. And we added [the other], Memphis."
But Calhoun said he is convinced the reshaping of college sports isn't over. He would love to see some stability at UConn and continues to push for his former assistant Kevin Ollie to be named the permanent head coach with a long-term deal, not just a seven-month contract.
Manuel said Wednesday that nothing new had occurred on the Ollie front but reiterated that Ollie is doing an outstanding job with the one-loss Huskies.
The next step for Connecticut and Cincinnati is to hope Big East commissioner Mike Aresco can secure a lucrative television contract for dollars and exposure. But now the Huskies and Bearcats have to lobby him -- the way Rick Pitino and Louisville did to get basketball-crazed Memphis and Temple in the league -- to add another significant basketball member, unlike the Tulane addition. Poaching the A-10 is still a viable option for the Big East to enhance its basketball brand.
For now, all the Huskies and Bearcats can do is win. UConn can't go to the postseason in March. Cincinnati can. Advancing deep in the tournament would certainly help the cause, at the very least making the ACC reconsider standing at 14.
Until then, the Huskies and Bearcats have no choice but to continue to be noticed, relevant and, more than anything else, highly competitive in every major sport.