Warts and all, Rick Majerus was a treasure
December, 2, 2012
12/02/12
8:03
AM ET
Where to begin.
I had known that Rick Majerus was very ill since the summer. I knew his heart was failing and that he was in a tough fight to get his body well enough to deal with the heart issue.
So I wanted to talk to him. I left messages. I tried to get in touch with him through friends. And then I heard that few, if any, friends had seen or talked to him since he was admitted to a California hospital.
Really I just wanted him to know how much he meant to me. I just wanted to talk to him at least one more time.
I last spoke with Rick toward the end of July about how much he was looking forward to coaching Saint Louis this season. And we talked about my family. He always wanted to know how my wife, Denise, was doing and my kids, Lucia and Sal.
He wrote a heartfelt letter to me and Denise when Lucia was born. It was much different than the standard congratulations. This was personal, written by someone I felt wanted to have children and was so overjoyed when someone he knew had a child. He would tell me over the years how he couldn't get over how much Lucia and Sal had grown and the activities they were involved in at the time.
He kept telling me how lucky I was to have such a wonderful family. I am. And yet I always wished he could have had what I am fortunate enough to enjoy. We once fixed him up with a friend of ours. Rick was considerably older, of course. There was no future in the relationship. But it was one date at a Kings-Jazz playoff game. And the two had a great time watching the game in of course tremendous seats.
[+] Enlarge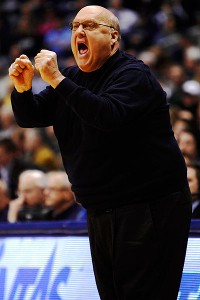 Frank Victores/US PresswireRick Majerus revived both his coaching career and the Billikens.
Rick was a complex character. I never worked for him. I didn't play for him. I wasn't his beat writer. If you were any of those three, you probably had a much different relationship with him. I'm not sure why we hit it off so well. But we did.
No other coach was as much of a mentor to me as a young scribe as Rick was. I was a hoop junkie growing up, playing basketball throughout my childhood, going to every camp I could and playing until my senior year in high school.
I covered the sport in college at the University of Wisconsin. I went to countless practices. But it was Rick who really helped me delve even deeper into the nuances of the game when I got to know him as a young reporter at the Albuquerque Journal. The relationship continued when I was at the Fresno Bee. He had an incredible basketball mind, constantly tinkering with how to defend and play.
We used to talk -- boy, did we talk -- late into the night about basketball, family, life. He talked about his mom a lot. He was such a devoted son to his mother, Alyce, who died a year ago. Rick told me one of the reasons he took the SLU job over any other was its proximity to his mother in Wisconsin.
There were so many conversations late at night that there were times he or I would practically fall asleep while talking. This mostly occurred prior to me getting to ESPN, while I was still a relatively young newspaper reporter.
We're not supposed to get too close to subjects. Rick wasn't always pleased with what I wrote or said. There were times he was angry with me. That's to be expected. But there was a mutual respect. He understood what I did, and because we had talked so often, he didn't hold a grudge. We moved on.
Rick introduced me to a number of coaches in the sport, along with intriguing people such as Jon Huntsman Sr. He even included me in one of the more bizarre pickup games ever. I was at the 1997 Final Four, one year before he would coach Utah to within five minutes of the national title. He said he needed me for a fourth in a two-on-two game with Kevin Costner and some guy who played Urkel (Jaleel White). I guarded Costner. He guarded Urkel. I can't remember whether we won or lost, but I do know I had two turnovers that Rick wasn't pleased with during the game. More than anything, we had fun.
There were so many meals, too. Everyone who dined with Rick has a meal story. And if you drove with him, well, you know that was a scary thrill.
I would finish my story after a game against Utah and usually meet up with Rick at some late-night diner in Salt Lake City or Albuquerque or Fresno. I would go to hear the stories and the breakdown of the game, and just to be entertained. There was one time we were talking in the lobby of a hotel in Salt Lake and a Domino's pizza delivery man walked in for another guest. Rick offered him $100 for the pizza, but only if I would share. I told him I couldn't eat pizza at 1 a.m. So he passed.
[+] Enlarge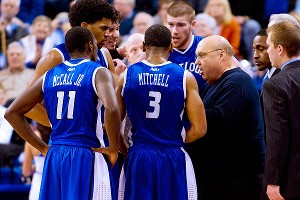 Scott Rovak/US PresswireEver the teacher, Majerus had only one losing season in 25 years of college coaching.
He had a problem. He knew it. Everyone knew it. I saw it countless times. While the meals were humorous, in the end his eating was tragic. He worked out, but he ate too much, and when he injured his knee or suffered a laceration that curtailed his exercising, it would pull him off any weight loss. It was a vicious cycle for him.
When he worked for us at ESPN, I got him a membership at our old swim club. He was religious about getting in his swim. He would do this on the road, with producers having to find a place for him to swim at a school.
When I saw him last year at Atlantic 10 media day, I thought he looked good, really good. He said he felt fine, too. When he coached and won a game with the Billikens in the 2012 NCAA tournament, it was a fitting cap to turning around Saint Louis.
Gene Wojciechowski, my ESPN colleague, wrote Rick's book. Gene was very close to Rick. We both had said many times that Rick deserved to coach a good team one more time. He did last season. And wanted to coach his team so badly this season.
Rick was well read and had a real intellect, and yet was someone who did many incredibly kind things for his friends and players that went unreported. He could be incredibly hard on players, staff and administrators. He was selfish at times and insanely demanding of others. When he was at Utah, he would work on Christmas and insist others do so as well.
But I can tell you he did evolve during our 22-year friendship. He wasn't the same coach at SLU as he was at Utah, and his assistants will attest to that fact. His mother's failing health and death changed his perspective even more.
He had flaws and warts like us all. But he left his mark on this earth. He was a memorable man.
And I for one won't forget what he meant to the sport, to my career and to me as a friend.