Larry Brown, the MWC and more
December, 3, 2012
12/03/12
9:17
AM ET
Monday musings:
• Virginia Tech and SMU are two of the better stories so far in the first month of the season. Erick Green was a legit ACC player of the year candidate, but he doesn't have much to work with on a depleted roster and yet he has led the Hokies to an undefeated start and wins last week over Iowa and Oklahoma State at home. Larry Brown is doing wonders with SMU, so far. The schedule has been daunting, but nothing is taken for granted with the Mustangs. Brown has made SMU relevant quicker than anyone imagined.
[+] Enlarge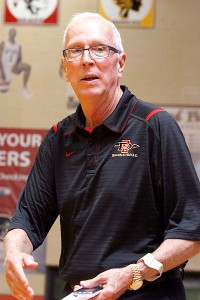 Courtesy David DixonSteve Fisher's Aztecs have become a presence just as they leave the MWC.
• The Mountain West is on the verge of having a record-breaking season with two-thirds of the conference looking like postseason, possibly NCAA teams. And that's why it's such a shame that the MWC will lose two more teams to realignment as San Diego State and Boise State leave in 2013. If this league could have stayed together with its core membership, then it would have seriously challenged the top six. But alas, it will struggle to do so long-term based on the defections. This isn't to say Utah State can't match what San Diego State is doing and Boise State has hardly arrived. But the lack of continuity doesn't help the MWC in its future.
• I still can't get over how much the fan base is energized at San Diego State. You had to have covered the Aztecs, seen SDSU and been around that program in the '90s to see the transformation. It is simply remarkable. SDSU was the dominant presence -- in Anaheim -- against UCLA on the court and in the stands. Southern California teams are simply living in a San Diego State world right now in hoops.
• Assembly Hall rocking like it's 1987 is tremendous for college basketball. Indiana needs to be elite -- especially in a year like this one where the sport is lacking depth.
• Duke's Mason Plumlee must have had one of the best summers of his life. He is the perfect example of putting work into his game. He has become one of the most reliable players in college basketball.
• How do you figure out Wisconsin? In the Badgers' final possession against Virginia, they were dazed and confused. Then on Sunday, UW blitzed Cal without an issue.
• I'm not sure there is a coach who maximizes more with less than Tony Bennett right now in college basketball. Virginia squeezes out everything to get wins and does so enough to keep the Cavs interesting.
• Miami is a team that does enough good to give ample reason to jump on the bandwagon. But recent history cautions you from fully believing the Hurricanes can be counted on as a contender.
• North Carolina looked like a team in Bloomington that craved leadership in the locker room right now. I'm not sure if there is one player who can be the voice.
• Florida State will end up being the most enigmatic team in the country. The Seminoles can beat Saint Joseph's and BYU but lose to Mercer and South Alabama.
• I've been high on Minnesota for three years, but the Gophers have flopped in February in time for a bid. I'll still wait to see if this is really a turning point in the season after winning at Florida State.
• I watched Kansas beat Oregon State, and all I could think of was if the Jayhawks ever reach their ceiling, this is a team that could win the national title.
• The dark uniforms weren't a good look for Notre Dame. But after a dominating second half against Kentucky, why wouldn't the Irish bring them back?
[+] Enlarge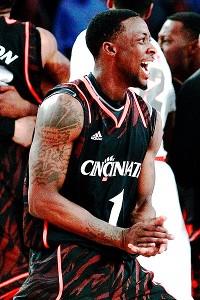 AP Photo/Frank Franklin IIWhat's good for Cashmere Wright is good for the 'Cats.
• I loved the play call by Cincinnati's Mick Cronin to put the ball in Cashmere Wright's hands to make a play to beat Alabama. Wright had to do something to become more assertive. That one shot will do wonders for Wright and the Bearcats.
• I've watched Alabama more than I thought I would have a month into the season, and I'm convinced this will be an NCAA tournament team in March. This team has more moxie than most in late-game situations.
• Louisville's Gorgui Deng's injury could be the story of the season if it drags deep into the Big East season.
• Illinois State had two near misses against Northwestern in South Padre Island and then at Louisville. This is a team that will challenge Creighton and Wichita State for the Valley title. But the Redbirds needed to win at least one high-profile game for its resume.
• Tim Jankovich can't feel too bad leaving the Redbirds to Dan Muller. Jankovich had a sleeper team in Illinois State, but he joined an apparent contender in CUSA in SMU. Who knew?
• Iowa coach Fran McCaffery was outspoken in the preseason about how his team didn't defend last season. Well, the Hawkeyes aren't listening yet based on giving up 95 points at Virginia Tech.
• I never said Kentucky wouldn't make the NCAA tournament during my halftime stints Saturday. But I did say they went 1-3 in quality games so far this season, and that the Wildcats have a lot of work to do. We've just come to expect Kentucky to be a given the past three seasons. But the Wildcats are like countless other teams a month into the year that will have to work the hard way into the tournament field. Nothing can be taken for granted in any game for this young, inexperienced team that is still trying to define itself and roles.
• Ohio State looks like it's one player away, especially someone else inside.
• UIC will never be Illinois. But DePaul has been so dreadful that the Flames' win over Northwestern should be a reason for Chicagoland folk to pay attention to Howard Moore's crew. The city is craving a winner.
• Having Michigan back to rival Indiana, Michigan State, Ohio State, Wisconsin and Illinois in basketball is tremendous for the Big Ten and the sport.
• Wyoming's win over Colorado should get the Mountain West's attention. Larry Shyatt and Scott Duncan have woken up Laramie sooner than anyone expected.
• The Mountain West-Missouri Valley Challenge never got any national traction. But I liked the solid matchups it has provided and given both conferences quality games on the schedule.
• The SEC-Big 12 Challenge needs to be more concentrated than the SEC-Big East Challenge. Spanning over three days can lessen the effect. I know it's hard to get television windows but still it would have more pop in a two-day period like the ACC-Big Ten Challenge.
• I'm not going to let that dreadful Georgetown-Tennessee matchup discourage me from considering both of these teams as top three squads in their respective conferences.
• Jeronne Maymon hasn't played yet for Tennessee due to a knee injury. He can help change the direction of the Vols.
• Florida's Michael Frazier went from relative unknown to sudden star in six days after scoring three points against Central Florida and 17 against Marquette. The Gators' depth is the best in the SEC right now.
• No offense to Valparaiso and Bryce Drew, but it was hard not to root for Saint Louis Sunday. Bravo Billikens for winning for Rick Majerus. You are honoring his memory well in the way you carry yourselves and play with precision in the manner in which he so often desired.