Texas frustration grows as Kabongo sits
December, 5, 2012
12/05/12
12:23
AM ET
NEW YORK -- Texas coach Rick Barnes is adamant in his assessment of the Longhorns.
Get Myck Kabongo and Jaylen Bond back and the Longhorns will be just fine.
But when?
"We'll be a much better team when we're back,'' said Bond of the 5-2 Longhorns, who play Georgetown on Tuesday night in the Jimmy V Classic at Madison Square Garden in New York. "Myck and I do things that we don't have. Myck at the point and me being physical. Once we're back, we can be fine.''
In a T-shirt and sweatpants, Bond was working with a trainer throughout Tuesday's shootaround at MSG. He was trying to be as limber as possible as he deals with a nagging foot injury. The 6-foot-7 Bond lasted just five minutes in a disheartening loss to Chaminade in Maui, Hawaii. That's his only action this season and his return date is unknown, although surgery is not needed.
But what about Kabongo, the team's starting point guard?
Barnes doesn't want to get into a verbal tussle with the NCAA as he awaits word, but he said the organization hasn't kept Texas in the loop. So the Longhorns are totally clueless about when Kabongo will return.
[+] Enlarge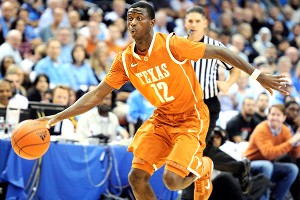 Chris Williams/Icon SMIPoint guard Myck Kabongo and Texas are still awaiting word from the NCAA.
The sophomore is sitting while the NCAA investigates whether or not he retained an agent, if he told the truth initially about whether or not he paid for a workout in May and if Texas was aware of his intentions to go to Cleveland for a May workout after his freshman season. Kabongo considered declaring for the NBA draft but decided against it. Now he's paying for even flirting with the idea of an NBA-style workout.
Yahoo! Sports initially reported about the apparent transgression when Kabongo worked out with his friend, fellow Canadian and former Texas player Tristan Thompson, who is now with the Cleveland Cavaliers. Kabongo worked out with trainer Jerry Powell, who is connected with Rich Paul, who is an agent for LeBron James.
Powell charges for workouts, but the problem of course is whether Kabongo paid and, if not, whether he should and could pay it back.
All of these seem to be simple questions. Kabongo was interviewed months ago. Yet, the emails continue to flow from the NCAA in search of information. Texas, which had no idea the workout would be an issue until the night before a scrimmage against Davidson in October, is incredibly frustrated.
Barnes said he was hoping to at least get some closure so he can plan the rest of the month. Kabongo has sat seven games heading into Tuesday. Saturday's game against UCLA in Houston would be No. 9. Texas State on Dec. 15 would be 10 and the hope would be that Kabongocan at least return for North Carolina on Dec. 19.
But who knows? Texas certainly doesn't. Kabongo is back in Austin instead of New York. He was in Maui because the NCAA granted a waiver for him to travel since there was no one to look out for him during the holiday break. The same waiver wasn't granted to allow him to make this trip to the Garden. There's no reason to believe he'll suddenly get one to go to Houston over the weekend.
Barnes isn't fretting about the end game with this Longhorns. They are young, inexperienced, and they played scared at times in Maui in losses to Chaminade and USC. But that is due to the lack of leadership that Kabongo and Bond would have provided and will still if they're ever back on the court together.
So, the Longhorns wait and wait. The NCAA failed to respond to a request from ESPN.com on Monday. If Kabongo did commit a violation in May, then he should pay for it with a game penalty and/or restitution.
But it cannot take this long to figure that out, right? Kabongo isn't the only casualty. This affects the rest of the team, the staff, the fan base and the opponents. All Texas wants at this juncture is a penalty end date so everyone can move on.
If Kabongo has to sit 10 games, then let it be known. If he's done for the season or anything more severe, then announce that as well. The workout was in May. The suspension is ongoing into December, but it officially hasn't started since Kabongo is being held out while the investigation continues.
Bond isn't playing because he's hurt. Kabongo isn't here because he worked out with a professional trainer and may have an agent tie.
And the Texas season really won't start until either situation is resolved. The problem for the Horns will be if they dig themselves too deep a hole prior to the Big 12 season against a brutal nonconference schedule.
Would they be in too deep of a hole to make the NCAA tournament? That is among many questions -- Kabongo's investigation, Bond's healing time -- that remain unanswered at Texas.