POY candidates, Michigan bigs, more
December, 10, 2012
12/10/12
5:45
PM ET
Some Monday morning musings:
• One month into the season and there are already candidacies being formed for national player of the year. It's still so early, but the players who stand out the most have been Doug McDermott (Creighton), Mason Plumlee (Duke), Erick Green (Virginia Tech), Brandon Paul (Illinois), Michael Carter-Williams (Syracuse), Otto Porter (Georgetown), Sean Kilpatrick (Cincinnati), Jamaal Franklin (San Diego State) and Cody Zeller or Victor Oladipo from Indiana, but I'm not sure which Hoosier I'd pick now if I had to choose just one. What I love about this race is that it will be wide open. And as you can see, one player can change the way a team is performing and the overall perception of that squad's postseason chances.
[+] Enlarge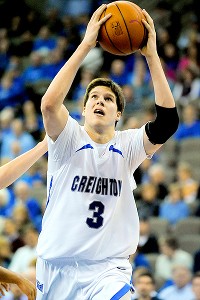 Eric Francis/Getty ImagesDoug McDermott is picking up where he left off last March.
• McDermott is doing what he must for his player of the year campaign -- he's dominating the competition. Fair or not, players outside the power six have to be even more noticeable. McDermott is on quite a tear of late. He lit up a quality Akron team for 30 points Sunday; earlier in the week he scored 27 in a rivalry road win at Nebraska. If there is one consensus All-American after one month of the season, then McDermott gets the honor.
• Of course, as a I write that about McDermott, I'm quickly reminded that no frontcourt player has been as much of a given as Duke's Mason Plumlee. You can essentially write in a double-double every game.
• Speaking of Oladipo, he may be the most entertaining player to watch this season. Oladipo has become a top defender, reads passing lanes exceptionally well and finishes with authority. Zeller gets the hype, but Oladipo may be the Hoosiers' most valuable player. He is certainly the most improved.
• Finals week usually produces a light fare of games, and that's the case this week. But Saturday's slate has one of the best games of the season and a possible late-March or Final Four preview. Florida at Arizona should receive the pub of being a major matchup, akin to Michigan State-Kansas from Atlanta last month. The Gators are playing some of the best basketball of any team in the country, and Arizona escaped Clemson on Saturday without an issue. If there is one game to watch the rest of December, this is it (10 p.m. ET, ESPN).
• Butler plays Indiana on Saturday in Indianapolis with both teams finally ascending at the same time. The stars still aren't totally aligned. If the Butler of 2010 or 2011 were playing the Indiana of 2012-13, then that would have been the perfect situation. Still, this game represents the best the state has to offer and should be the beginning of a real rivalry. Butler was overmatched when the teams played in Bloomington, but Brad Stevens has this crew back to being Butler, with its offensive efficiency and ability to make sound late-game decisions that result in winning plays.
• Kansas coach Bill Self said that Ben McLemore was the team's top NBA talent a year ago, when the Jayhawks had Thomas Robinson and Tyshawn Taylor. McLemore sat out for academic reasons. Keep watching his trajectory -- he will only get better and make more of an impact. He scored 24 points in a win over Colorado on Saturday after 21 against Oregon State. The two best players in the Big 12 this season will likely to be first-year players, McLemore and Oklahoma State's Marcus Smart.
• Illinois' win at Gonzaga will go down as one of the most impressive of the season, not just nonconference.
• The Horizon League took a hit when Butler left for the A-10. But the University of Illinois at Chicago has emerged as a new favorite, along with Valparaiso. I've always thought UIC could/should be one of the best teams in that league with facilities and location an advantage for them. Howard Moore can make the Flames Chicago's team. The only problem is that he is being overshadowed by the Illini. The win over Colorado State at home came hours before Illinois won at Gonzaga. If you had to choose one team to watch in the city, why wouldn't you go see UIC over DePaul or Northwestern?
[+] Enlarge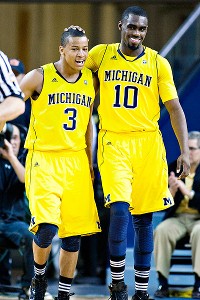 AP Photo/Tony DingTrey Burke and Tim Hardaway Jr. are leading a title contender at Michigan.
• Once the Michigan bigs -- Jordan Morgan, Mitch McGary and Glen Robinson III -- fully catch up to the guards of Tim Hardaway Jr. and Trey Burke, then the Wolverines can win the national title. You get the feeling watching John Beilein's team that you're witnessing a class that is moving its way through the syllabus. The group will get to the part where it all fits together in championship form.
• Utah has been abysmal lately, but Larry Krystkowiak has turned the corner to where the Utes are more than competitive. The win over Boise State at home wasn't a fluke. Utah was one missed 3-pointer from forcing overtime Saturday in Provo against rival BYU. The best way to honor the late Rick Majerus would be for this program to be relevant again. Majerus put so much of his life into building the Utes into a national winner. The Huntsman Center faithful deserve a relevant product again. Krystkowiak is close to delivering a relevant team.
• Georgetown has been brutal to watch in D.C. against Tennessee and Towson. But the two Hoya games I saw in New York -- overtime against Indiana in Brooklyn and a win over Texas -- showed that this Hoyas team isn't an ugly offense to watch. I'm not sure why there is stage fright at home. This team should be a more consistent crew on the offensive end.
• Guess who is having one of the best seasons so far? Jim Baron. The deposed Rhode Island coach has Canisius suddenly atop of the MAAC at 2-0 with road wins over Marist and Fairfield. The Golden Griffins weren't supposed to be this good this soon. Yet Harold Washington and Baron's son Billy are averaging 18 and 17 points, respectively, and helping the Griffins score at a high clip. Baron thrives at these Northern New York Catholic schools. This is another example of fit.
• Wyoming is right there with Canisius for most surprising team of the first month. The Cowboys' two quality wins against Colorado and at Illinois State are good enough to warrant staying power in the Mountain West. I'm not ready to project an NCAA bid, but this Wyoming team will rack up enough wins to be at least NIT-worthy.
• Every MWC team is over .500. That's more significant than the Big East because the MWC can't play mostly home games. This league has to go on the road quite a bit and in a number of cases without a return.
• Boston College has to wonder what would have happened if every player stayed during a coaching change. The latest to develop in a key role is Kevin Noreen (Brady Heslip at Baylor and Evan Revenal at Ohio State are two others). Noreen was a key member of West Virginia's offense in outlasting a gutty Virginia Tech on Saturday in Morgantown. Noreen originally signed with the Eagles.
• UConn is finally getting what it thought it might out of DeAndre Daniels. He has the potential to be a stud offensively and has found his role as a slashing, putback forward in an offense that desperately needs someone to score inside the perimeter.
• Three words I never thought were possible in the preseason: Duke national champions. This is turning out to be very much like 2010, when Duke wasn't the most talented team but was playing well at the right time. If you had a March Madness for the first month of the season, then the Blue Devils would be the champs (with wins against Kentucky, Minnesota, VCU, Louisville, Ohio State, Temple). Let's see if they can mimic this in March.
• The two most important additions in college basketball come this month when Missouri adds Oregon's Jabari Brown and UNLV gets Pitt's Khem Birch. Both teams now have a substantial opening that needs to be filled; Missouri is missing Michael Dixon Jr. at Brown's spot, and Birch can fill in for the injured Mike Moser.
• The hero of last week and of the season is still Utah State's athletic trainer Mike Williams. He said he was doing his job, but he did it perfectly and saved Danny Berger's life when he collapsed last week and had to be revived. Berger's return to campus Saturday as Utah State played Western Oregon was one of the best stories of the season.