The last stand for BracketBusters
December, 11, 2012
12/11/12
6:21
PM ET
George Mason's historic run to the Final Four in 2006 started with a road win at Wichita State during BracketBusters weekend in late February.
[+] Enlarge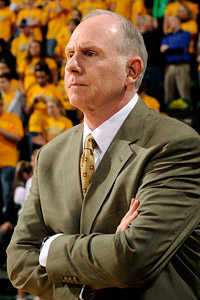 Rafael Suanes/US PresswireJim Larranaga said BracketBusters was key to George Mason's Final Four run.
"It created a tremendous opportunity for outstanding mid-major teams looking to secure an at-large bid to get the exposure needed,'' said former Mason coach and current Miami coach Jim Larranaga. "Without it, our George Mason run to the Final Four would never have happened.''
That may have been the high point of the event mutually created by ESPN and a number of conferences outside the power six before the 2002-03 season.
But the last season of the BracketBusters is at hand, as the event in its current form of forced matchups between conference teams outside the power six will end after this season. The final event will be held Feb. 22-23, with 13 games televised on ESPN2, ESPNU and ESPN3, while other matchups not on television will also occur. Teams that have played in the BracketBusters have received a return game the following year, and that will/should likely continue to conclude this event.
There are 122 teams from 13 conferences participating in this year's event, leaving a hole in the schedule for a game that would be determined in January based on power rating and competitive matchups.
An ESPN spokesperson issued this statement late Monday night about the decision to pull out of the event: "BracketBusters has been a unique event for 11 years, producing memorable games and moments while generating national exposure for the participating schools and conferences. Given the evolving college landscape, we felt the event in its present form has run its course. We'll continue to work with our conference partners to develop new, creative events to further grow the sport. Our goal is to maintain the BracketBusters brand in some fashion in the future."
In April, the Wichita Eagle quoted Missouri Valley Conference commissioner Doug Elgin as saying the end was near for the event after it was revealed that the Colonial Athletic Association would no longer participate. The CAA, which lost member VCU in the spring, also had a deal with the NBC Sports Network and not with ESPN. That meant George Mason, a mainstay in the event, was no longer participating.
According to the Wichita Eagle, Elgin said that "if it doesn't continue to work well for everyone, chances are it will go away.''
There have been plenty of important, quality BracketBusters games, such as George Mason-Wichita State and Utah State-Saint Mary's. The exposure has been meaningful amidst the clutter of power-six games on television in late February. But opinions differ on the effect of BracketBusters over the years.
[+] Enlarge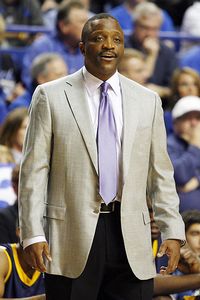 Mark Zerof/US PresswireBracketBusters didn't help Drexel and Bruiser Flint get into last season's NCAA tourney.
"I thought it gave great exposure to the CAA,'' said Drexel coach Bruiser Flint. "We played a lot of TV games and represented well. But in terms of helping with tourney bids, it didn't.''
Drexel won at Cleveland State last season in BracketBusters, but the Dragons were kept out of the NCAAs after finishing 16-2 in the CAA, 27-6 overall.
Iona coach Tim Cluess disagrees. The Gaels beat Nevada in BracketBusters last season and finished 25-7 (15-3 in the MAAC) and did receive an at-large berth.
"I have enjoyed the BracketBuster games,'' said Cluess. "I thought it may have helped us with our tournament bid last year.''
The exposure may have been the biggest benefit.
"We were presented with the opportunity to play outstanding teams in exciting environments and had the bonus of playing on ESPN or ESPN2 on several occasions,'' said Davidson coach Bob McKillop.
The guaranteed home-and-home series for these teams has been one of the biggest benefits.
MAAC commissioner Rich Ensor tweeted that the end of BracketBusters would create openings for MAAC schools on the 2014 schedule. Now BracketBusters teams will have to go out and find another quality series. However, the argument can be made that there is no excuse if these same teams don't schedule each other.
"The timing of BracketBusters was difficult, but it was almost always an exciting game for our fans with March implications tied to it,'' said Butler coach Brad Stevens.
In an era with constant changes in conference affiliation, it became harder to figure out who would be in which conference to set up a set schedule. The move of teams like VCU and Butler to conferences that don't participate, like the A-10, took away some of the luster.
The same could be said for Old Dominion moving to C-USA, the CAA not participating anymore, high-profile schools like Gonzaga and BYU not taking part, and the event's inability to lure Mountain West schools, as well.
The key will be for these conferences to create challenge-like series in the future and attempt to market them to networks like ESPN, NBC Sports and CBS Sports.
Getting into the tournament still requires quality nonconference scheduling, regardless of when or where it occurs on the schedule. That charge hasn't changed for all the schools that have been involved in the event.
"BracketBusters was clearly beneficial to teams like us over the years,'' said VCU coach Shaka Smart, whose Rams won at Wichita State in 2011 en route to gaining an at-large berth before their Final Four run, and then beat Northern Iowa last season (although VCU won the CAA tournament for the automatic bid). "It allowed us to play a top 50 or 100 game and gave us the opportunity to gain an additional high-quality win that may not have otherwise been available.''