Transfers will help UNLV and Missouri
December, 12, 2012
12/12/12
11:25
AM ET
Picking up a name player in December always sounds like a cool move, something that will improve a program in practice and the following year.
The hype of the transfer usually takes on a life of its own.
But does it work?
[+] Enlarge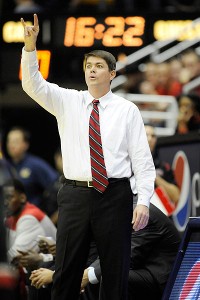 Bob Stanton/USA TODAY SportsUNLV coach Dave Rice says he's accustomed to being flexible and the injury to leading rebounder Mike Moser will mean more adjustments.
Not always. The player has to be a fit. The opening has to be in the rotation. And the player and his teammates have to buy in to ensure that it goes smoothly.
"I had Jelan Kendrick last year,'' said Ole Miss coach Andy Kennedy. "He missed the first eight games before he was eligible midseason. It was difficult to integrate him into the rotation based on the rotation being set to that point. It was more challenging than I anticipated.''
The key is whether there is a need when the player is eligible.
"It's always difficult to join the rotation midseason,'' said UNLV coach Dave Rice. "It usually works out, just not as quickly as you would like.''
UNLV is adding Pitt transfer center Khem Birch for Monday's game at UTEP. He arrives just in time because the Rebels lost leading rebounder Mike Moser for an indefinite period with a dislocated elbow.
Missouri is adding Oregon transfer Jabari Brown in time for Monday's game against South Carolina State and in advance of a slew of tough games over the next three weeks: against Illinois in St. Louis, at UCLA, and at home against Bucknell and Alabama.
Moser was hurt in the win at Cal on Sunday night. The Rebels need as much frontcourt help as possible with upcoming games against Northern Iowa, at North Carolina and the MWC opener at New Mexico. Freshman Anthony Bennett is leading the team in scoring. But he'll need help to offset defenses without Moser. That's where Birch can come in immediately and help -- if he's effective. There may not be as much patience since he needs to be ready to go.
"Khem Birch has been very good in practice,'' said Rice. "He was always counted on for this season and even more immediately now with the Moser injury. In our case, we had only five returning guys, plus the Moser injury has affected our rotation already. So we are accustomed to being flexible.''
Missouri doesn't have Michael Dixon Jr. anymore, now that he's off the team. He wasn't a part of this squad while suspended but Brown has been practicing. And Missouri has already had to deal with transfers blending in because five are already on the roster, including Alex Oriakhi from Connecticut.
"I haven't had a player added midstream like this,'' said coach Frank Haith. "He's practiced with our team for a year starting last spring. We'll see how it goes. But he's like a freshman: He played in only two games for Oregon. We understand that. We're not expecting him to give us 30 points a game. He's going to be a welcome addition and help our skill set. We've got 10 guys who are competing for playing time right now.''
Brown will have to slide in with the rest of the perimeter players, including Phil Pressey and Keion Bell. Brown was billed as a scorer but he simply needs to make shots within the flow of the offense and, more important, defend. He shouldn't have a problem getting out on the break in what has been a very good running team.
Missouri and UNLV are NCAA-bound teams with a chance to go deep in March.
Providence is not. But the Friars will gladly take the infusion of a midseason transfer like Arizona's Sidiki Johnson and of course the readiness of a healthy guard in Kris Dunn, who is finally ready to play after a shoulder injury before his arrival.
"We'll be happy to have them,'' said Providence coach Ed Cooley. "We must regroup and we'll play a different style. We'll be more talented yet different.''
Whether the midseason transfers make an impact depends on the player, the need from the team and whether everyone is on board with the idea.
But UNLV and Missouri need their transfers more than most teams at this time of the year.