Quick thoughts from around the nation
December, 17, 2012
12/17/12
9:25
AM ET
Here are some Monday morning musings as we begin another week in college basketball:
• Creighton's Doug McDermott is certainly following the national player of the year script. He's dominating his position and every game he plays in, and he showed it again after scoring 34 points in a win at Cal over the weekend. McDermott is the focus of every opponent's game plan, yet he finds ways to score and to win. A player outside the "big six" has to distinguish himself to win the award. McDermott is doing just that.
• Indiana's loss to Butler could do for the Hoosiers what the IU loss last year did for Kentucky. Remember, this was an overtime, final-possession loss. Kentucky lost to IU on a last possession last season and then cruised the rest of the season. The difference here is that Indiana is playing in a much tougher conference. Still, this loss should do wonders for the Hoosiers going forward.
• Louisville coach Rick Pitino has done a marvelous job navigating through injuries yet again this season. The Cardinals' win at Memphis was another example. Louisville will face plenty of Big East tests like Syracuse, Cincinnati, Pitt, Georgetown and Notre Dame, as well as the rivalry game with Kentucky. But the Cards clearly have learned how to play without Gorgui Dieng. That's bad news for future opponents.
• The Florida-Arizona game lived up to the hype and anticipation and is yet another reminder why I love nonconference home-and-home series. The atmosphere rocked as I watched it, so I can only imagine the noise level inside the McKale Center. I wish more coaches would be willing to schedule these matchups in the future to provide the necessary environments that make the game great.
[+] Enlarge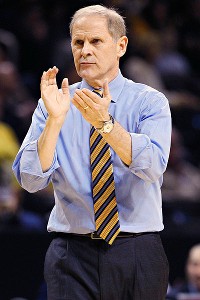 Brad Penner/USA TODAY SportsJohn Beilein beat his former program this weekend in Brooklyn.
• Seeing Michigan play West Virginia is hopefully a sign that the bad blood between John Beilein and the school is no more. There was a legal battle over Beilein's buyout that got a bit nasty. But Beilein's run as head coach of WVU was a joy to watch and should be remembered fondly.
• I still don't think anyone can honestly say he thought Duke was a No. 1 team in the preseason. Yet the Blue Devils are justifiably the No. 1 team in the country with as impressive a collection of wins as any other team has had five weeks into a season.
• Gonzaga coach Mark Few said Kelly Olynyk took his redshirt season incredibly seriously, charting plays and seeing how hard it was to be a coach. He learned to appreciate the game even more than he had. And it shows. I'm not sure a player has made as much use of the redshirt season as Olynyk did a year ago. He has become a go-to player for the Zags and was as impressive a frontcourt player as anyone else playing over the weekend in the win over Kansas State in Seattle.
• I was mocked a bit for saying Butler and Indiana should play each other every season. I know that won't happen. But you can't tell me that game wasn't great for the sport, city and state. Having it every other year, as long as the four teams keep the rotation going, would still be a gem.
• Notre Dame coach Mike Brey mentioned that playing the Crossroads Shootout may be difficult once the Irish go to the ACC. Why? The Irish likely will be in the ACC/Big Ten Challenge every season, and rotating Indiana and Purdue does eliminate two Big Ten possibilities for the Irish. There are enough other Big Ten schools for the Irish to play. Hopefully this won't affect the series.
• It's Dec. 17. Tell me again why Texas' Myck Kabongo still doesn't know how long his NCAA penalty is?
• The Cubs are cursed. The Red Sox were as well. I'm starting to believe Northwestern has something similar. The season-ending injury to Drew Crawford simply isn't fair. It's hard not to feel for Bill Carmody. He has rarely had a full roster to work with in the Big Ten.
• Wake Forest fans are angry over the change to Jeff Bzdelik's radio show, but that should be the least of their worries. I'm surprised he still has a call-in show. The Demon Deacons are 4-5 and at the bottom of the ACC.
• Virginia Tech lost to Georgia Southern at home Saturday. That sounds like a shocker because the Hokies had such a sensational start by beating Oklahoma State and Iowa. But this may be closer to reality for the Hokies, a team that will be erratic this season because of its depleted roster and inexperience in key positions. Erick Green still can carry this team to a decent finish in the ACC.
• Even after Butler left, I'm not sure anyone would have predicted Illinois-Chicago as the team to beat in the Horizon this season. The Flames are 9-1 and will contend with Porter Moser's Loyola squad (7-3 after a win over Mississippi State) and preseason favorite Valparaiso (also 7-3).
• I don't think any other set of rivals would do what New Mexico and New Mexico State are doing, playing back-to-back games in a home-and-home setting. The Lobos won the first matchup in Albuquerque on Saturday.
• The timing of DePaul blowing out an 8-1 Arizona State team on the road could not have come at a more pressing moment; the Blue Demons need to seem relevant as they join six others in leaving the Big East. It also signified that the Sun Devils aren't ready to be serious players yet.
• Alabama is still a work in progress and has lost three straight games. The first of three losses was at the buzzer in Cincinnati. The last two were to Dayton and at VCU. The Crimson Tide's schedule is rigorous, and they deserve credit for that, but they also need to win a few of these games if they want to return to the NCAA tournament.
• LSU is hardly a big-time win, but the significance of Boise State beating the Tigers means something for the Broncos and the Mountain West. It is yet another win over a perceived higher-level conference.
• If there are three games you must watch this week, they are: Cincinnati-Xavier on Wednesday at US Bank Arena in downtown Cincinnati; Kansas at Ohio State on Saturday in Columbus; and Illinois-Missouri on Saturday in St. Louis.