Cincy, Xavier find perspective after melee
December, 19, 2012
12/19/12
9:18
AM ET
CINCINNATI -- There was too much hype and importance placed on the Xavier-Cincinnati game last season.
The tension was thick, and there was a sense that something was about to happen. "We all got caught up in the game, making it a larger-than-life entity,'' Xavier athletic director Mike Bobinski said. "If everybody is being honest, it got one notch beyond a healthy level.''
The nastiness was set. Then, with Xavier cruising to a 76-53 win and the game out of hand at the Cintas Center, the emotions toppled over into one of the worst displays of sportsmanship this rivalry has seen.
[+] Enlarge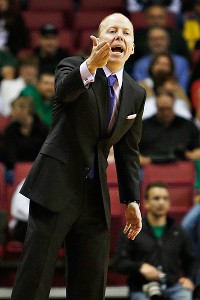 David Kohl/USA Today SportsWhen Mick Cronin's Bearcats play Xavier tonight, they'll do so on a neutral court in downtown Cincinnati's U.S. Bank Arena.
"There was too much talk of hatred between the two schools in the community,'' Cincinnati coach Mick Cronin said. "There was too much talk from radio types and fans.''
When the pushing, the punch and the mouthy behavior finally ended -- after the postgame news conferences -- suspensions were handed out on both sides.
Cincinnati suspended senior Yancy Gates, junior Cheikh Mbodj and freshman Octavius Ellis for six games each and freshman Ge'Lawn Guyn for one game. Xavier suspended freshman Dez Wells and walk-on Landen Amos for four games, junior guard Mark Lyons for two and senior guard Tu Holloway for one game.
Xavier's season was dramatically affected for a bit, as it played poorly on a trip to Hawaii. Cincinnati became a different team, relying on quickness and finding its identity without those players.
Both teams finished the season in the Sweet 16, but the damage to the rivalry had been done.
The initial reaction was to cancel the series, but a compromise was reached. The plan was to put the game on a neutral court -- downtown Cincinnati's U.S. Bank Arena -- split the tickets 50-50, and see how it goes.
Cincinnati athletic director Whit Babcock said he thought that agreement was for two years, and then hopefully they'll return it to the campus setting. Bobinski isn't so certain, saying he wouldn't rule out that Wednesday's game (ESPN2 and WatchESPN, 7 p.m. ET) is a one-time neutral-site affair before the home-and-home series returns.
"This is the first time for me that I'm really excited about the game,'' Bobinski said. "This is now about basketball.''
There is finally perspective.
Both athletic directors and coaches -- Cronin and Xavier coach Chris Mack -- are well aware that this is not the time to ramp up chatter about an intense rivalry in a basketball game.
The country is still struggling to deal with the horrific massacre of children and staff in Newtown, Conn., this past Friday. The images are still too raw. To talk in any violent terms about a basketball game, let alone anything else, would be highly inappropriate by anyone associated in this or any game.
But no one needs to be reminded of this now. What happened last year is now a chapter that few want to revisit because it was such an ugly display defined by immaturity and cowardly behavior.
Decorum and civility have returned.
"The game last year brought us closer together,'' Babcock said. "I like that we did do something under the radar.''
Babcock was referring to a joint appearance at the National Underground Railroad Freedom Center in Cincinnati by both men's and women's teams and staffs in October. The Freedom Center is a place to educate on the slavery and human trafficking that occurred less than two centuries ago. But there was no need for some sort of contrived bipartisan community appearance, Bobinski said. They didn't want a photo op.
"It is just a game,'' Mack said. "Last year's incident affected a lot of people on how the game is presented. I was really happy that the game wasn't canceled. That wasn't going to fix the problem. I think it's going to be a great atmosphere, but selfishly I'm hoping moving forward it returns to campus.''
The major players in the fight (Cincinnati's Gates and Xavier's Lyons, Wells and Holloway as well as the recipient of Gates' punch, Kenny Frease) are gone.
The direction for the two teams is different as well. Cincinnati is undefeated, a legitimate challenger for the Big East title and a potential Final Four team. Xavier has lost only twice -- to Pacific in Anaheim and at home to Vanderbilt -- but is a younger team without the expectations to compete for a conference title. Of course, it's highly probable that the Musketeers will be in the mix in the A-10 even with the additions of Butler (whom they beat handily at home on Nov. 13) and VCU.
At a time when the sport is losing traditional rivalries because of conference realignment (Missouri-Kansas, Pitt-West Virginia and Georgetown-Syracuse, to name a few), college basketball couldn't afford to see Xavier-Cincinnati disappear.
"I think it's one of the best nonconference games in the country,'' Mack said. "There is familiarity with the fan bases and programs and the kids that play with one another in open gyms. The schools are 3 miles apart. It's like playing your brother. But at the same time, you can't go over that line that was crossed last year, and I have no concern that will happen again.''