After Cincy win, rivalry questions remain
December, 19, 2012
12/19/12
11:46
PM ET
CINCINNATI -- Father Michael Graham is an avid sports fan who likes to reminisce about his time as a graduate student at Georgetown, working games as a young Jesuit student at the old Cap Center during the Patrick Ewing era in the mid-1980s.
He loves being the president of Xavier and cheering on the Musketeers.
But he was ready to move past the Crosstown Classic game against Cincinnati. He wanted to move on, get a year or more past the black mark that last season's brawl at the Cintas Center put on the rivalry.
"There was talk early on that they should cancel this game altogether,'' Graham said earlier Wednesday in a conference room at the Cintas Center in a meeting with Cincinnati president Santa Ono.
"But our point of view is that this game doesn't belong to us. This is a community tradition and it belongs to the community. We needed to remind everybody of this. It's good for Cincinnati and is one of the great rivalries in the country.''
Cincinnati coach Mick Cronin wasn't at the meeting, but he picked up on the theme of Graham's comments from somewhere else. Minutes after shaking Xavier coach Chris Mack's hand following UC's 60-45 victory at neutral U.S. Bank Arena, Cronin proclaimed where the rivalry should be played -- every year.
"I don't know how anybody doesn't say this wasn't off the chart,'' said Cronin, a native of the Queen City. "It reminded me of the Final Four when Louisville played Kentucky. It was the way it should be.''
[+] Enlarge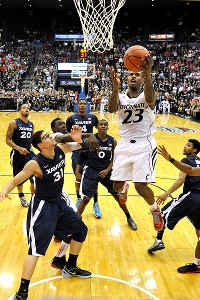 Jamie Sabau/Getty ImagesSean Kilpatrick scored 25 to lead 11-0 Cincinnati over Xavier.
The crowd was fairly evenly split. Xavier fans and Cincinnati fans were divided from midcourt to the left and right with one side mostly in blue and white and the other clad in red and black.
"It's the city's game, and if it's the city's game then it needs to be in downtown Cincinnati,'' Cronin said. "This shouldn't just be for season-ticket holders only. I'm a firm believer that what happened last year had been building for three years. This game [at U.S. Bank Arena] eliminates the hatred that spewed in a campus environment. It keeps it positive for everybody.''
Cronin added that he doesn't want the game to return to campus where "stuff was thrown at my 71-year old father. That shouldn't happen. I have no interest in being a part of that. This was all positive.''
Cronin's boss, UC athletic director Whit Babcock, was listening to Cronin's plea to keep the game at a neutral site.
"I support my coach,'' Babcock said. "I support what Mick said. We talked about this being a two-year series and we would evaluate it. But I thought it was a fantastic environment. I liken it to Missouri-Illinois in St. Louis. That's the model I see and I like, and I think this a good step in the direction.''
Cincinnati senior guard Cashmere Wright said that he loved having the two schools represented. But the two sides have to agree.
They don't. If the game does return to a campus, then it would be at Cincinnati in 2013 or 2014 -- both sides agree on that. But will it remain at a neutral site or go back to campuses?
"I love Mick, but I don't agree with him,'' Xavier coach Chris Mack said. "[Playing the game] on campus has always been good. It's one man's opinion and he's entitled to it. But it was a great atmosphere.''
Cronin said he doesn't have a say in where the game is played. Neither does Mack.
"We said after two years we would think about it,'' Xavier athletic director Mike Bobinski said. "It was a loud atmosphere. It had a great feel to it. But he doesn't make the decision. Both of us have a vested interest in having it on campus.''
Bobinski was referring to his season-ticket holders, who want this game on the schedule every other year.
"You have to have the whole picture,'' said Bobinski. "But I agree that this was good.''
Ono said that it was important for the two schools to play the game and do even more since the brawl last year. The two presidents rattled off joint events over the past year, from the student governments working for the Boys& Girls Club, a joined walk for awareness of a multicultural, faith and diverse society and the two men's and women's teams going together to the National Underground Railroad Freedom Center, next to the U.S. Bank Arena.
"Our students got a black eye since it was in our house,'' Graham said. "They were eager to show the world that's not who we are.''
Ono added that the two schools have service in their missions and should be working together more in the future. Ono, who said he's a huge sports fan and during the game Wednesday was lifted up by the cheering squad, said the relationship between the two schools is imperative for the city.
As for Wednesday, it was a game of two halves as Xavier's pressure defense flustered the Bearcats in the first 20 minutes. Cronin called the Bearcats' offense a debacle in the first half as Xavier scored plenty off transition. But cramps to Semaj Christon and Dee Davis -- as well as allowing the Bearcats to completely flip the script by getting to the basket, rebounding and forcing turnovers -- led to a UC reversal.
The Bearcats' win kept them undefeated at 11-0, while Xavier dropped to 7-3.
And more important, the game survived. No incidents. No embarrassments.
The question now will be where it lives -- on campus or on a neutral court?
The two schools are getting along well and showing unity, but it's unknown if they can agree on where to play this game in 2013 and beyond.