So what becomes of the Atlantic 10?
December, 21, 2012
12/21/12
9:57
PM ET
CINCINNATI -- Xavier's president, the Rev. Michael Graham, led the Atlantic 10's effort to add Butler and VCU.
And if it was up to him, he would seek to add the seven Catholic schools leaving the Big East.
"It's always been important for us to be at the highest level,'' Graham told ESPN.com earlier this week in Cincinnati. "For us, it's essential that we make the A-10 the strongest conference we can. That won't change.''
The seven schools leaving the Big East -- Marquette, Villanova, DePaul, Georgetown, St. John's, Seton Hall and Providence -- are essentially creating a startup business.
They would have to establish an office, hire a staff, pick a leader, negotiate a television contract, run championships for all sports (not just men's and women's basketball) and decide the number of schools that will be in the conference. Is it 10 or is it 12 or more? And of course they may have to fight over existing funds in the Big East, let alone the brand name and the rights to the conference tournament at Madison Square Garden.
Or they could just be absorbed by the A-10 to form a mega 21-school conference.
[+] Enlarge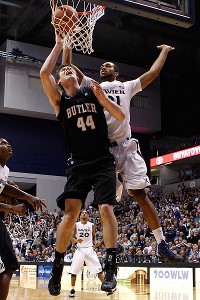 Frank Victores/US PresswireThe futures of Butler and Xavier are up in the air -- but that's not necessarily a bad thing.
Multiple sources from within the seven schools say there is no chance this occurs. But the Atlantic 10 office is banking on presidents like Graham to at least give it a shot.
If not, then Xavier, Butler and possibly Dayton, VCU and/or Saint Louis are ripe to be plucked by the seven, rendering the A-10 to a lower level and behind the ascending new league in this scenario.
Graham said A-10 commissioner Bernadette McGlade, whom he helped hire, will be making calls to the seven to see about a merger.
"We would love to combine our media footprints because we overlap to some degree,'' Graham said. "We'd like to have them bring in their rivalries and we would love to create new rivalries. We will see where this goes if it goes somewhere. If it does, then Xavier will be in a much better position.''
Graham went on to say that Xavier would love to have a league game in Chicago (DePaul), where it has a strong alumni base. He mentioned other big markets, too.
"If it doesn't happen," Graham said, "then we'll wait and see what happens after that."
Xavier and Butler would be the most coveted schools by both conferences.
Butler, like Xavier, has made it clear in statements by its administration that it will look for the best possible situation for its school. Earlier in the week, president James Danko said in a statement, "I greatly respect -- and agree with -- the collective conviction of the Catholic Seven to control their own destiny or someone else will. Butler, too, has controlled its destiny proactively, for example, when it made the decision to join the outstanding Atlantic 10 Conference and through its values-based approach to athletics.''
Butler and VCU aren't Catholic-based, but the seven schools have never said they would exclude non-Catholic-based schools from being added to their group. They haven't given out specific criteria either.
McGlade issued a statement this week saying the A-10 will continue to strengthen its brand and monitor things closely.
One of the issues McGlade and Co. will be pushing is NCAA units. For each tournament win a league gets, a financial share of the overall television pool of money is distributed to that conference, which then distributes it to its members at its own discretion.
Since 2007, the Atlantic 10 (if you include Butler and VCU) has totaled 62 units, with an average of 10 a year. The schools that make up the Catholic Seven have totaled 44, for a 7.3 average.
Butler and VCU had to leave their units behind in the Horizon and CAA. The Catholic Seven will as well. If Xavier and others were to leave the A-10, they would have to leave theirs behind as well.
Units span a six-year period, and schools get a shared percentage, but don't start earning from a previous tournament until a year later. Each game that a school participates in, the respective conference gets a unit. The units were worth $239,664 as of 2011. Each conference has its own revenue distribution plan for these units. The A-10, for example, gives a larger share to those that produce the NCAA tournament appearances.
Those issues are complicated, but in the end it really comes down to what the Catholic Seven want to do. It's very much a long shot, but the A-10 is at least going to make an attempt at a merger with the Catholic Seven, led perhaps by a school that may end up leaving to join them if the merger idea is rejected as expected.
Xavier and Butler will have a decision to make, but they are in a great position. They are wanted by both sides, something most non-FBS schools can't say in this current climate.