Catching up in time for the holidays
December, 24, 2012
12/24/12
9:42
AM ET
Monday musings heading into the Christmas holiday:
• Winthrop coach Pat Kelsey was everywhere last week passionately speaking about the Newtown, Conn., tragedy and the need for change. He was quick to say he didn't know when or if he would ever have a microphone in front of him that was so powerful. He was selling himself short. Kelsey's Eagles won at Auburn on Saturday. Winthrop won at Ohio prior to the Ohio State game where he made his mark in the postgame news conference. Don't be surprised to see Winthrop in the chase for the Big South automatic bid.
• Indiana State coach Greg Lansing tweaked me in a text message after the Sycamores beat Ole Miss in the first round of the Diamond Head Classic. I had Ole Miss picking up potentially two quality games -- in the semifinals and then either the final or third-place game. When will I learn? Ha. Projecting these tournament pairings is always a tenuous game. But going against Valley teams is also risky business in these events. The Rebels once again are one of the tougher teams to ever predict.
• Xavier seemed too low being picked ninth in the A-10 preseason predictions. Saint Joseph's was possibly too high at No. 1. Well, as conference season gets closer, the Musketeers could fall that far (losing to Wofford at home over the weekend), and the Hawks may join them. Saint Joe's lost at home to Fairfield. Both teams have four losses. The three teams that shouldn't have been pushed aside are the three I have no problem guaranteeing will be there in the end: Butler, VCU and Temple. That's the Temple that knocked off Syracuse, not the one that lost to Canisius.
[+] Enlarge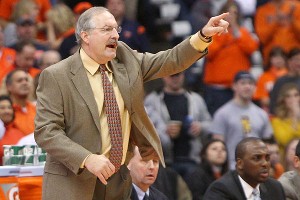 Nate Shron/Getty ImagesJim Baron and Canisius got a big win by knocking off Temple.
• Fit is so important for coaches. And former Rhode Island and St. Bonaventure coach Jim Baron fits at a smaller private school. He's flourishing so far with Canisius, and the win at Temple should be a clear indication to the rest of the MAAC that the Golden Griffins are a threat to win the league. Oh, they are 2-0 in the MAAC already, and Billy Baron is averaging 17.5 points a game.
• I'm not sure a player needed to bust out with a performance as much as Kentucky's Ryan Harrow did Saturday in a win over Marshall. Harrow, who hasn't been healthy for most of this season, lit up the Herd for 23 points and four assists. Kentucky doesn't need Harrow to be a big-time scorer, but it would help to have the option.
• The Missouri Valley Conference provided this stat: Since Thanksgiving no player has scored as many points (210) and averaged as many (26.3) as Creighton's Doug McDermott. Ladies and gentlemen, McDermott is your current favorite for national player of the year.
• I've had Florida as a Final Four fixture at one point. Now I'm not as certain. If you're looking for a team to buy in for the Final Four -- now -- I'd go with Kansas. This Jayhawks team will get even better with the continued development of Ben McLemore. Bill Self was right on with his assessment of McLemore last season. He is the top NBA talent. He scored 22 in an Atlanta-bound-type road win at Ohio State. That was impressive.
• For all the mocking of Tulane by the Big East defectors, Ed Conroy has the Green Wave at 10-3 and has as much a shot as many of the other mediocre Conference USA teams to make a run for a top-four finish.
• It's too bad that Keith Carter is leaving Saint Louis. The late Rick Majerus told me how much he thought of Carter when he signed him and compared him to a young Andre Miller. I was looking forward to seeing how Carter would have developed in the SLU system, which is now being coached by Jim Crews.
• Slowly we're starting to see the All-American numbers being put up by some preseason hyped players. Case in point is NC State's C.J. Leslie, who scored 33 points in a win over St. Bonaventure.
• The SEC had a weekend that likely will define this conference: inconsistent. Sure, Missouri beat Illinois in St. Louis, Kentucky took out Marshall and Georgia beat USC at home. And while we could highlight the expected wins by Tennessee, Mississippi State, South Carolina and Arkansas against lower-level teams, we have to draw attention to the rest: Vanderbilt lost to Middle Tennessee State, Texas A&M fell to Southern, Alabama dropped to Mercer, Auburn was beaten by Winthrop, Ole Miss couldn't get past Indiana State, LSU lost to Marquette and the league favorite, Florida, lost its second straight game away from home, this time to Kansas State in Kansas City.
• Virginia is having one of those odd seasons again, in which the Cavaliers, even though there have been injuries, will be extremely erratic. Case in point was the win at Wisconsin, yet the Cavs lost in-state to George Mason and this past weekend to previously 1-10 Old Dominion.
• You can pencil in Illinois State's Jackie Carmichael onto some sort of All-American list by season's end. The Redbirds star scored 25 in a win at Dayton and 18 in a win over Austin Peay.
• New Mexico's road trip to Cincinnati and Saint Louis after Christmas just got even tougher with a home loss to South Dakota State. Jackrabbits!!! I love that nickname. Nate Wolters scored 28 points in the win. South Dakota State earned this trip having to bus to New Mexico after a road loss in Nashville against Belmont.
• Michigan State couldn't have had a better lead-in to the Big Ten opener at Minnesota on New Year's Eve then to have Derrick Nix get 25 and 11 inside in a win over Texas. The Spartans need an anchor in the post to be a threat to topple the Big Ten.
• Texas can't afford to have too much of a hole when Myck Kabongo returns from his 23-game suspension issued Friday night. The Longhorns will be judged by the selection committee differently for those final eight games, but only if they're relevant by the time he returns.
• Neutral-site tournaments and games get knocked, and deservedly so, for some of the stale atmospheres. But I've witnessed two stellar neutral-site games (Indiana-Georgetown in Brooklyn in November and Cincinnati-Xavier last week in downtown Cincinnati) and watched another (Missouri-Illinois in St. Louis) to have faith in these types of games as long as they are positioned in the right markets with tickets distributed and priced effectively.