Mike Rice speaks out after suspension, fine
December, 29, 2012
12/29/12
11:46
AM ET
Mike Rice spent Friday heading to another youth sporting event involving one of his children rather than coaching his Rutgers team.
He loved being forced to spend quality time with his children and wife the past two weeks on an unexpected Christmas vacation at home. He found out how passionate fans watch and listen to Rutgers games through a live stream on the Rutgers website as his family went to the games, supporting the players and the staff without him.
But it's been embarrassing nonetheless. And he has no one to blame but himself for the time off.
Now there is no one who can bail him out of his situation but himself.
[+] Enlarge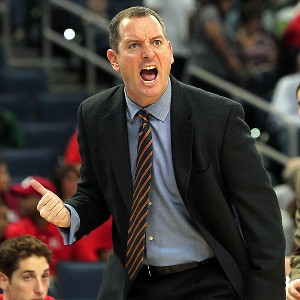 Kim Klement/US PresswireMike Rice was fined $50,000 and suspended three games by his own university.
Rice's boorish and inappropriate practice behavior got him suspended by the university for three games, along with a hefty $50,000 fine and banishment from any contact with the staff, players or school. The Newark Star-Ledger reported Rice threw basketballs at players' heads during practice in either his first or second season and used profane language. The newspaper reported there was video evidence supporting the claim.
His behavior, and his win-loss record, going forward will determine whether he is the coach at Rutgers in two years when the Scarlet Knights enter the Big Ten in Rice's final year of his current contract.
"It's fair to say this was very challenging," Rice told ESPN.com. "It was an emotional two-week span, a thought-provoking two weeks."
The Scarlet Knights (9-2) won all three games under interim coach David Cox in Rice's absence, beating UAB, Howard and Rider at home. Rice returned to practice Saturday afternoon in advance of the Big East opener Wednesday at Syracuse.
Rutgers athletic director Tim Pernetti hasn't put the head coach on notice, but Rice can't afford to make himself the story anytime soon. Rice is confident he will be the coach of the Knights when they enter the Big Ten.
"I'm not one of those guys [who ducks challenges]," Rice said. "I know the challenge I have now. I'm not one to back down to a challenge. If you think like that, then you shouldn't coach."
But has this embarrassing situation of being singled out with a suspension changed him?
"I've told my players for the last 21 years that you have to adjust to change and to develop, and now I have a chance to do that myself," Rice said. "I have to do that. Whether it's right or wrong or indifferent, I have to take responsibility and get better."
Rice said from now on he will use different techniques to get his point across. He said his suspension was a culmination of his behavior (not one single act in practice) and didn't occur this season, which backs up the Star-Ledger report that the incidents were in his first two years.
"I take responsibility for my actions," Rice said. "I'm not proud of some of the things I did in practice early on. I'm going to move and take it as a challenge. My intensity and passion and level of demand will be there, but I have to be more responsible and develop different techniques to get the same message across."
Rice cited the graduation of 18 of his last 19 seniors as evidence of his commitment to the greater good in coaching and said he fully expects his team to welcome him back without any issues.
"It will be another business day, another opportunity to get better," he said. "I've got a good relationship with my team. I thought we made great strides. What I saw watching the games is that we've got the pieces, we've got talent, and I saw improvement as well as weaknesses. The defense isn't where it should be."
The season started out poorly with a home loss to St. Peter's. While Eli Carter, Kadeem Jack, Myles Mack and newcomer Wally Judge have been stable, there simply isn't enough evidence to gauge if the Knights will be a real threat in the Big East.
The core of the team, save Judge, returned from a squad that finished 14-18 overall, 6-12 in the Big East. Rutgers has finished under .500 overall and in the conference for six straight seasons. Rice was the coach for two of those and has a 29-35 record at RU, 11-25 in Big East games.
The conference season starts out with at Syracuse, Pitt, at St. John's and Cincinnati. Going 1-3 in the first four games wouldn't be a shock and may be expected unless Rutgers and Rice can capitalize on a fresh start and some momentum from a five-game win streak, the last three without Rice.
"Everyone except Wally Judge has the experience of the [Big East] gauntlet," Rice said. "They've had failures and ultimately learned from it. We've got experience and more depth and more size and strength, but you'll never know until you get into the battles."
And we won't know if Rice has truly changed until he's back in the heat of the job.
If he changes, and wins, all will be forgotten. If neither occurs, then Rice will be remembered more for the suspension than anything else during his tenure.
"Everyone at Rutgers has been very supportive," Rice said. "I know the expectations and the standards of behavior have to be enforced. I'm being punished for that and I'm moving on."