Kevin Ollie gets a deal, other musings
December, 31, 2012
12/31/12
8:50
AM ET
Monday musings for the final time in 2012:
• The UConn administration did the right thing by auditioning Kevin Ollie. I wasn't a fan of the idea initially, but after watching how he handled himself with the team, coaching staff, in practice, in games and with the administration at home and abroad, as well as in speaking situations, it all made sense. He had to prove to everyone that he was deserving of a long-term contract. This team could easily pack it in without a bid to play for, but he has kept the Huskies motivated from the first day. You would never know they are ineligible for the postseason when you're around them.
[+] Enlarge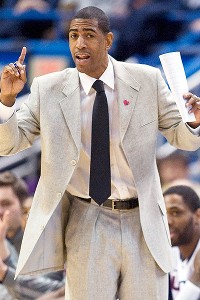 AP Photo/Jessica Hill,Kevin Ollie quickly proved that he's the best man for UConn.
• I'm also convinced that the Huskies wouldn't have found a coach with a similar passion for UConn at this tenuous time, as the school deals with conference instability. The shadow of Jim Calhoun, literally at times standing over Ollie or any other coach, takes the right person to handle. Ollie has done so without a hiccup.
I don't think I've ever come across one person who has said a negative word about Ollie.
• The Catholic 7 have the familiar names, the tradition and the media markets, but the schools had better start playing well to make offering a lucrative television deal sensible.
• I still think if Butler and Xavier get an offer from Marquette, Georgetown, Villanova, St. John's, Seton Hall, Providence and DePaul, then they'll both take it.
• The more I see Gonzaga's Kevin Pangos, the more I could see him shooting the Zags deep into the NCAA tournament. He has that special shooting touch to carry a team.
• I'm waiting for Baylor's Brady Heslip to have one of those Heslip-like 3-point displays again after only one so far this season -- he had eight 3-pointers against St. John's.
• I'm still not giving up on Nevada in the Mountain West, especially with Malik Story putting up 35 in a win over Yale.
• Missouri's end-of-game situation was poorly handled in an overtime loss to UCLA, but if you had to pick one point guard, it would be hard to turn down Phil Pressey after his 19-point, 19-assist performance.
• Larry Drew II deserved to be criticized for leaving North Carolina in the middle of February two seasons ago. But he also must be praised for the way he has handled himself since and his on-court presence for the Bruins. Drew has been sensational of late with 10 assists and 3 turnovers in 40 minutes against Missouri. He has 112 assists and 22 turnovers this season. Bravo, Larry, for the way you have transformed your career as a senior.
• Remember this about top-ranked Duke: The Blue Devils really play only seven players, and that's all they need.
• Maryland is 11-1, yet it's fair to question the ceiling since the last potential NCAA tournament team the Terps played was their first game against Kentucky -- their only loss.
• Xavier with Dez Wells and Mark Lyons is an NCAA tournament team. The Musketeers without both players are not.
• I'll wait before judging UNLV now that it finally has the frontcourt it envisioned with Mike Moser, Khem Birch and Anthony Bennett.
• North Carolina finally responded to Roy Williams with a win over UNLV. This team had to mature and go through growing pains. The down ACC will help the Tar Heels get back into the NCAA tournament discussion even quicker.
• Happy 50th birthday to Bill Self. I'm not sure there is a more perfect coach for Kansas. He will go down as one of the top coaches of his generation when he's done.
• Remember Texas' win over Rice. That's the game when Jaylen Bond was healthy enough to play 12 minutes. The Longhorns should be a more formidable team inside from this point forward.
[+] Enlarge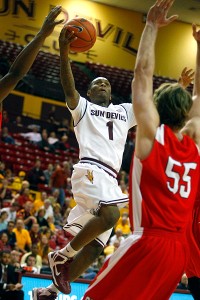 Rick Scuteri/US PresswireIneligible last season, Jahii Carson has made a big impact at ASU.
• One of the top players lacking national buzz is Arizona State's Jahii Carson. He is averaging 17.7 points and 5.5 assists for an 11-2 Sun Devils team. Carson wasn't eligible last season as a true freshman.
• BYU coach Dave Rose said in the offseason he hadn't seen a player return from a Mormon church mission as conditioned as Tyler Haws. Well, he must be in pretty good shape to light up Virginia Tech for 42 points. The Hokies have cooled since knocking off Iowa and Oklahoma State.
• UIC isn't the only Chicagoland team going through a renaissance. Loyola is off to a 9-3 start after winning just seven games last season. Porter Moser's crew beat DePaul for the first time since 1989.
• Valparaiso pulled off an undervalued road win when the Crusaders won at Murray State by two.
• Ryan Harrow continues to be a good story for Kentucky. He is healthy and scoring well from the point, adding 17 against Louisville.
• Who had Louisville's Russ Smith as the Big East Player of the Year in October?
• Oh, Creighton's Doug McDermott started off the Missouri Valley season where he left off his nonconference season, by scoring 29 points against Evansville.
• Harvard has become a yearly threat to beat anybody on its schedule. Cal was the latest power-conference team to go down.
• Indiana State wasn't a fluke in the Diamond Head Classic. The Sycamores followed up a 2-1 showing in Honolulu with a huge two-point victory over Illinois State to begin Valley play.
• A number of NBA scouts came through the snow to see Washington's C.J. Wilcox at the XL Center in Hartford, but he went 2-for-12. Wilcox had scored 20 or more points in three straight games.
• The SWAC picked up its second win of the season over the SEC when Alabama A&M beat Mississippi State. Southern had already taken down Texas A&M.