Buzz did not enjoy his forced vacation
January, 4, 2013
01/04/13
3:15
PM ET
If Marquette wanted to send a message to Buzz Williams and the NCAA that it was taking a violation by a member of its staff seriously, then consider it done.
Williams was miserable during his time away from the Golden Eagles.
The school-imposed one-game suspension of Williams for Tuesday's overtime win over Connecticut in the Big East opener was a direct result of a violation by one of the Marquette staff, but not by Williams. Assistant coach Scott Monarch was ultimately fired for providing false and misleading information.
Williams was forced to stay away from the team for two days. He couldn't use his phone, text or be around the program in any fashion.
"It was very empty and very depressing,'' Williams said. "I've never missed a game or practice in my career. I didn't know what I was supposed to do.''
Rutgers coach Mike Rice had to serve a three-game suspension and was prevented from being around the program. He was suddenly Mr. Mom, driving to sporting events and hanging around the house. Former UConn coach Jim Calhoun had to deal with a similar banishment from all team activities last year, when he had to serve a three-game suspension to start the 2011-12 Big East season.
[+] Enlarge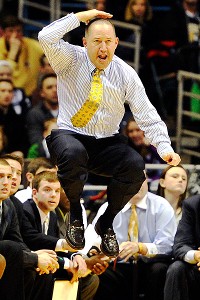 AP Photo/Jim PrischingBuzz Williams wasn't exactly jumping for joy during his suspension.
As for Williams, he put himself under house arrest.
"I never left,'' he said. "I never left.''
Williams is a basketball junkie. He admits he has no hobbies. He said he is thankful for his wife and four children but other than them, hoops and church, he said he has no life.
"That's all I know,'' Williams said. "If I'm not at the office or the house, then I'm at church. I don't take breaks. I don't take multiple vacations. Not being able to have any contact with half of my world was different for sure.''
Williams had assistant Brad Autry stand in as head coach and had longtime former college head coach Jerry Wainwright on the bench as well. Williams watched the game at home and had a similar reaction to the rest of us when the officials lined up the two teams incorrectly to start the overtime. A goaltending basket was taken away from UConn at the start of the overtime after the officials realized the mistake. Later that night, Big East official Karl Hess admitted the mistake on behalf of the crew and acknowledged points shouldn't have been taken off the board for the Huskies.
"As soon as they threw the ball up, I saw they were lined up wrong,'' Williams said. "Then the goaltending happened and I wondered, 'What's going to happen here?' I wasn't sure of the rule. Should the basket count or not? I wasn't sure. It was a mistake and we all make mistakes. I did feel bad about it.''
This has been an interesting season so far for Marquette. The Golden Eagles lost two key players in Jae Crowder and Darius Johnson-Odom. They started with a game that was never played against Ohio State on a ship off the coast of Charleston, S.C.; lost on a buzzer-beater to Butler in Maui; got drilled at Florida; beat Wisconsin at home; lost at Green Bay; then opened the conference season with a win over Connecticut before moving on to Saturday's game against Georgetown.
Junior Cadougan, whose 3-pointer forced the overtime with UConn, has been the heart of this team so far. Williams said he has as much heart and desire as any player he has ever coached and would love the challenge of putting Cadougan out there with "four subpar guys and winning against five good guys."
"There's something magnetic about him," Williams said. "He deserved to make that [game-tying] shot.''
Marquette is now part of the departing seven Catholic-based, basketball-driven schools leaving the Big East. Williams, who grew up in Texas, romanticizes about the old Big East and is uncertain about what is to come in the new league. He's not thrilled with the change, but he understands the financial decisions being made.
Williams, who moves nonstop during games, is thrilled to be back in the Big East grind against Georgetown. This is where he has to be to breathe. He was feeling suffocated without the oxygen of coaching his team for two days earlier this week. He served his punishment and the penalty won't be forgotten.