For Florida, it's Final Four or bust
January, 8, 2013
01/08/13
10:44
PM ET
NEW HAVEN, Conn. -- Florida senior guard Kenny Boynton wants no part of the Elite Eight disappointment.
He's felt it twice.
"And it hurts,'' said Boynton. "We were with eight or nine minutes left to go feeling like we were going to the Final Four. It's worse than any loss we've ever had.
"Anything less than the Final Four will be a failure for me. We've seen the Elite Eight. We let teams get back. We have no excuse. We need to get to the Final Four and see what that is.''
The Gators should have been in the Final Four in 2011 but let Butler come back on them in New Orleans. The 2012 Elite Eight loss to Louisville in Arizona stung just as much.
[+] Enlarge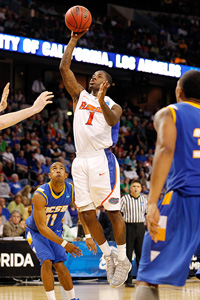 J. Meric/Getty ImagesGetting into the lane will help open up Kenny Boynton's game.
"I remember getting home after we lost to Butler and turning on the TV and seeing VCU beat No. 1 Kansas and saying we're better than VCU. We could have beaten them and played for the national championship,'' said Boynton. "Last year, we could have had another shot at Kentucky. Nothing below the Final Four. We can't. It would be a failure."
But herein lies the problem for coach Billy Donovan.
He has to make sure Boynton and the rest of the Gators are prepared for the journey. The tournament is unlike any other postseason. You can't assume anything. Pitt is a perfect example of a team that had multiple chances to advance toward a Final Four, but poor plays in final possessions against Villanova and Butler flushed the possibility in the single-elimination event.
It's hardly a given that the Gators, even the most experienced team in the SEC, can win the regular-season title over Missouri and Kentucky to put them in position to get a high seed.
"Are these guys willing to go through the process?'' said Donovan after the Gators Sunday night victory at Yale in which Boynton scored 28 points. "You can't just say you're going to get to the Elite Eight. I've been through this. We went to two NITs in a row, and it was you have to get over the hump to get to the NCAA tournament. Now it's get over the hump to get to the Final Four.
"Every year it has been some sort of hump. But are they willing to go through the process? Honestly we have to look at what has happened in these games. Why at Arizona? Why against Butler? Why against Louisville? It's not just one thing, but a combination of things."
Donovan put the collapse at Tucson last month as part of the recent losses that need to be explained. He said it has been a bad shot, a loose ball not retrieved, a poor defensive play all adding up to a lack of urgency.
Donovan has even taken to showing the current Gators the 1999 Sweet 16 loss to Gonzaga when Casey Calvary went over Brent Wright for a tip-in to beat the Gators to advance to the Elite Eight.
"The pain of blocking out every day in practice is far worse than the regret of missing one and all the other 12 guys looking at you because of one play,'' said Donovan. "That's the margin of victory. You can't just snap your finger and get back to that point. You have to build those habits."
And it may just start with Boynton's shooting.
Sure, he was in a shooting slump, going a combined 11 of 38 in the previous four games, which included losses to Arizona and Kansas State away from Gainesville. But it was the percentage of 3s that was the issue.
[+] Enlarge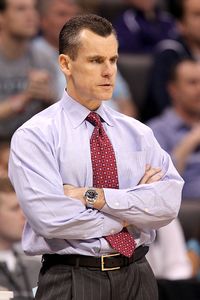 Ronald Martinez/Getty ImagesBilly Donovan knows that title teams are built through a daily process.
And despite making 8 of 10 against Yale, the problem still exists. Boynton took only two other 2-point shots.
Donovan said more than 60 percent of Boynton's shots are 3-pointers, and it makes him too one-dimensional and predictable. Donovan said Boynton has grasped that he has to shot-fake more and get to the basket so that opposing players respect his drive. Boynton averages only a few free throws a game, another stat that would likely increase if he were to attack the basket more often.
The Gators will be without another scoring threat for a spell as Erik Murphy heals from a fractured rib. That will put more scoring responsibility on Boynton as he shares the perimeter with Scottie Wilbekin and Mike Rosario. The latter two have to watch how they handle the ball, though, especially against pressure.
The frontcourt of Will Yeguete, Patric Young and Casey Prather isn't necessarily a skilled lot. So these three need to get their points off offensive rebounds and of course have to defend and create transition buckets at the other end.
Still, the experience is in place for the Gators to be the team to beat in the SEC and get to where Boynton said they belong.
The Gators won consecutive titles in 2006 and '07 due to the commitment of the players. Boynton was being recruited during this run and arrived two years later. He has seen Kentucky ascend to the top of the league, a fact that commands his respect even if the Wildcats are less experienced this season ("People say they're not as good this year, but I honestly respect them.'').
What Boynton and the rest of the Gators need/want is to leave their own legacy -- not of losing Elite Eight games but of reaching a Final Four.
"It would mean a lot because coach is a winner and I want to go out as a winner,'' said Boynton. "Everyone talks about that class (from 2004 that won two titles). I want to go out as a winner and try to win a national championship.''