Tark deserves Hall recognition
January, 9, 2013
01/09/13
10:49
PM ET
Jerry Tarkanian should be in the Basketball Hall of Fame.
The voters for the Basketball Hall of Fame are mulling over their ballots, and they have 31 names to peruse.
There is a process, which involves getting seven of nine votes on the first ballot from the screening committee to become a finalist, that each candidate has to get through. That list will be announced at the NBA All-Star Game weekend Feb. 15. If you make that cut, you need to get through the honors committee and receive 18 of 24 votes to reach enshrinement in Springfield next fall.
[+] Enlarge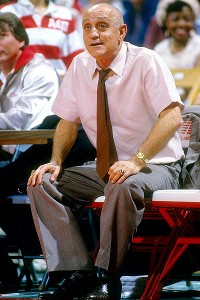 Focus on Sport/Getty ImagesFew college coaches have had an influence on the game like Jerry Tarkanian.
Tark is on a list with a number of other college coaches: Lefty Driesell, Gene Keady, Guy Lewis, William "Speedy" Morris, Rick Pitino, Eddie Sutton and Gary Williams. None -- or maybe one or two -- get in.
The Naismith Basketball Hall of Fame, not the College Basketball Hall of Fame in Kansas City, Mo., where Tark should also ultimately get a plaque, has its share of coaches in the Hall.
Bob Knight, Dean Smith, John Thompson Jr., John Chaney, Lute Olson, Jim Calhoun and active coaches Mike Krzyzewski, Jim Boeheim and Roy Williams are all in the HOF. Deservedly so. (I'm not even including iconic figures like John Wooden on this list.)
All of them, in their own way, were innovators and champions in some form. They've had no issue bucking the system in some cases and being cantankerous at times, dominating the profession through their win-loss records or using their influence and powerful personae to get what they wanted when they wanted at their respective schools.
I could make a Hall case for a number of coaches like Pitino, Lewis, Keady, Driesell, Sutton or Williams. If any of them get in, I'd provide the appropriate praise if I felt compelled to do so. I'm sure there will be a time soon when current coaches like Tom Izzo and Bill Self get their turn on the ballot, and they should be considered. I'm convinced they're both heading toward that destination when they retire.
The numbers for Gonzaga's Mark Few could also be Hall of Fame worthy if he were to continue on this path and win a championship or reach multiple Final Fours. Few is already eighth all-time in winning percentage (.792) during his brief 12-year career.
But few coaches in the past 40 years have influenced the game like Tark. He should be in the Hall, and it isn't because he has been battling health issues as he entered his 80s.
His numbers are so lofty that if you were to go on stats alone he would sail through the process. He is in the top 10 in winning percentage and the top 16 in overall wins (729), and he owns a national title and multiple Final Fours.
Like most of Tark's career in the sport, though, everything about him has been provocative.
Tark battled the NCAA for decades from Long Beach State to UNLV to Fresno State. He ultimately won a $2.5 million settlement against the organization in 1998. Arizona, Syracuse and UConn all dealt with NCAA issues under their respective Hall of Fame head coaches. Few, if any, have gone unscathed in some form from the NCAA.
This isn't to cover up or gloss over the allegations against Tark while he was coaching, but to dismiss the accomplishments of what his teams did on the court would be a disservice to the game. Tarkanian's teams changed the culture of the sport. He helped create a sports buzz in building UNLV's program at the time Las Vegas was blossoming as a destination.
College basketball hasn't had a team like UNLV since the Runnin' Rebels were deconstructed upon Tark's exit. The consecutive Final Four UNLV-Duke games -- the blowout and the stunning upset in 1990 and '91 -- will go down as two of the NCAA's greatest events.
One provided one of the most dominating performances in the history of the tournament, while the other essentially created the modern-day Duke dynasty. Duke started anew as a national player with the 1986 Final Four appearance behind Johnny Dawkins and ESPN's Jay Bilas in the starting lineup. But when Duke knocked off UNLV, it was the starting point to this modern run.
On Wednesday, the Baseball Hall of Fame elected zero players to this year's class. The reasons for not taking Barry Bonds or Roger Clemens are clearly steroid-related. The reason for not selecting Tark to either the college or Naismith Hall of Fame can only be because of NCAA-related issues.
Tarkanian's influence on the sport, his innovation for the way his teams played, especially on the defensive end, and the identity his teams took on from the first day he coached to the last make for a lasting legacy.
Whether coaches are banding together or not, I have not heard anyone speak against Tark, and that includes Krzyzewski, Thompson and countless others. The coaches who competed and recruited against him have no issue with him being honored to this degree.
I covered Tarkanian. I spent four years with him when he got to Fresno State. That was a different Tark, an older, and at times less-guarded, Tark. He made mistakes. He took too many chances. But he has plenty of success stories. The legacy for Tark's greatest teams at UNLV in the early '90s is seen by how successful players like Greg Anthony, Stacey Augmon and Larry Johnson became.
Chris Herren was Fresno State's most heralded player under Tarkanian. He is indebted to Tark for giving him another chance. Herren battled his personal demons of addiction while he was in Fresno, which was wonderfully documented in a 30-for-30 documentary and in his book. But the clean and sober Herren I saw recently speaks so fondly of Tark and what he did for him.
There is a kinship to Tark from his former players and coaches that I have rarely seen in 22-plus years covering the sport. Having Tarkanian return to UNLV and be embraced has helped him through his recent health problems. He has loved being around the program, going to games and getting involved as much as his health will allow.
I'm convinced that, if he were inducted, there would be a long line of former players and coaches who would be in attendance, discussing how much he meant to them in their life.
Tark had faults in the game. He was entrenched at times. He had to endure a long battle with the NCAA. Both sides won in some way, as Tark had to get out of UNLV but claimed victory with a financial win in the lawsuit. But you cannot dismiss his influence on college basketball. You cannot wipe away the decades he spent making his mark on the sport. He was an iconic figure, a lightning rod and one of the great characters of the game.
Tark deserves to be recognized by the Hall and his peers. He put too much of his life into the sport to not receive the proper gratitude. Hall of fames sometimes don't have as much purpose to the general public, but they matter to those who spent their careers in the sport and especially to the families who had to sacrifice so much time with their loved ones while they played or coached. Being in the Hall of Fame is relevant to the spouses, children and grandchildren.
It's time. The family is on a campaign to get Tark into the Hall. It is passionate, energized and working like a grassroots political campaign. The effort may not have any influence with the voters. They shouldn't need to be convinced. Considering his imprint on the game, he gets into the Hall.
We'll see next month if he even gets close enough to have a chance.