USC job should draw lots of interest
January, 15, 2013
01/15/13
9:11
AM ET
The first real domino in the 2013 coaching carousel fell Monday when USC abruptly fired Kevin O'Neill.
Texas Tech is being led by an interim coach in Chris Walker, but the Red Raiders job doesn't come close to commanding the interest the USC position does.
USC athletic director Pat Haden has two months until the end of the season, which gives him a head start on other ADs looking to make coaching changes, to find the right coach at one of Division I's hidden gems.
[+] Enlarge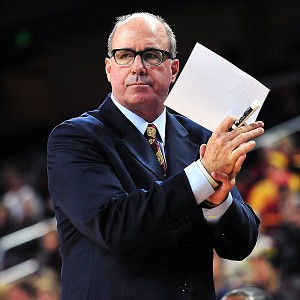 Gary A. Vasquez/USA TODAY SportsKevin O'Neill wasn't able to make USC a contender in the Pac-12.
After canvassing a few coaches with a good sense of the job late Monday night, there were a number of reasons that USC is looked at as a job that will draw plenty of interest.
1. Location: The warmth of California, the fertile recruiting ground and the "It" factor of coaching in Los Angeles all make it worth serious interest.
2. Brand name: USC has a national name. Of course, it is for football, but the Trojans brand carries weight nationally. For months, USC can be found in the headlines, with its football program seemingly always in the news.
3. Football covers for hoops: A basketball coach doesn't have to feel the pressure of being in charge of the school's most important sport. This is similar to Oklahoma, Texas, Notre Dame and countless other jobs at football-dominated schools.
4. Facilities: USC used to have one of the worst playing situations on the West Coast in the antiquated L.A. Sports Arena. But the Trojans have one of the top on-campus facilities in the Galen Center. The practice facility is in the same building, which makes everything nice and convenient.
5. The Pac-12: The league lacks a dominant, intimidating team. Arizona should be the standard going forward, with UCLA and Oregon likely to have staying power for the foreseeable future. There is room to move up in the Pac-12.
So what should USC do through back-room channels to gauge interest?
The first natural call is to make a run at Pitt's Jamie Dixon, who is from Southern California. But it's hard to see Dixon leaving Pitt, where he has raised his family and has a great relationship with the administration. His family is from Southern California and his wife from Hawaii, but his close friend is Ben Howland at rival UCLA. I would be surprised if Dixon left for USC with the Panthers making a move to the ACC next season.
USC might make a run at Gonzaga's Mark Few, but once again Few has a better situation at Gonzaga. He has had many opportunities to leave and has decided to stay. I don't see it. There's no reason USC shouldn't try to see whether there is interest from VCU's Shaka Smart, even though he turned down Illinois to stay with the Rams.
Steve Lavin was at UCLA. He's at St. John's now. Would Lavin play at USC? Of course, but would he leave the Red Storm with the project not done yet? Not sure USC makes the play or whether he would bolt yet.
I don't see USC hiring an assistant. But what could play well is if Haden goes for a coach who wants to leave before he gets fired and wouldn't mind a change of venue and a fresh four-to-five-year contract. This is the Herb Sendek and/or Oliver Purnell-type play.
That's why names to file away for later could include Washington's Lorenzo Romar, Texas' Rick Barnes and Villanova's Jay Wright. I know there will be detractors dismissing all of these candidates. But you can guarantee this job will draw plenty of interest, at the very least to play their current school against USC and work for a raise.
Haden could look to an NBA coach, of course, as well.
USC is an intriguing position. The options are endless for a position that is sure to be coveted and/or played over the next two months in public and in private.