Wyoming hurt by Luke Martinez's choice
January, 16, 2013
01/16/13
3:31
PM ET
Wyoming coach Larry Shyatt knew
Luke Martinez
had been in some sort of melee at a bar, which resulted in a broken hand.
Shyatt was naturally upset. At 22, Martinez was of age to be in a bar. But as a senior leader, on an undefeated team that was on the verge of something special, he never should have been out that late.
Shyatt said he wanted the few players who were at the bar to spend a few hours volunteering before the team left for Dallas to play SMU.
[+] Enlarge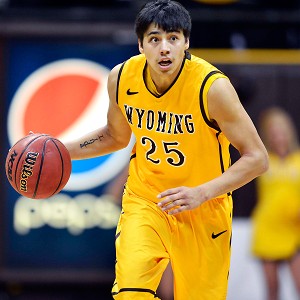 Ron Chenoy/USA TODAY SportsLuke Martinez's decision to go to a Wyoming bar late at night was a poor choice.
"When I found out, they were out,'' said Shyatt. "I made them do community service without knowing all the facts yet.''
Shyatt and assistant Scott Duncan had heard chatter that Martinez was struck first and that he was defending himself. But that was the extent of any information they received.
They both say that they knew nothing else and were told that no charges were going to be filed.
Martinez was out with the broken hand. In his absence, the team went to SMU and beat the Mustangs before losing the Mountain West opener to Boise State.
Last Saturday, Wyoming visited Reno to play Nevada, a game the Cowboys won 59-48.
They returned late at night, and Shyatt said he got a call at 2 a.m. that Martinez had been brought in for questioning.
What happened next was detailed in an affidavit that should cause serious concern for a team that still has a chance to make the NCAA tournament and finish near the top of the MWC.
According to the Casper Star-Tribune, the affidavit has three eyewitness accounts from employees at the Buckhorn Bar which details Martinez allegedly kicking a victim in the face after teammate Derek Cooke Jr. knocked the victim out with a punch. Martinez was arraigned Tuesday, with Duncan in attendance, on charges of causing serious bodily injury to the man. Junior Nathan Sobey was at the scene as well, according to the report.
The report states that Martinez said he was punched first but then stepped or stomped on the victim's head. This interview took place at 1:30 a.m. and he was arrested at 2:15 a.m.
Martinez was released on $25,000 bond, and he has to check in both with the Wyoming athletic director and defense attorney three times a week as well as stay away from drugs and alcohol.
Duncan said the first time he had heard about the extenuating charges and details of the case was while he was sitting in the court room Tuesday. Shyatt said he wasn't aware of the details, either.
Shyatt and Duncan have brought new energy and passion to this program and turned it into a winner in just two seasons.
But Martinez let his teammates, staff and the university down by going out at that hour. So, too, did the other two teammates. The bar fight reportedly turned ugly and could take away from what has been a special season so far.
He put himself in the position where something could -- and did -- happen. He may have been defending himself, but he never should have been there in the first place.
Sure, he's a college student. But there are privileges that go with playing high-level Division I basketball. Now he'll pay the consequences and so will his team.
The Cowboys went 2-1 without him, but they may have a hard time staying in the top six in one of the best conferences in the country without him over the next seven weeks.
Martinez now has to deal with the legal issue, which could be less forgiving than the shame from any university/coach/teammate.
Shyatt said Martinez is within four classes of graduating. He was a player inherited by the current staff. That staff warmed up to him and embraced him, and Shyatt said they will stick by him. But he isn't defending the actions of being out, getting into a fight and the results of that fight. He called it horrible and foolish, but he's not going to abandon him, either.
The Cowboys had to play two full games, and most of two others from Nov. 28-Dec. 18 without sophomore guard Riley Grabau after he suffered a knee injury. Grabau had started the season with 23 assists and three turnovers. Yet, they won all four of the games in which he was out, including a comeback win at Illinois State and a road game at UCSB.
Playing without another key player, "is nothing new for these guys,'' said Shyatt. "It's just one less guy.''
True. But Martinez has drawn undue attention on Wyoming when a 14-1 record should have been the only thing being discussed about these Cowboys.
For more on Andy Katz's final thoughts on Luke Martinez and Wyoming, check out Katz's Korner.