Things looking up for the Mountain West
January, 18, 2013
01/18/13
3:04
AM ET
The Mountain West was wildly unpredictable again on Wednesday.
And next season, it should be just as promising.
Boise State, a rising program, and San Diego State, a perennial contender, are now officially back in and not leaving. Utah State, easily one of the most consistent programs in the West, is on board to join in the fall of 2013.
The league will likely have more top 30-40 teams per percentage than the Pac-12 or maybe the SEC.
The competitiveness among the 11 schools in 2013-14 should rival the balance of the nine playing next season. Consider what happened on Wednesday:
[+] Enlarge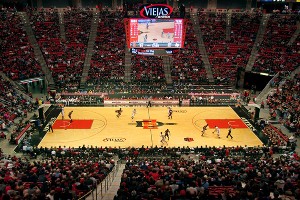 Kent C. Horner/Getty ImagesThe atmosphere at San Diego State's home, Viejas Arena, was built up for big-time games.
UNLV won at San Diego State.
New Mexico beat Boise State in overtime.
Colorado State crushed Air Force.
Fresno State upset Wyoming.
"What you've seen two weeks in is that it doesn't matter whether you're at home or away, you have to play well to win,'' said San Diego State coach Steve Fisher. "The separation is closer than ever in this league.''
Fisher should know. He is the only coach remaining from the original Mountain West in 1998-99. Fisher, along with the conference's administration led by commissioner Craig Thompson, saw the league from its inception into a basketball power in 2013.
Fisher didn't want to go to the Big West, but he went along with the San Diego State administration's desire to put the football program in the Big East. When that situation became unstable, the Aztecs looked at staying put. Boise State's decision to remain in the Mountain West was the clincher. San Diego State had to stay. It was the right call. The atmosphere at Viejas Arena was built up for big-time games, not for the Big West.
"I have great respect for how good this league is and I've seen the growth, seen the recognition slowly but surely come nationally,'' said Fisher. "We're in a league now where we're going to have be really good to win it. But if you don't win it, you can get to the tournament.''
That's a key statement. The Mountain West is now a likely lock for multiple bids on a yearly basis. Rivalries have been preserved like Wednesday's between UNLV and San Diego State.
The only issue will be, with 11 teams for basketball (Hawaii is only a football member), will the league go to a 20-game schedule for a true round-robin or stick with 18 and have a bit of an unbalanced schedule?
"There is no tougher travel league,'' said Fisher. "It's hard to get places like Wyoming, Colorado State and we're adding Utah State [and San Jose State] and I've never been there before.''
The decision to stay put may cost the school money and it will force Fisher to re-examine the schedule next season. The Aztecs originally were going to play nonconference games -- one home and one away -- against Memphis and Temple, per the Big East, as well as one against Cincinnati. Fisher said he isn't sure of the status of those games now.
Fisher said San Diego State will keep a series with Arizona, a road game at Kansas and play in the Anaheim Classic. He said he just has to decide how many tough games he wants to add now that the Aztecs are staying in the league.
What's next?
"We're at Wyoming Saturday,'' said Fisher.
Yet another difficult game, but an example of the depth of the conference on a game-by-game basis.