Self discusses Kansas' winning tradition
January, 29, 2013
01/29/13
8:36
AM ET
Katz's Korner with Kansas coach Bill Self (a portion of this interview is in this week's edition of ESPN The Magazine):
How has redshirting helped Ben McLemore
?
"He appreciates things more. He appreciates the opportunity to play college basketball more. He didn't need to be woke up but it made him appreciate schoolwork and doing well in school when you don't focus and take it as seriously as you should. He naturally matured. I do think he took advantage of not playing and turned it into a positive.''
[+] Enlarge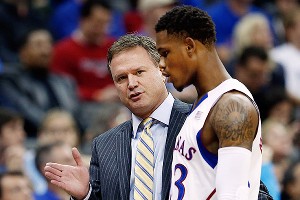 Jamie Squire/Getty ImagesBill Self, with Ben McLemore, has Kansas ranked second in the nation.
Why have you had such great success of having players pass the baton?

"The thing we try to sell is that names change but expectations don't. No matter who is out there we expect them to perform at the same level as those before them when they get their opportunity. The roles change every year with the better they get and that's why we have been able to sustain it with guys waiting in the wings. We've also recruited better than people give us credit. My staff has done a great job evaluating. We've had players who were just as great as the great ones but it took three years for them to get it done.''
Why have you been so successful with players waiting their turn?
"The first year [Jeff] Withey played he was our sixth-best big guy. The next year he was our fourth-best big guy and got a couple of minutes. And then he played a ton last year. It's amazing how those things work out. Travis Releford couldn't get in the game. But it's been fun to watch.''
What have you learned since you took over the job in 2003 about yourself and the program?
"You have to embrace the expectations. That's something I've learned. I think I've learned that the best players don't necessarily make the best teams, but you can't win the biggest games without good players. Having guys that understand their roles and buying in and understanding who the best players are on the court is a pretty fun way to play. We've had so many guys that have been great players for us that have come in and understood their role that the first-rounders need to get their touches, but they got better. When those guys left, they were ready to take over.''
What does the Big 12 regular-season title streak of eight straight mean to you?
"It's something we talk about every day. We end every huddle saying 'Big 12 champs.' It's something that we start to engrave in their mind even though some people here take it for granted. Whenever you're the best team in a really competitive league, you're going to play for the highest stakes. I've always said why be concerned about being the best team in the country if you can't be the best team within the league you're trying to win and compete for. I want to be the best. But I always think there are stages. For us to be the best in the country we have to be the best in this league.''
What makes Phog Allen the best home court in the country?
"There are other places that get amped up for a game and sell out. But the thing about here is that it doesn't make any difference if we're playing Texas, Oklahoma State, Kentucky, Ohio State, American, Belmont or Richmond. You're going to have the exact same number of people at the game. The consistency of their participation is unequal to anywhere I've seen night in and night out.''
Why doesn't Kansas play Wichita State?
"Kansas hasn't played Wichita State for years, way before I was the coach at Kansas. … Iowa plays Northern Iowa because the state legislature says you have to. If someone were to come and say something that it's law, then we would have to. But you schedule to benefit your own school, not to benefit others. You have to benefit your own school. I want to play games that benefit us, and, from a financial standpoint, it's hard to play games away from Allen Fieldhouse since that's our main source of budget every year.''
What's your reaction to Bruce Weber being at Kansas State?
"I think he's a good coach, and they're off to a great start and he's done a good job with the players and he's a good coach. It's nothing more than that. That he's coaching at a rival means nothing to me. He took over 10 years ago at Illinois, and a lot of water passed under the bridge since then. All I care about is beating his team. I could care less about any more than that."
How much are Kansas and Kentucky rivals?
"Kansas and Kentucky are the two winningest programs of all time. There is a natural mutual respect, and, also, the main orchestrator of Kentucky basketball over time was a Kansas grad in Adolph Rupp. There is unbelievable history and tradition between the two schools. I don't see them as our biggest rival, nor do they [see Kansas as their biggest rival]. But from a recruiting standpoint, we have gone head-to-head. I'll be the first to say they're hard to beat and they've got it going. We've had to recruit differently than them since they've been signing elite guy after elite guy, but at the end of the day, we go back it differently. If they're a big rival for us then that bodes well for both of us to play in big games.''
How nervous were you about Kansas being left out during the alignment craze two summers ago?
"I was never nervous we would be left out. But I was certainly nervous that it wouldn't be as good as what we have now. A lot of rumors were if Kansas were to be left out, then Kansas was going to the Big East. Well, the Big East isn't the Big East anymore. Who knows what would have happened. I was nervous. But it wasn't panic mode. I feel good about our league. We're in terrific shape. Whatever we do with expansion going forward, if we do, it will do nothing but enhance it because we have the best of both worlds in a football and basketball standpoint.''
What would be your next move and who would you lean on for advice?
"If we're ever going to move again, which I certainly don't see, want or anticipate because we love it here, I would lean on my dad and my wife. And then maybe some experts in the field. I haven't looked at another situation seriously since I've been here. A lot was made of the Oklahoma State situation five years ago, but that was one that the timing was not right and I don't see the timing being right any time in the near future.''
What about the NBA?
" I don't feel it. I can't say never because there have been a lot of people tell me that it would be an unbelievable situation to get into, and coaches yearn for that, but I think I've got a better job than a lot of guys in the league.''
What does this team need to do between now and Selection Sunday to compete for the title?
"We're going to have to stay healthy. We have to get to a point where we defend better and be sound defensively. We've got to bring our freshmen along to a point and Perry Ellis and Jamari Traylor and get us 16 points collectively, and I don't think we're that far away.
How is it coaching your son Tyler on the team this season?
"It's awesome. It's absolutely awesome. He doesn't play, but he tries hard. The players all like him. He's not a goody-too-shoes. It's perfect.''