Coaches react to BracketBusters matchups
February, 5, 2013
02/05/13
2:33
AM ET
Editor's Note: Scroll down to see the schedule of BracketBusters games for the ESPN family of networks. To see a list of all of the non-TV games, click here.
The purpose of BracketBusters was to give teams outside of the Big Six conferences a chance at a late-season quality game, and more than anything, exposure for programs desperately needing to be seen heading toward March.
And while the event is ending -- much like many traditions, at the cost of realignment -- BracketBusters still has one final chance to provide a little pop for its participants.
[+] Enlarge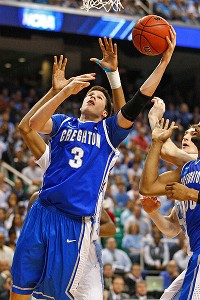 Chris Keane/Icon SMIA win over Doug McDermott and nationally ranked Creighton would aid SMC's at-large chances.
Saint Mary's desperately needs another quality win on its postseason résumé. If the Gaels don't get one in conference against Gonzaga at home on Feb. 14, then hosting Creighton on Feb. 23 offers another golden chance to impress the committee. It might not be a must-win, but it would be pretty close.
As for the other matchups, there are a number of quality teams in the event -- and plenty of star players who will be featured in March -- but the problem is they're not going against each other. The home/road designations were predetermined, making it hard to project or find a game like Creighton-Saint Mary's.
The need to get a quality win at this late date -- especially on the road -- had Akron coach Keith Dambrot trying to convince the MAC office at the 11th hour to move the Zips into a road slot. But that would have involved too many moving parts, and the league chose to stick to the script.
So Akron drew North Dakota State on the event's opening night. And to be fair, the 18-5 Bison are in a three-way tie atop the Summit league and are a legitimate threat if they make the NCAA tourney.
"We have a helluva product that doesn't get talked about,'' NDSU coach Saul Phillips said. "We are good and are going to be good for a while, with only one senior. Yet people in the airport ask us what division we are. Also, it gets us a return game against a team that the odds are would not have come to Fargo for a home-and-home. We probably lack the quality wins for an at-large, but I'd like to run the table and find out. It's going to be a very soft bubble.''
The Bison played two Big Ten teams, losing at Indiana and at Minnesota. A win at Akron isn't going to push them into the at-large pool, but it won't hurt.
Dambrot said he wanted more than anything to play "best team, best name.'' The Zips are still undefeated in the MAC after beating Ohio in a Saturday showdown. Akron didn't pick up the quality nonconference wins, losing to Oklahoma State in Puerto Rico in overtime, and at Creighton.
Indiana State, meanwhile, has the look of an NCAA at-large candidate with nonconference wins over Ole Miss and Miami in the Diamond Head Classic, and a win at Wichita State.
"We wanted to play the highest RPI team we can and win,'' ISU coach Greg Lansing said. "To have a chance [at an at-large] we really have to beat Creighton and Wichita State and finish third to have a chance.''
The Sycamores lost to Southern Illinois and Drake in the Valley, which hurts.
"Our league is really good,'' Lansing said. "We should have three teams in.''
Indiana State drew Iona -- a high-scoring team, but one that isn't going to earn an at-large berth like it did last season.
"We have no chance at an-large,'' said Gaels coach Tim Cluess, which means Indiana State can probably only lose points with the selection committee by falling at home. "We were just hoping the travel wasn't difficult, as our team is a bit banged up.''
Wichita State coach Gregg Marshall said on Monday's ESPNU college basketball podcast that BracketBusters has been like an arranged marriage, and sometimes it works out well, and sometimes it doesn't. He said most of these coaches wouldn't call each other up to schedule a game. Marshall said his Shockers, which have been battling health issues this season, should be a lock for the NCAAs with a high RPI, wins at VCU and Air Force and a strong showing in the Valley. The Shockers drew Detroit, a possible champ out of the Horizon League.
"We're a long shot,'' said Detroit coach Ray McCallum of his team's at-large chances. "We would probably have to win out. We did try to schedule for an at-large with games at St. John's, Pitt, Miami and Syracuse. Akron was a good win for us.''
If Detroit were to win at Wichita State, maybe the Titans would at least be in the conversation.
[+] Enlarge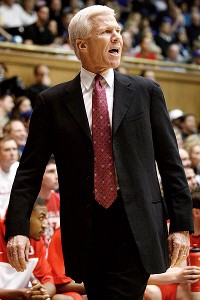 Mark Dolejs/US PresswireDavidson's Bob McKillop will face off with another longtime coach, Wayne Tinkle of Montana.
Down at Davidson, coach Bob McKillop's Wildcats drew the undefeated leaders of the Big Sky, the Montana Grizzlies. The veteran coach said the BracketBusters event has led to plenty of entries into the NCAA tournament, mentioning crucial wins by VCU and George Mason at Wichita State.
"It's been great for us to get on TV,'' McKillop said. "It has been a jolt for some teams to get over the hump.''
Montana doesn't have much of a shot at an at-large, but a nice road win in late February would certainly be a confidence booster.
"We are hoping for TV exposure and a win,'' Montana coach Wayne Tinkle said. "I don't think at-large is possible with our league's RPI. But if you look at our four losses, Will Cherry was out [for three of them] so who knows.''
Cherry, who is averaging 13.1 points and 4.8 assists, missed the first seven games of the season and wasn't available for road losses at Colorado State, San Francisco and BYU. He came back, but played only 13 minutes in a double-overtime loss to South Dakota State.
The Jackrabbits, who are tied with the Bison in the Summit, play at Murray State in a game between two teams that were in the NCAA tournament last year, and a game between two star guards in Nate Wolters of SDSU and Isaiah Canaan of Murray State.
"We just wanted to get a quality opponent that can show where we are as a team late in the year,'' said Murray State coach Steve Prohm, whose Racers have an OVC showdown with Belmont this week. "If we were to beat Belmont and Tennessee State that would give us four top-100 wins, and with the OVC tourney still to play.
"With the parity in the leagues, I think it gives us an outside shot at an at-large berth if you look at the dynamics of our team. [Zay] Jackson was suspended for the year, but our starting 4-man (Latreze Mushatt) tore his Achilles this summer and is just getting back to being 75 percent. He played well Saturday and he's a big piece.''
Belmont will host MAC contender Ohio in a Saturday primetime slot.
"We have several quality wins for the selection committee, like at Stanford, Middle Tennessee State, South Dakota State, at Eastern Kentucky,'' Belmont coach Rick Byrd said. "We are at Murray Thursday night. It's hard to know about an at-large, but we can't afford many losses.''
A year ago, Long Beach State was scheduled to make the NCAA tournament, but couldn't win a slew of big games. Still, the 49ers won the Big West tournament. This season, LBSU drew a home game with the Southland's best team, Stephen F. Austin.
"No at-large chance for us this year,'' admitted Long Beach State coach Dan Monson. "Our résumé isn't good enough. Last year, though, we felt the Creighton game was for at-large consideration. This year, we're looking to get some national exposure and get back on the national radar.''
The same could be said of Valparaiso, which hosts Eastern Kentucky.
"Would love it if we could be on the bubble,'' Valpo coach Bryce Drew said. "But we probably have to win out to be in the conversation.''
BracketBusters TV schedule:
Friday, Feb. 22
North Dakota State at Akron, ESPN2, 7 ET
Stephen F. Austin at Long Beach State, ESPNU, 9 ET
Saturday, Feb. 23
Iona at Indiana State, ESPNU, 11 a.m. ET
Eastern Kentucky at Valparaiso, ESPNU, 1 ET
Canisius at Vermont, ESPN3, 1 ET
Pacific at Western Michigan, ESPN3, 2 ET
Montana at Davidson, ESPNU, 3 ET
Northwestern State at Niagara, ESPN3, 3 ET
Detroit at Wichita State, ESPN/2, 4 ET
Creighton at Saint Mary's, ESPN/2, 6 ET
South Dakota State at Murray State, ESPN2, 8 ET
Denver at Northern Iowa, ESPN3, 8 ET
Ohio at Belmont, ESPN2, 10 ET
The BracketBusters matchups not on television can be found here.