Q&A with Louisville's Rick Pitino
February, 6, 2013
02/06/13
9:44
AM ET
Louisville coach Rick Pitino visited with me for a Katz Korner piece in this week's ESPN The Magazine. Here is the full version of the Q&A I had with Pitino:
What has made your press so effective over the years?
Pitino: It's probably three aspects: One is knowing the other team's press offense really well from a scouting standpoint. Two, having great pursuit from the front and from behind, and three, it has been the players that I'm coaching.
How were you able to keep the core of this team together for a potential run at a second straight Final Four?
Pitino: I don't make those decisions. The pros do, and none of our players were very high for them on a pro list. We go to [NBA executive vice president, basketball operations] Stu Jackson. And like in Peyton Siva's case, is he a first-round draft choice and the answer is no. Are there any other first-round draft choices and the answer was no. I don't usually do it, and I leave it up to the NBA committee.
[+] Enlarge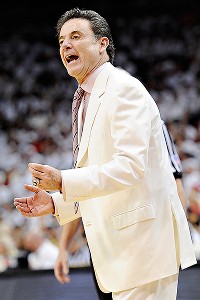 Jamie Rhodes/USA TODAY SportsRick Pitino says he'll miss the Big East tournament, but he's looking forward to the ACC and its home arenas.
How worried were you when Gorgui Dieng went down?
Pitino: I wasn't too worried because we knew it would be a four to six weeks-type deal.
How would you compare the Yum! Center to all the other buildings you've coached in college or the NBA?
Pitino: I think it's the finest right now, but I haven't seen the Barclays Center. But I think it's the finest basketball arena. It was built strictly for basketball and nothing else and it has all the bells and whistles. It is a pro arena and has everything you could possibly want. It's overlooking the Ohio River so it's got the aesthetics inside and out of a great place.
How would you compare the passion for basketball at Louisville to your previous stops in college and in the NBA?
Pitino: I think Louisville and Lexington are two of the best in all of basketball at the college or pro. It has two programs that are always at the top in the top three in attendance. We're the No. 1 revenue producer in college basketball, and we topped our nearest rival by $15 million last year. [These] two programs in a very small state have as much revenue and attendance that probably double every Big East team except Syracuse. It's the best I've been around.
What did you think the chances were that the seven Catholic schools would eventually bolt when Memphis and Temple were added to the Big East?
Pitino: I thought the Catholic schools made a big mistake two years ago when they saw the writing on the wall of all these football schools dictating everything and basically not being part of the decision-making process. I thought they should have done it a long time ago because they can get themselves a heckuva TV package. They can have one of the premier basketball conferences around, and they can dictate their own athletic programs and don't have to be at the mercy of football.
What will you miss most about the Big East?
Pitino: The Big East tournament.
What are you most looking forward to in the ACC?
Pitino: I have not been to Cameron Indoor. I have not been to Clemson. I have not been to Virginia Tech. I have not been to Florida State. There are a lot of arenas I haven't been to as a coach. So I guess it's the excitement of doing something new.
Why do Peyton Siva and Russ Smith work so well together?
Pitino: I think Peyton Siva would work well with anybody. It doesn't matter who he's with. He doesn't care about the other person getting exposure. There are some people who are seniors would be upset by the attention someone younger was getting. Peyton doesn't let it bother him at all. He just does the best job for the team.
What type of player fits your style?
Pitino: Something that has been lacking the last couple of years, we've had the defensive intensity, but [have] not been able to shoot the basketball. And that's the last two years, more than any other time in 35 years in pro and college that I didn't have shooters. I made up my mind this time to go out and get guys who could shoot the basketball consistently. I think we've done that with our recruiting.
If you had the power to change the draft rule, what would you do?
Pitino: I would do the same thing that football has. I would have the same exact system. I think the one-and-done is bad for basketball. I think they should allow the kids to go right out of high school or have the same rule as football or a combination of both. I think the one-and-done is a bad rule.
What advice would you give coaches who may consider at some point leaving college basketball and coaching in the NBA, even if they're at an elite program like you were at Kentucky?
Pitino: I would advise all of them to be an assistant in the pros first, to not go straight to [head] coaching because it's impossible to do. It's a different game. It's almost a different sport in terms of the psychology and in terms of the travel and in terms of the handling of people. I was fortunate to be an assistant under Hubie Brown. You cannot go from a head coach in college to a head coach at the NBA level because the game is so different.
How much longer do you want to coach?
Pitino: I'm writing a book right now, and the whole book is based on one day. Put all your efforts into one day. That's pretty much what I'm doing. I used to do that where I signed a 10-year contract with the Celtics that will take me to 50. But ever since that Celtics deal, I've never done that. As long as I wake up and love what I'm doing, I'm going to coach.