TCU takes big step with upset of Kansas
February, 7, 2013
02/07/13
8:40
AM ET
Trent Johnson saw the Saturday Kansas loss to Oklahoma State on tape.
He saw his TCU team every day in practice.
He wasn't about to predict a Horned Frogs upset of No. 5 Kansas prior to Wednesday's game in Fort Worth, Texas. He knew better. There may not be a coach in the country with a more transparent view of his own team than Johnson, regardless of his previous stops at Nevada, Stanford or LSU.
He knew what he had and that was a team riddled with injuries, low on talent and beaten down with eight straight Big 12 losses, all but one by double figures. Stats showed TCU was ranked in the bottom third in Division I in scoring, assists, field-goal percentage and rebounds.
[+] Enlarge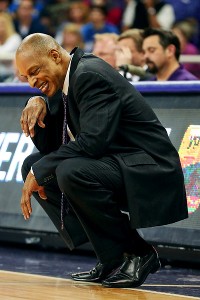 Kevin Jairaj/USA TODAY SportsTCU coach Trent Johnson reacts during the second half of his team's upset over Kansas.
"They haven't shown signs or talked about quitting," Johnson said by phone from Fort Worth late Wednesday night. "I told them that the easy thing for players to do is to blame somebody, cry to their mom and dad. We live in an environment of the quick fix. But look at our statistics coming into the game. We were god-awful. They had the opportunity to quit."
Kansas was the team that looked like it had checked out instead, going 1-of-17 from the field early in the game and trailing 22-13 at the half, the Jayhawks' lowest point total since 1988-89.
"The only thing that we talked about is that we're going to have to keep this thing simple," Johnson said. "When they make runs, we can't do too much. But they didn't shoot the ball well and it happens. It was the perfect storm for us."
And it ended up being the most legitimate storm ever in the Big 12.
TCU held on for a stunning 62-55 victory for its first win ever in the Big 12 after nearly going to the Big East and a year ago barely being able to stay above water at times in the Mountain West. Jim Christian opted to go to Ohio, avoiding being fired. Then Johnson got out of LSU in what appeared to be an odd move.
Throughout his career, Johnson has always been a stoic sort. He is extremely serious but intense, as was the case when he had a bit of a meltdown in an NCAA tournament ejection while coaching at Stanford that ultimately left a television damaged in a locker room. But he has always been a stand-up coach, who is averse to any off-court controversy and rarely had teams with issues while he was coaching.
Johnson has never been one to be too high or too low. You could see it in his demeanor after the win as students stormed the court. He high-fived students passing by him but never smiled, pumped his fist or jumped up and down.
"You've been around me long enough to know, this was one game," Johnson said. "We've got so much further to go. I told the kids to enjoy it, but it's one game. We'll take [Thursday] off go to class and be back Friday for West Virginia, who handled us [by 21 in Morgantown]."
Johnson didn't even want to bite on what this win may have done for his credibility on campus or in the Big 12. Hogwash.
"Have we arrived? We're not close to arriving," Johnson said. "There was a coaching change, the talent level, we lost two starters to ACL injuries. We have to stay the course. I don't pay attention to that. We lost our first eight. We could lose our next nine if we're not playing with maximum amount of energy."
He's right. TCU has hardly turned the corner. This was about a Kansas team that punted on this game, was completely out of sync from the opening tip and looked like it still hadn't shaken off the loss to Oklahoma State. TCU capitalized but hardly dominated to the point that the Horned Frogs will be feared in the Big 12. But they should at least be respected now.
"I'm not a glass half-full guy," Johnson said. "We played the game right [Wednesday night]."
TCU has made a commitment to Johnson. He said the promise is for facility upgrades. I don't doubt it with the passion for football and the desire to be winners in the Big 12, TCU won't slack. Whether Johnson wants to admit it or not, this win helps with perception among the Horned Frogs' faithful that he can redirect a seemingly irrelevant program that hadn't been worthy of a national look since Billy Tubbs was running wild behind Lee Nailon and an entertaining team in the 1990s.
Johnson had nothing but positive comments about Kansas and Bill Self. He has known Self for quite some time.
"I've got too much respect for Bill, Bill's damn good," Johnson said. "Nobody wants to play that group. They'll be fine."
Johnson wasn't going to spend too much time dwelling on this win. He had to get to sleep for an 8 a.m. recruiting trip Thursday.
But before he hung up he finally admitted the magnitude of the win, even if his voice never changed from an even tone.
"Obviously, this is a big upset," Johnson said. "This is for me personally, this is one of the best wins I've been around in."
I couldn't see, but I have to believe there was at least a smile in there somewhere. And if not he deserved to be smiling.