Griffey makes the right move for Illinois
February, 7, 2013
02/07/13
11:47
PM ET
Brandon Paul
's bounce pass to a cutting
Tyler Griffey
stunned him so much that, for a nanosecond, he thought about dunking the ball and Indiana out of the No. 1 spot.
"But I thought I wouldn't get it off in time," Griffey told ESPN.com by phone late Thursday night from Champaign, Ill. "I knew 0.4 [seconds] is enough for a shot, so I thought I better get it off. And I knew I got it off in time."
Griffey made the right call. Opting to dunk would have meant the shot likely would have been late and led to an overtime in which the Illini might not have recovered.
Instead, Griffey scored the only way he could in this incredible situation. His shot has a chance to create shelf life in a similar manner to Christian Watford's shot for Indiana to beat Kentucky last season. Coincidentally, both shots were at Assembly Hall -- one in Bloomington, Ind., one in Champaign, Ill.
[+] Enlarge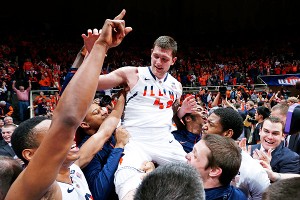 Joe Robbins/Getty ImagesTyler Griffey said he couldn't believe there was no one between him and the basket.
"It's pretty amazing to think about it," said Griffey. "I'm still hyperventilating. People were yelling at me on the street. This hasn't sunk in yet."
Griffey said the play call was one they had run in practice. He said the ball was placed out of bounds in an awkward spot on the side. For whatever reason, Indiana's Yogi Ferrell, Watford and Cody Zeller all were faced in one direction, leaving Griffey alone to cut to the basket with no one watching.
"It was bizarre how it happened," Griffey said. "I couldn't believe no one was in front of me to the basket."
The play occurred after Victor Oladipo recovered from turning the ball over to block D.J. Richardson's potential winning shot, which set up the inbounds play.
"I was trailing that play, and Brandon made the steal and D.J. had the ball and Oladipo made the play; he's a heckuva athlete," Griffey said. "He is a great player and a great defensive player. I was sprinting up as fast as I could."
The Illini had been struggling of late. They have marquee wins over Butler in Maui, at Gonzaga and at home over Ohio State before beating No. 1 Indiana, but Illinois entered the game with a 2-7 Big Ten record, hardly an NCAA-looking team.
But the Illini still had NCAA-worthy wins if they could bookend their season with quality victories. They just did.
"Coach [John Groce] said after the game we just have to trust each other, trust the system and the communication, and it showed on the court," said Griffey. "We were clapping and talking and encouraging each other [during the comeback after trailing 41-29 at the half].
"This is a huge confidence booster. We always knew we could do this, but we weren't playing like it. Guys were struggling, me included. I was 0-for-20 on 3s, and then I hit a couple of shots beyond the arc."
Griffey finished with 14 points, including two 3s.
Illinois has a daunting schedule, with five of the final eight on the road. The road games are at Minnesota, Northwestern, Michigan, Iowa and Ohio State with the three home games against Purdue, Penn State and Nebraska, three teams not heading to the NCAAs.
NCAA tournament selection committee chair Mike Bobinski said Thursday the committee would of course be tracking Illinois, and while that schedule looks strong, it also means the Illini have opportunities.
"The Big Ten is the best conference in the country," said Griffey. "We're going to enjoy it, and then on to Minnesota [on] Sunday."
Why not enjoy it? He was in the center of a surge of humanity.
"It was surreal," said Griffey. "I was just trying to keep my balance as long as I could stay on my feet before my teammates tackled me."
Griffey's thrilling shot is sure to be framed, just like Watford's was against Kentucky a year ago.
"I'm sure I'll get one," said Griffey. "I'll remember that the rest of my life."